By John Moore
March 13, 2013
Opening No. 39, "The Doyle & Debbie Show": The latest cabaret show to move into the Garner-Galleria is this simultaneous homage to, and parody of, country music's iconic duos. Doyle Mayfield, an old-guard country star with a handful of old-school hits, is reviving his career — 30 years, four wives and three "Debbies" later. His newest co-star is a single mother with three children who sees this lovable lothario as her last chance to make it big in Nashville. It has been announced that this show will close three weeks earlier than originally scheduled, on June 23, at the Garner-Galleria Theatre, in the Denver Performing Arts Complex, 14th and Curtis streets. These photos feature Bruce Arntson, Jennifer Blood and Matthew Carlton, though Denver actor Lauren Shealy has since assumed the role of Debbie. Showtimes: 7:30 p.m. Tuesday-Fridays; 2 and 7:30 p.m. Saturdays, 2 and 7:30 p.m. Sundays. 303-893-4100 or www.DenverCenter.Org. All photos by John Moore for CultureWest.Org. Thanks to Heidi Bosk, Kimberly Payetta, Jennifer C. Schmitz, John Ekeberg, cast and crew.
To see the our full photo series, "It's Opening Night in Colorado Theatre," featuring one intimate, iconic snapshot from 41 Colorado opening nights (and counting), click here.
Click here to subscribe to the CultureWest.org Monthly E-Newsletter
Creator and star Bruce Arntson, left, goes through opening-night sound check with co-star Jennifer Blood.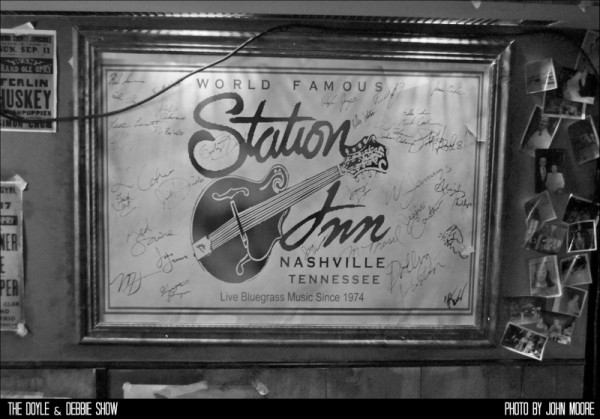 The show opened in Nashville's legendary Bluegrass venue, The Station Inn, in October 2007, where it played Tuesday nights for more than six years.

Yes, this is a black-and-white photo series. But some shots you just have to show in color.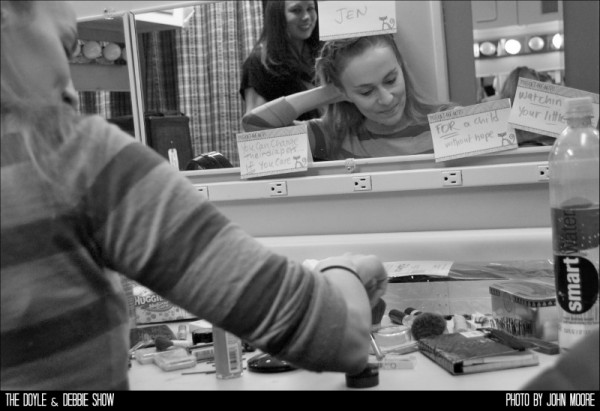 Jennifer Blood, visiting from New York via Chicago, prepares for her first performance as Debbie in front of a Denver audience.

Jennifer Blood and Bruce Arntson go through their first of many, many Denver sound checks to come.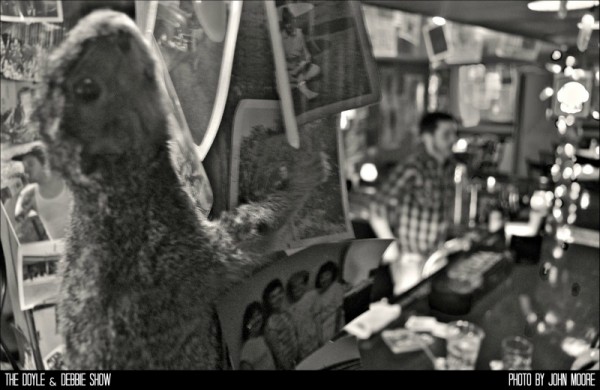 Every inch of the Garner-Galleria Theatre has been transformed into a honkytonk by scenic designer Kevin Depinet, complete with neon signs, banners, memorabilia … and a stuffed squirrel to keep a moribund eye on the lobby bartender. Photos that line the barposts are said to feature longtime Denver Center actors and employees … at their most redneck. I'm not telling tales, but the name "Shannan Steele" came up during a tour.
(Please click below to go to the next page of photos from our night at "The Doyle & Debbie Show.")