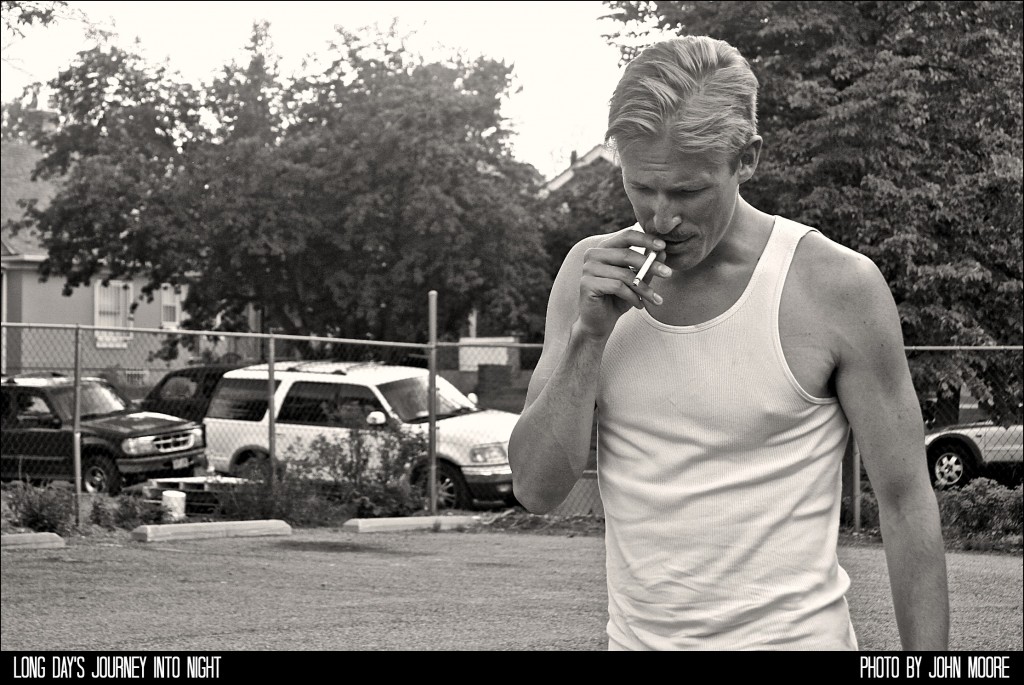 Zachary Andrews takes a moment to prepare for one of the great challenges available to an actor of his young age: Sickly Edmund, the character who represents Eugene O'Neill himself in his autobiographical masterpiece, "Long Day's Journey Into Night."
By John Moore
May 29, 2013
Welcome to my ongoing, 2013 labor-of-love photo series bringing you iconic snapshots from behind the scenes on opening nights in Colorado theater. All photos by John Moore copyright 2013 for www.CultureWest.Org.
Opening No. 73: Germinal Stage-Denver's "Long Day's Journey Into Night": Germinal Stage-Denver is down to its last few offerings before closing its longtime home in northwest Denver and turning into a something of a gypsy company. (More on that story here.) This is an impeccable cast performing one of founder Ed Baierlein's favorite playwrights … so this is how you'll want to remember (this incarnation of) Germinal Stage-Denver. Eugene O'Neill's autobiographical, Pulitzer Prize-winning masterpiece follows the seriously damaged Tyrone family in their seaside Connecticut home over the course of one fateful day, as sins and secrets gradually trickle out like morphine drips from a hypodermic needle. Baierlein, also the director, plays patriarch James Tyrone for the third time, now opposite Erica Sarzin-Borrillo in the powerhouse role of the dope-fiend matriarch, Mary. She's got a seriously twisted relationship with her sickly son Edmund (Zachary Andrews), who in turn trades barbs, ballast and whiskey with older brother Jamie (Stephen R. Kramer). Also featuring Samara Bridwell as the maid, Cathleen. This is a Chekhovian American family with a blurred past, intoxicated present and muddled future. Through June 9. It's famously long (at 3 and a half hours), but starts early. Showtimes: 7 p.m. Fridays, Saturdays and Sundays at 2450 W. 44th Ave., 303-455-7108 or Germinal's home page. Thanks: Sallie Diamond, Tad Baierlein, cast and crew.
The following gallery is just one chapter in my ongoing photo series called "It's Opening Night in Colorado Theatre," bringing you iconic snapshots from behind the scenes all over Colorado theater. All photos by John Moore for www.CultureWest.Org. To see the actual, official photo series featuring one intimate, iconic snapshot from 73 Colorado opening nights (and counting), click here.
Click here to subscribe to the CultureWest.org Monthly E-Newsletter

44th Avenue just east of Federal Boulevard will never be the same once the Germinal Stage-Denver closes at the end of the summer. There are two more offerings, and while it's yet to be determined what the final title will be, Baierlein is negotiating for the rights to one of his most controversial previous efforts: "Offending the Audience." That's a 45-minute polemical lecture about theater written by Australian Peter Handke, first staged at Germinal in 1976.

Zachary Andrews and Erica Sarzin-Borrillo are fighting a congestive virus that has swept through the cast. Because  Andrews' character is dying of consumption, at least he gets to work his misery into his performance.

Thousands of audience members have trekked inside the Germinal Stage-Denver through this cigar-smelling back entrance since 1987.

Samara Bridwell plays the tippling maid, Cathleen.

Troubled (to put it mildly) older bother Jamie is played by Stephen R. Kramer.

A cast photo hung on the Germinal wall shows what the same production looked like when Baierlein & Company first staged O'Neill's classic in 1975.

Zachary Andrews, shown alone backstage, will next appear in the Aurora Fox's "Metapmorphoses" — set in a swimming pool.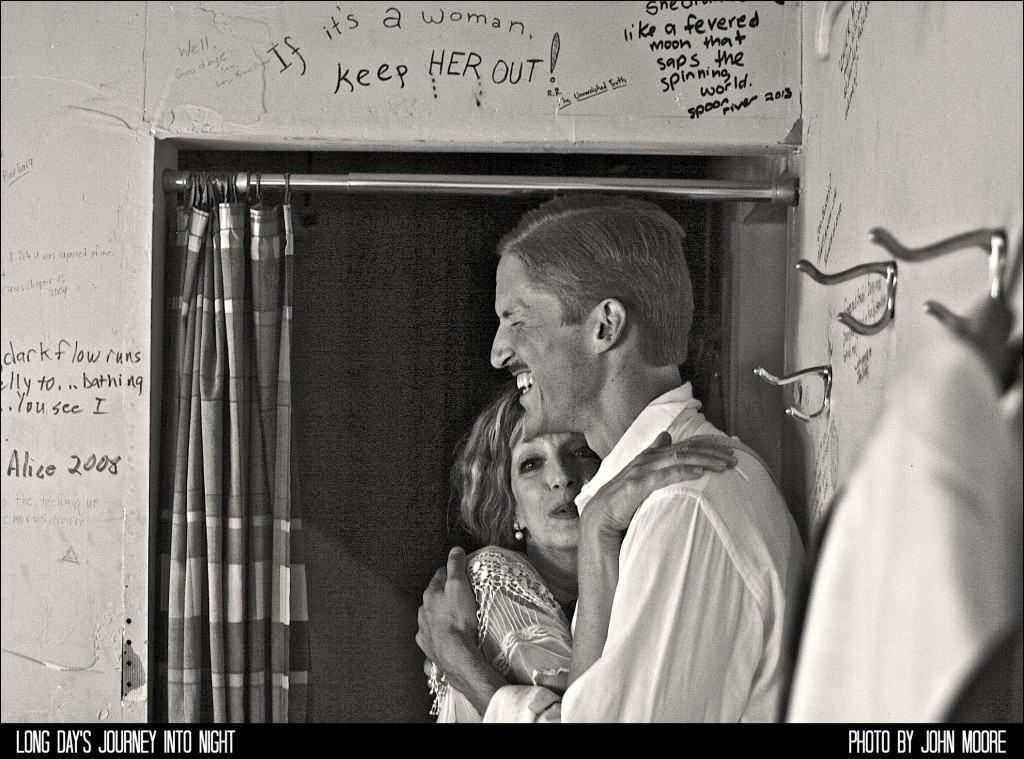 Posted quote to the contrary (from "The Unvarnished Truth"), there's no keeping Erica Sarzin-Borrillo out of the men's dressing room at the Germinal Stage-Denver. Zachary Andrews wouldn't even try.
(Please click "Page 2" below to go to the next page of our photos from our visit to "Long Day's Journey Into Night.")