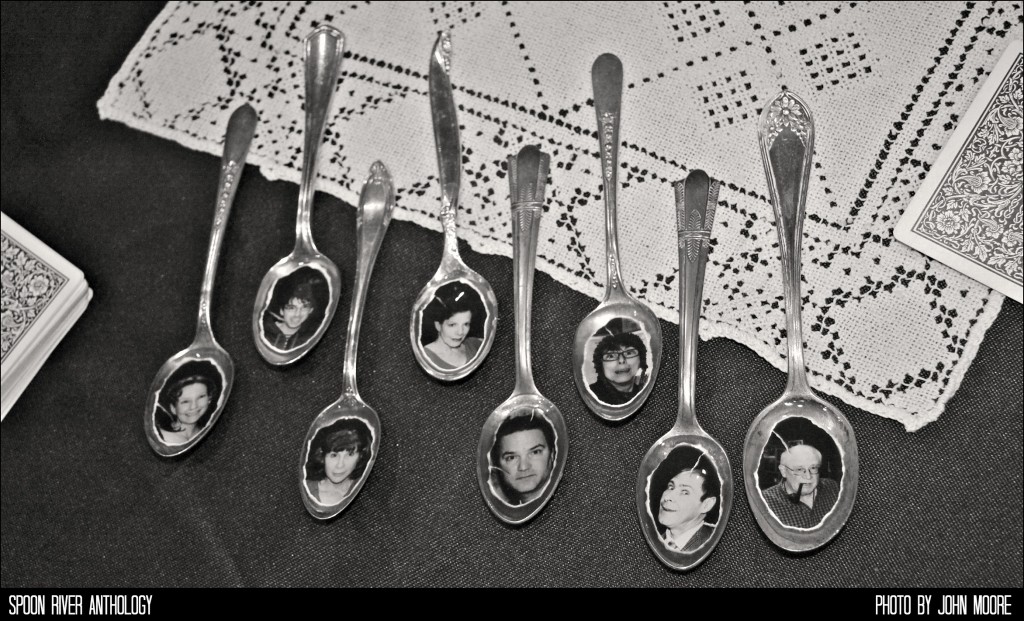 Actor Jim Miller made spoons adorned with individual faces as opening-night gifts for every cast and crewmember working on the Germinal Stage-Denver's "Spoon River Anthology."
By John Moore
Feb. 15, 2013
Opening No. 27, Feb. 10: Germinal Stage-Denver's final season in its longtime northwest Denver home continues with its third staging of "Spoon River Anthology," Edgar Lee Masters' look at small-town America through the eyes and epitaphs of its dead people. The building has been sold and will be renovated into mixed retail space after Germinal finishes there in August. After that, the company plans to occasionally perform in rented theaters around the city. "Spoon River Anthology" features Leroy Leonard, Jennie McDonald, Deborah Persoff, Jim Miller, Lisa Mumpton and Michael Gunst. Directed by Ed Baierlein. Through March 17 at 2450 W. 44th Ave., 303-455-7108 or germinal's home page. Photo by John Moore of www.CultureWest.Org. Thanks to Ed Baierlein, Sallie Diamond, Tad Baierlein and Andrew Parker.
To see the our full photo series, "It's Opening Night in Colorado Theatre," featuring one intimate, iconic snapshot from 27 Colorado opening nights (and counting), click here.
Click here to subscribe to the CultureWest.org Monthly E-Newsletter

The familiar and well-trod back entrance to the venerable Germinal Stage-Denver in northwest Denver. Open the door and you are welcomed by a waft of signature pipe smoke that has seeped into the walls over the years. The photo of founder Ed Baierlein working the box office, below, offers a major clue as to the origin of that.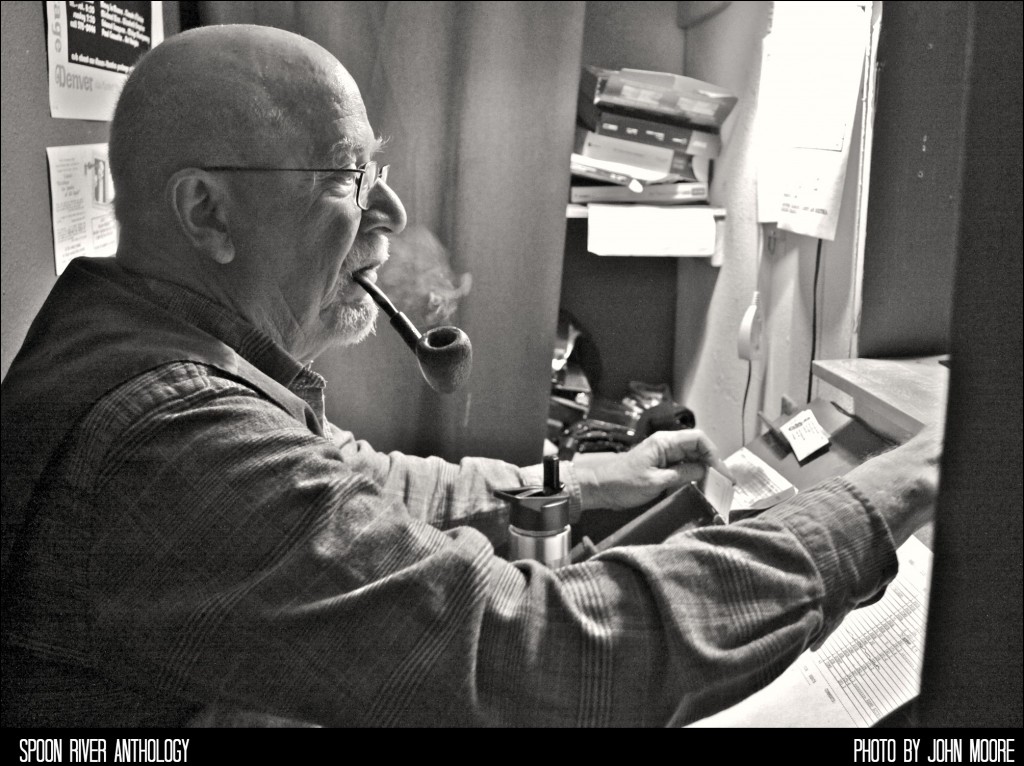 The note that connects the two photos that hang above Germinal founder Ed Baierlein's desk reads, "There are always two points of view regarding any proposition." That's a photo of a young Baierlein on the left. No word on the source of the photo on the right.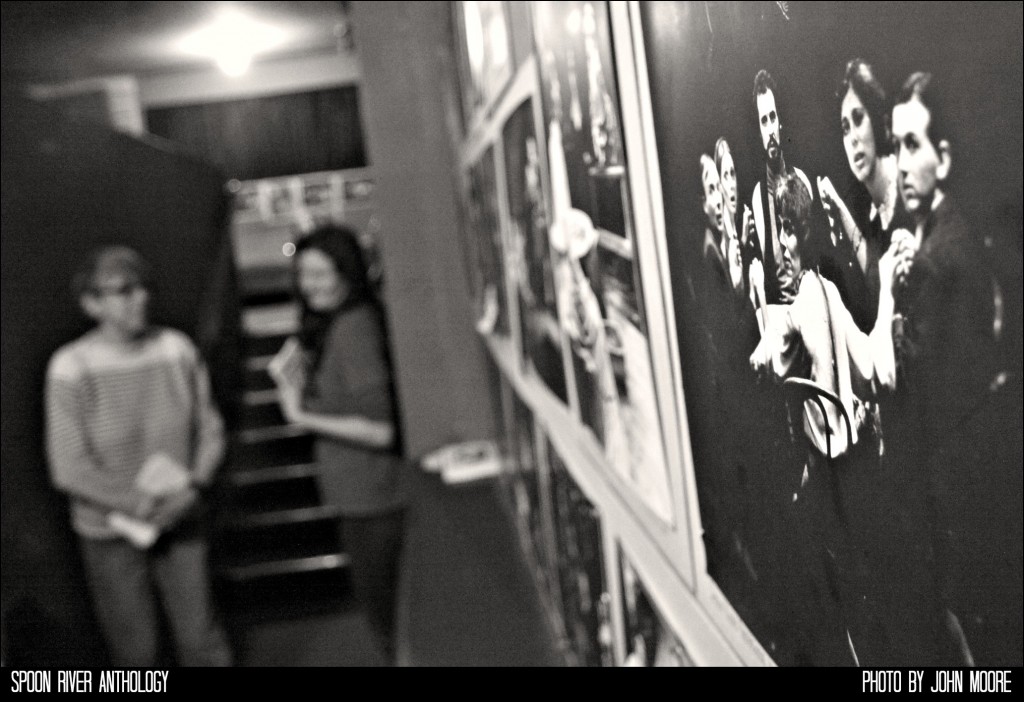 Prominent on the Germinal's wall of past production photos is one from the first time Germinal staged Edgar Lee Masters' "Our Town"-like classic, "Spoon River Anthology," in October 1980.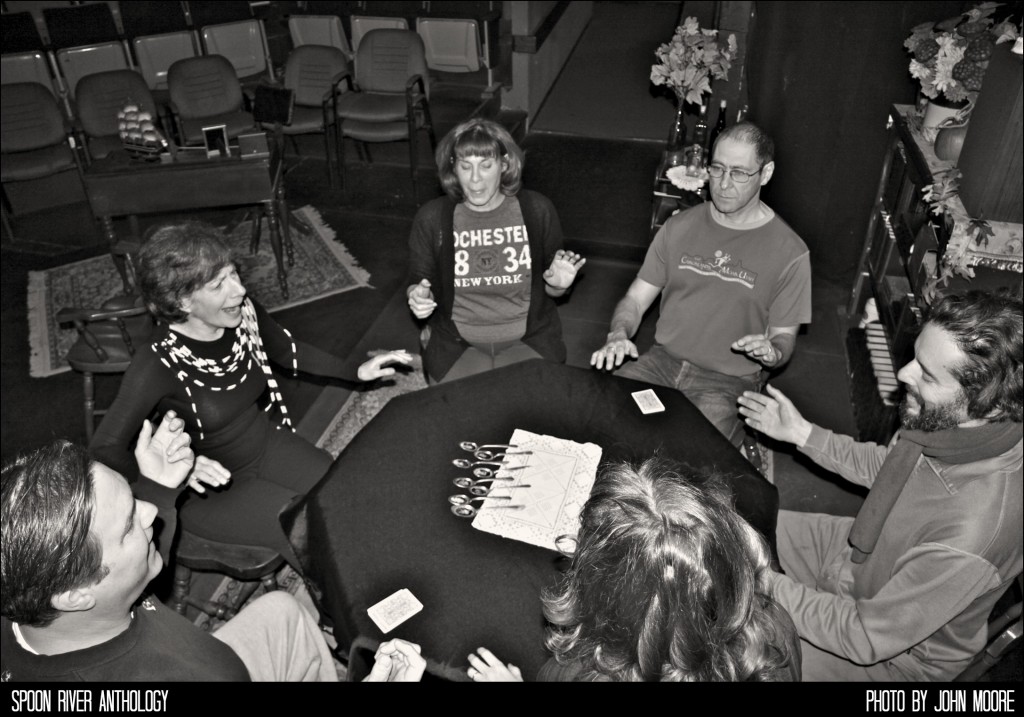 The 2013 cast just happened to be rehearsing the very same seance scene that is depicted in that 1980 photo above.
(Please click below to go to the next page.)