Heritage Square Music Hall co-owner T.J. Mullin told the opening-night audience of "One Enchanted Evening" that the company's 25th season will be its last in Golden.
By John Moore
Feb. 16, 2013
Opening No. 28: The Heritage Square Music Hall opened its 25th and, sadly, final season on Valentine's Day. Co-owners Connie Helsley and T.J. Mullin have decided to close the venerable theater on Dec. 31, 2013, citing declining attendance and an aging audience base among the reasons for ending a quarter-century era of family friendly, blue-collar and often silly entertainment out of a classic Victorian theater nestled in the Heritage Square amusement park and shopping village in Golden.
Because the Music Hall traditionally closes in January so that it can operate uninterrupted the rest of the year, Thursday's opening night — Valentine's Day — was the first time the cast had gathered since news of the closure became public. Because they have performed "One Enchanted Evening" before, it took only one brush-up rehearsal in the afternoon to have the cast ready to go.
The final season has been rejiggered to reflect a mix of old favorites and new shows. In "One Enchanted Evening," Grandpa falls asleep reading bedtime stories to the kids, and his dreams take him to visit Little Red Riding Hood, Snow White, and other famous fairy-tale characters. The cast includes T.J. Mullin, Annie Dwyer, Alex Crawford, N. Randall Johnson, Rory Pierce, Johnette Toye, Scott Koop, Robert Wagner and Eric Weinstein. Through March 3 at 18301 W. Colfax Ave., Golden, 303-279-7800 or heritage square's home page.
Photo by John Moore of www.CultureWest.Org. Thanks to Amie Rau, Scott Koop, Connie Helsley, T.J. Mullin, cast and crew.
Read our exclusive news report about the impending closure of the Heritage Square Music Hall.
To see the our full photo series, "It's Opening Night in Colorado Theatre," featuring one intimate, iconic snapshot from 27 Colorado opening nights (and counting), click here.
Click here to subscribe to the CultureWest.org Monthly E-Newsletter


The Music Hall, formerly the Heritage Square Opera House, anchors the popular Golden amusement park and shopping village. There is no word yet on how the theater's closing will affect surrounding business, all of which are individually owned.

The Music Hall is big on acknowledging birthdays and anniversaries.

Heritage Square is one of the last remaining diner theaters in the metro area. Patrons eat in the tasty bufet line above the Victorian theater, then go downstairs for the show. The difficulty in navigating both the amusement park's sloping incline at the entrance, and so many steps once inside, is one reason attendance is down among the Music Hall's graying regular audience base, co-owner Connie Helsley believes.

Assistant stage manager Amie Rau distributes cards for the cast sent, as the do most opening nights, by the Zernows. They are one the Music Hall's most loyal patron families.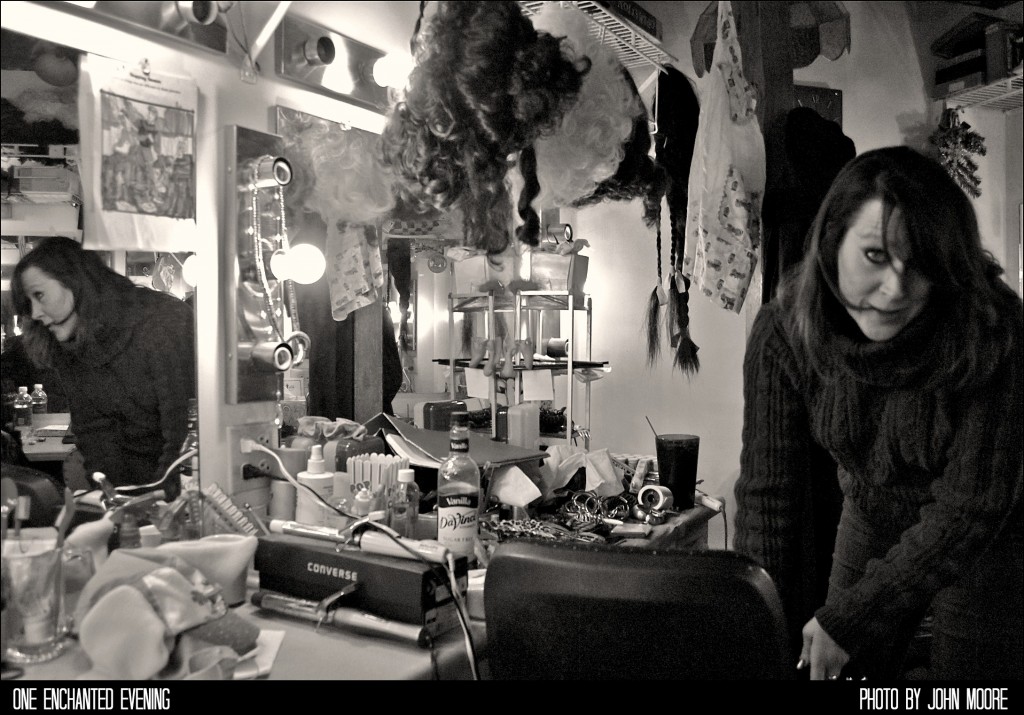 It doesn't take long for Annie Dwyer to transform from herself, above, into her comically tacky garb for "One Enchanted Evening," in which she plays one hot grandma, below.
(Please click below to go to the next page.)