By John Moore
April 25, 2013
Welcome to my ongoing, 2013 labor-of-love photo series bringing you iconic snapshots from behind the scenes on opening nights in Colorado theater. All photos by John Moore for www.CultureWest.Org.
Opening No. 57: The Aurora Fox's "The Color Purple": The musical stage adaptation of Alice Walker's epistolary novel follows Celie Johnson as she struggles throughout her life in the early 1900s. Over 40 years, Celie is married to a brutal man named "Mister" who abuses her, neglects her and covets her sister. Mister's lover, Shug Avery, befriends Celie and helps her to understand the power of her womanhood, leading to a heart-tugging reunion. The book was written by Marsha Norman (" 'Night Mother"), and you can read my 2009 interview with Norman here. Directed by donnie l. betts. Starring SuCh with De Thomas, Anna High, Krisangela Washington, Ashlie-Amber Harris, Tyrell D. Rae. Also featuring Leonard Barrett Jr., Erica Lyn Cain, Jada Roberts, Matthew D. Peters, Noah Lee Jordan, Martell Harding, Faith Angelise Goins, Liam Speros, Maddie Atuire, Samuel L. Davis, Kim Dawson, Rae Klapperich, Audrey Gachire, Summer Dion, Lonnie McCabe, Jontae Piper, Cicely O'Kain, Matt Laughlin, Nadiya Jackson and Richard Williams. Musical director David Wohl. Through May 12 at 9900 E. Colfax Ave., Aurora. Showtimes 7:30 p.m. Fridays and Saturdays; 2 p.m. Sundays. 303-739-1970 or www.aurorafoxartscenter.org Thanks: Patricia Wells, Lindsay Sullivan and Charles Packard.
The following gallery is just one chapter in my ongoing photo series called "It's Opening Night in Colorado Theatre," bringing you iconic snapshots from behind the scenes all over Colorado theater. All photos by John Moore for www.CultureWest.Org. To see the actual, official photo series featuring one intimate, iconic snapshot from 58 Colorado opening nights (and counting), click here.
Click here to subscribe to the CultureWest.org Monthly E-Newsletter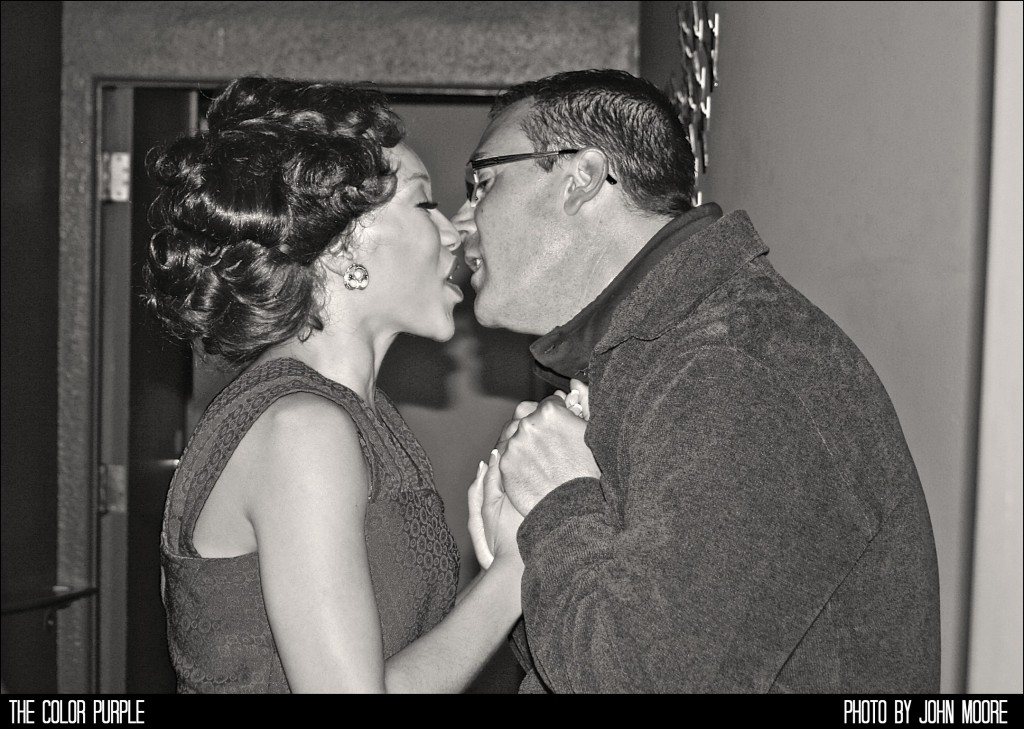 There was an onstage marriage proposal after Monday's performance. John Salazar proposed to actor Erica Lyn Cain, who plays (an adorable) Squeak … and she said yes! But we'll get back to this later in our gallery.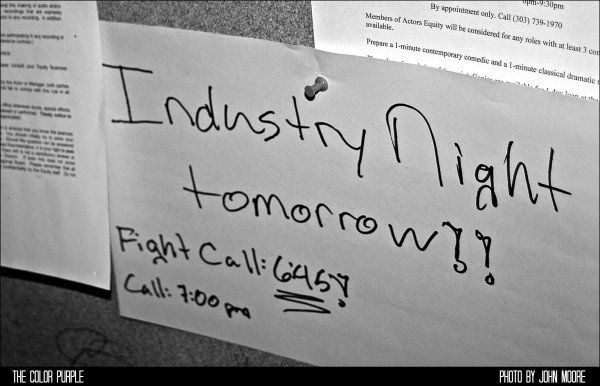 Finishing touches on the set, designed by Jen Orf, before the show.

SuCh, left, an accomplished national singer who makes an emphatic introduction to Colorado audiences playing Celie, arrives at the Aurora Fox with Krisangela Washington, who plays her sister, Nettie.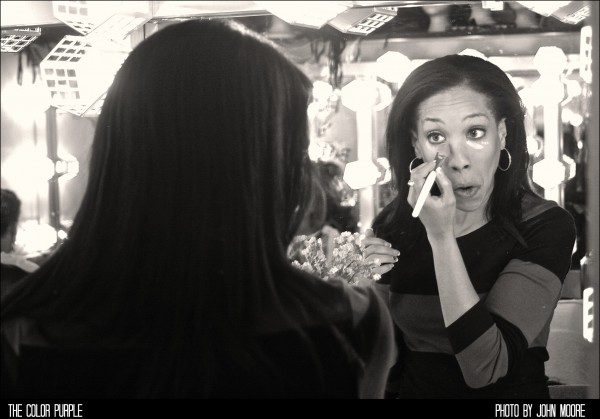 Oh, Erica Lyn Cain, are you in for a surprise.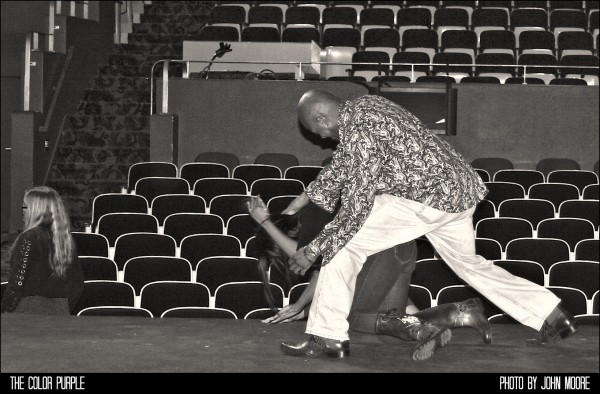 At the pre-show fight call, actors De Thomas ("Mister"), Krisangela Washington and SuCh (unseen) brush up on all staged violence to protect the safety of the actors.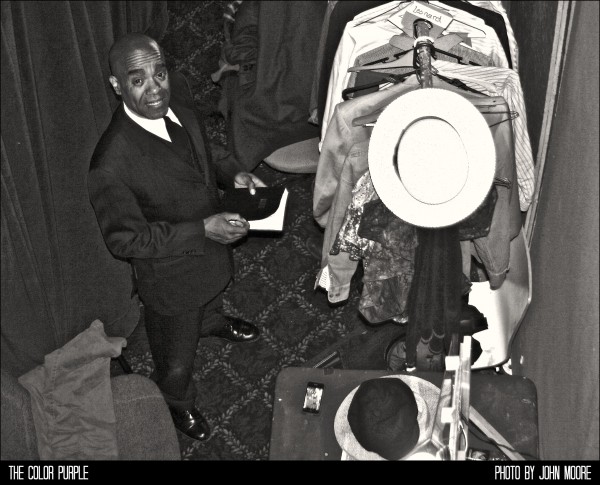 Leonard Barrett has long been a big deal on Denver stages, mostly for his work with the handicapped Phamaly Theatre Company. Here he plays four roles, notably a devout preacherman.

Tyrell D. Rae plays Harpo, a husband under the thumb of his strong-willed wife, Sofia (Anna High).
(Please click "Page 2" below to go to the next page of our photos from our visit to "The Color Purple.")