Photos: My night at the Aurora Fox's 'The Color Purple'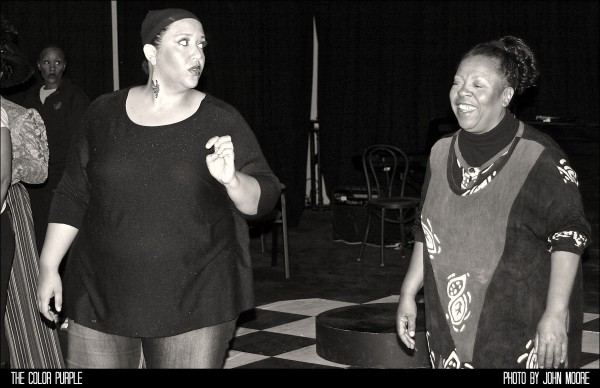 Anna High and Lonnie McCabe were among a group of women who dashed off to the Aurora Fox studio theater to brush up on some choreography.

From left: Jada Roberts, Kim Dawson and Cicely O'Kain practice a dance. They play three gossipy church ladies writer Marsha Norman based off the "Pick-a-Little, Talk-a-Little" ladies of "The Music Man."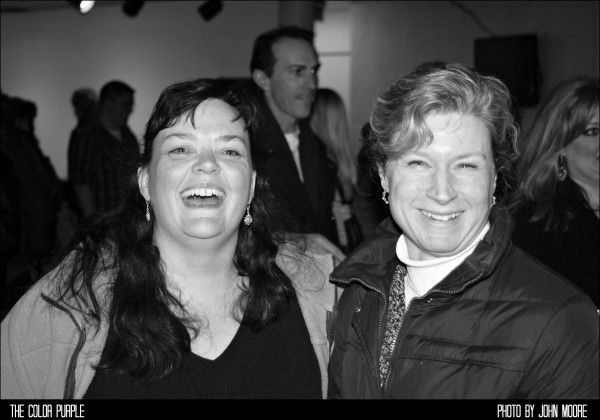 Sharon McClaury, left, helped costume designer Linda Morken construct the dozens of elaborate costumes for the show. She's pictured with old friend Trecie Warner. I include this because these two — and myself — appeared with "The Color Purple's" Jada Roberts in a local production of "Bye Bye Birdie" … let's just say many years ago. Roberts played Rose. I played Mr. McAfee, who sang, "I don't know what's wrong with these kids today."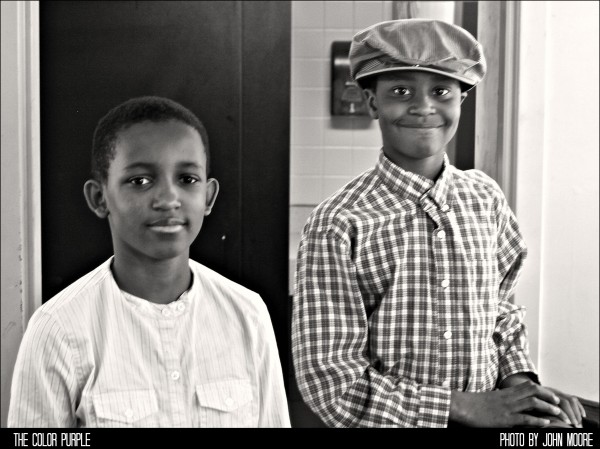 Young Richard Williams (Young Adam) and Samuel L. Davis (ensemble) are ready to take to the stage.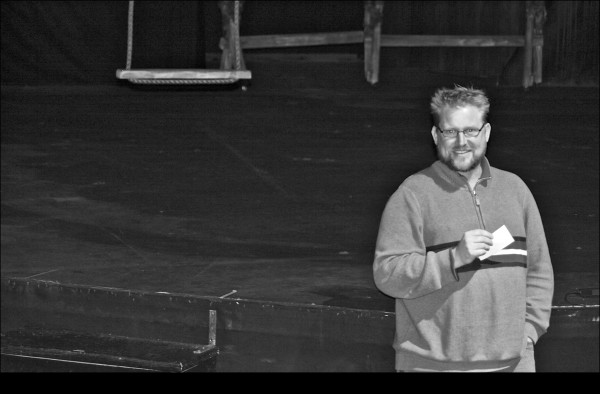 At the pre-show curtain speech, Aurora Fox executive director Charles Packard gave a surprisingly strong, peremptory justification for the casting of certain roles with white actors. "The Color Purple" bowed on Broadway in 2006 as an emphatically (and meaningfully) all-black production. Packard said that, at the Fox, he only casts according to ethnicity when the roles absolutely demand it. Whether these roles demand it here is purely in the eye of the beholder. But one marriage is presented here as inter-racial, which would have been illegal in many Southern states until 1967. That Monday night at the Aurora Fox ended with a heart-tugging, real-life marriage proposal (that happened to be bi-racial) only made the musical's joyous message that preceded it — that all it takes is a grain of love to make a mighty tree — that much more powerful.
(Please click "Page 3" below to go to the next page of our photos from our visit to "The Color Purple," including the post-show, onstage marriage proposal)
Tags:
Alice Walker
,
Anna High
,
Ashlie-Amber Harris
,
Audrey Gachire
,
aurora fox
,
Charles Packard
,
Cicely O'Kain
,
David Wohl
,
De Thomas
,
donnie l. betts
,
Erica Lyn Cain
,
Faith Angelise Goins
,
Jada Roberts
,
john moore
,
Jontae Piper
,
Kim Dawson
,
Krisangela Washington
,
Leonard Barrett Jr.
,
Liam Speros
,
Lindsay Sullivan
,
Lonnie McCabe
,
Maddie Atuire
,
Marsha Norman
,
Martell Harding
,
Matt Laughlin
,
Matthew D. Peters
,
Nadiya Jackson
,
Noah Lee Jordan
,
Patricia Wells
,
Rae Klapperich
,
Richard Williams
,
Samuel L. Davis
,
SuCh
,
Summer Dion
,
the color purple
,
Tyrell D. Rae