Booze: Beer, whiskey, poteen, you name it — is everywhere to be found on the set of "The Seafarer."

By John Moore
Feb. 12, 2013
Here are bonus images from my brief visit backstage at Ashton Entertainment's "The Seafarer" on Feb. 8 at the Aurora Fox. It was a long road bringing Conor McPherson's drama about four Irish drinking buddies gathering to play poker on Christmas Eve to the stage. John Ashton, originally cast in Paragon Theatre's scheduled production before the company folded last year, re-gathered much of the original team and is now producing the play himself at the Fox. Featuring Ashton, Brock Benson, Steef Sealy, Paragon's Warren Sherrill and Kevin Hart. Directed by Paragon's Michael Stricker. Through March 2 at 9900 E. Colfax Ave., Aurora, 303-739-1970 or the Aurora Fox's home page. Photos by John Moore of www.CultureWest.Org. Thanks to Charles Packard, cast and crew.
To see the our full photo series, "It's Opening Night in Colorado Theatre," featuring one intimate, iconic snapshot from 27 Colorado opening nights (and counting), click here.
Click here to subscribe to the CultureWest.org Monthly E-Newsletter
John Ashton, serving as both producer and actor, unloads his car of opening-night treats.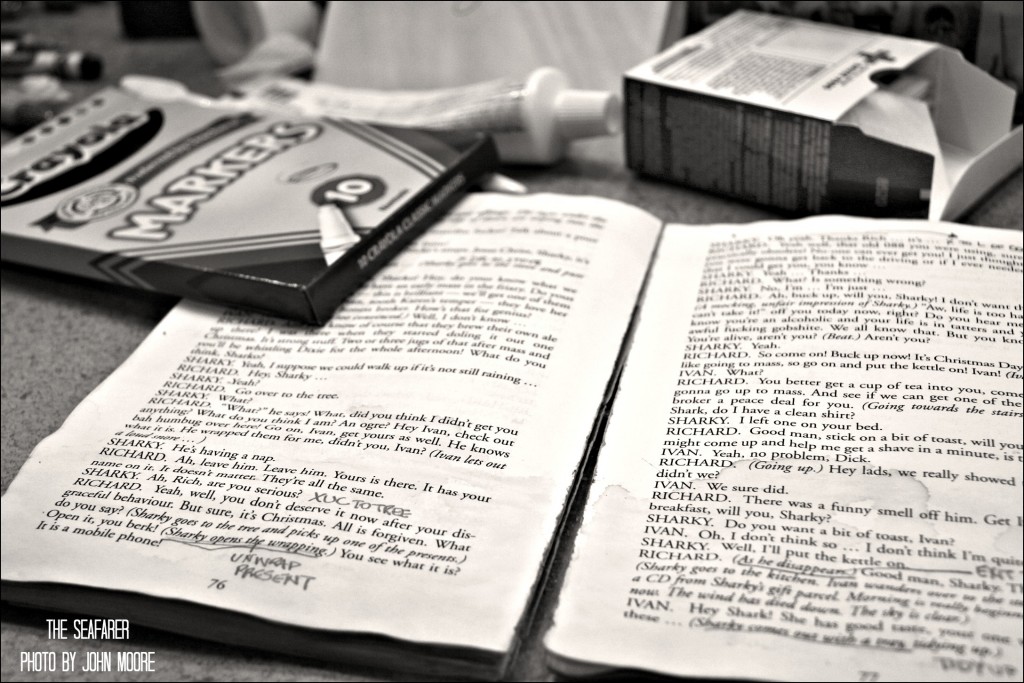 The well-worn "Seafarer" script.
Jesus enjoys a space on the wall in the Aurora Fox men's dressing room. He's saying, "Break a leg, ye fecks! J.C."
(Please click below to go to the next page.)