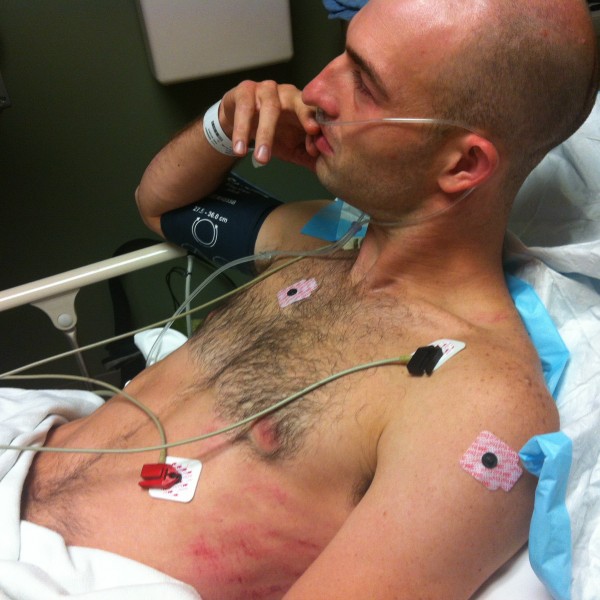 By John Moore
Sept. 7, 2012
Friday night's opening performance of "Bloody Bloody Andrew Jackson" at the Aurora Fox was canceled because of a backstage accident that sent director, producer and star Benjamin Dicke to the nearby University of Colorado Hospital.
Dicke fell about 8 feet down an open trap door at about 5 p.m., just 2 1/2 hours before the first performance was scheduled to begin. It took paramedics about an hour to safely extract him from below the stage.
Dicke broke four ribs, punctured a lung and has a cut on the back of his head that took three staples to close. He is not expected to require surgery, Doctors estimated a complete recovery will take six to eight weeks.
Scheduled performances for Sunday and Monday (Sept. 9-10) have been canceled. Opening night will now take place Sept. 14. If Dicke is unable to resume performing, the role of Andrew Jackson will be played by Andrew Diessner. The acclaimed emo-rock history musical is scheduled to run through Oct. 28.
The open trap door is located directly behind the Aurora Fox's main stage, part of a pathway that also leads to the adjacent studio theater, where "Bloody Bloody Andrew Jackson" is to be performed.
Dicke was carrying a large box of  newly arrived foam fingers that serve as props in the show, so he could not have seen that the floor before him had opened up.  Another Aurora Fox technician had dodged into the trap area to retrieve one missing letter that was needed to complete the "Bloody Bloody Andrew Jackson" title on the outside marquee. It was estimated that the door was only open for 30 seconds before Dicke fell in. The technician was still down below when Dicke fell.
"Bloody Bloody Andrew Jackson" is a being produced by Dicke, who formed his company specifically to bring the metro area its first staging of the popular populism Broadway musical that tells the story of the nation's seventh president with both irreverent and cutting undertones. By presenting Jackson as the equivalent of a modern-day rock star, the show draws both political and cultural parallels that make plain things are not all that different now than they were nearly 200 years ago.
Last week,  CultureWest.Org ranked it No. 2 on its list of the 11 most intriguing fall theater titles.
Patrons whose reservations have been affected by the cancellations can reschedule by calling 303-739-1970.