To see caption information on any photo above, or to see the gallery on a mobile phone, click here. (It will be on the lower-left corner.) Or just click "show info" on any photo.
By John Moore
Nov. 14, 2013
Opening No. 133: The Edge's "Cat on a Hot Tin Roof": Brian Landis Folkins plays the boozy, brutal and broken Brick, who is tormented by the death of his best friend (and the incriminating inferences made about that friendship) in Tennessee Williams' uncompromising tragedy, presented here in its ugly, unedited glory by director Angela Astle. In the tradition of O'Neill's "Long Day's Journey Into Night," the play follows one long day of a Southern family in inebriated crisis. (But which came first? "Long Day's Journey" was written 13 years earlier, but wasn't published until a year after "Cat" won Williams a Pulitzer Prize in 1956.) The story is set on the night of a gathering at the family estate in Mississippi to celebrate the birthday and apparent good health of patriarch Big Daddy Pollitt (Russell Costen). Much like "Death of a Salesman," the story is a constant joust between appearances and delusion and the malleable, elusive truth. And starving in the corner of this house of malice and death is a wounded, feral alleycat named Maggie (Maggy Stacy). Also featuring Emma Messenger, Marc Stith, Kelly Alayne Dwyer, Ryan Goold, Bob Byrnes, Geri Crawley, Banji Osindero, Sonsharae Tull, Amelia Modesitt, Sam Modesitt, Aliza Fassett and Pace Becker. Showtimes: 7:30 p.m. Fridays and Saturdays; 6 p.m. Sundays through Nov. 17 at 1560 Teller St., Lakewood, 303-232-0363 or the edge's home page. Photo by John Moore for www.CultureWest.Org. Thanks: Amelia Retureta, Rick Yaconis, Patty Yaconis. To see the entire "Opening Nights" photo series, click here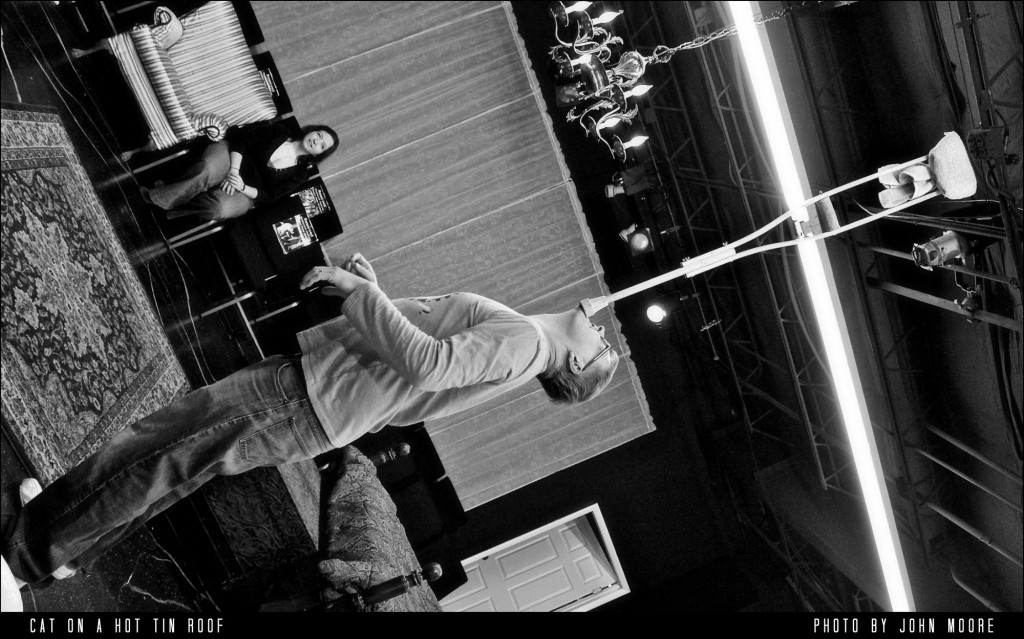 Brian Landis Folkins puts one of his core performing skills — juggling — to useful use before a performance of "Cat on a Hot Tin Roof" at the Edge Theatre.
Click here to subscribe to the CultureWest.org Monthly E-Newsletter
Colorado theater schedules, however you like them:

All currently running theater productions
All theater listings by company
All theater listings by opening date

How you can donate to the Denver Actors Fund
The new Denver Actors Fund is a modest source of immediate, situational relief when members of the local theater community find themselves in sudden medical need. To donate to the Denver Actors Fund, please go here (with our humble thanks):