Photos: My night at 11 Minutes Theatre's 'Dancing at Lughnasa'
To see caption information on any photo above, or to see the gallery on a mobile phone, click here. (It will be on the lower-left corner.) Or just click "show info" on any photo.
By John Moore
Nov. 13, 2013
Opening No. 132: 11 Minutes' 'Dancing at Lughnasa': The 11 Minutes Theatre Company may be one of the area's newest theater companies, but they perform in the historic and cozy Arvada Festival Playhouse, believed to be the oldest building in Arvada. The company is the work of Janine Ann Kehlenbach, who has put together a tight and talented "Dancing at Lughnasa," Irish playwright Brian Friel's answer to "The Glass Menagerie." It's a memory play told intermittently through a narrator (a wonderful Andrew Uhlenhopp) as he remembers one summer in 1936 with his mother and four aunts. As he recounts the story, we go back in time and watch as these five feisty women confront their loves, hardships and a society whose customs are not changing fast enough. Also featuring Margaret Amateis Casart, Sasha Fisher, Janet Mylott, Sara Michael, Dawn Bower, Kevin R. Leonard ("Sordid Lives") and Charlie Ault as the uncle missionary who has just returned from an African leper colony with malaria. Ault's family started the Festival Playhouse's resident company (the Festival Players) nearly 80 years ago. Their next offering is "Somethin' Special for Christmas," opening Nov. 19. "Lughnasa" plays through Nov. 16. Showtimes: 7:30 p.m. Fridays and Saturdays, 2 p.m. Sundays; also 7:30 p.m. Thursday, Nov. 14 at 5665 Olde Wadsworth Blvd., 303-422-4090, or go to the Festival Playhouse's home page. Photo by John Moore for www.CultureWest.Org. Thanks: Janine Ann Kehlenbach, Amy Hanselmann and Donna Ault.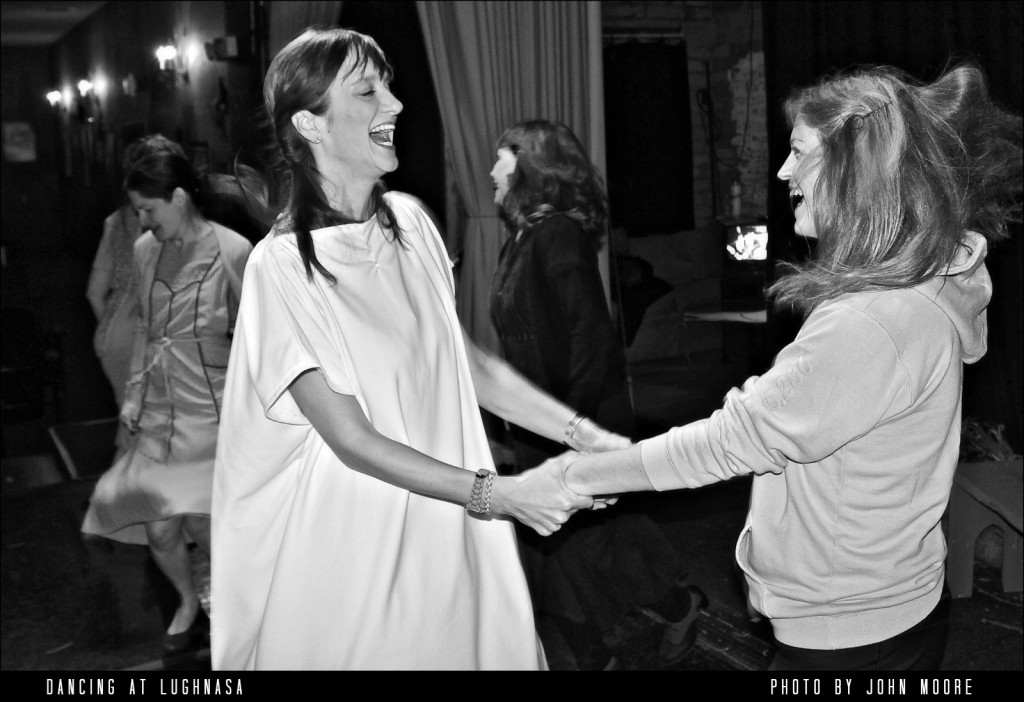 Dawn Bower, left, and Sasha Fisher put the dancing in the "Dancing at Lughnasa" during a pre-show "dance call."
Click here to subscribe to the CultureWest.org Monthly E-Newsletter
Colorado theater schedules, however you like them:

All currently running theater productions
All theater listings by company
All theater listings by opening date

How you can donate to the Denver Actors Fund
The new Denver Actors Fund is a modest source of immediate, situational relief when members of the local theater community find themselves in sudden medical need. To donate to the Denver Actors Fund, please go here (with our humble thanks):
Tags:
11 minutes theatre
,
Amateis Casart
,
Amy Hanselmann
,
Arvada
,
arvada festival playhuse
,
Brian Friel
,
Charlie Ault
,
dancing at lughnasa
,
Dawn Bower
,
Donna Ault
,
Janet Mylott
,
Janine Ann Kehlenbach
,
jphn moore
,
Kevin R. Leonard
,
Sara Michael
,
Sasha Fisher