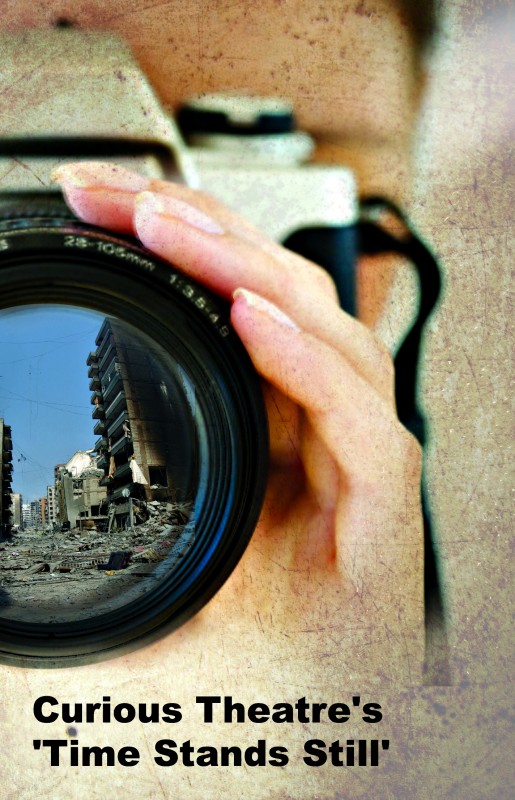 By John Moore
Oct. 30, 2012
The New York-based Theater Communications Group (TCG) has tried for eight years to organize a national night of free theater, but the initiative has failed to drum up much participation in Colorado. Not because audiences here don't want a night of free theater, but because member theaters here just haven't gotten on board with the plan.
This year, Curious Theatre is out to change that.
CTG's "Free Night of Theatre"  hasn't drummed up much interest here, and, for the second straight year, Curious is the only local participating theater. But, onward they march alone, into the land of "free."
This year's "Free Night" is set for Wednesday, Nov.  14. Curious will be presenting a special performance of "Time Stands Still," beginning at 7 p.m.
"One of my favorite nights ever in the past 15 years at Curious was last year, when we gave away an entire performance of 'Clybourne Park,' " said director Christy Montour-Larson. "The excitement and joy in the room that night was palpable. I am so thrilled we are doing it again with 'Time Stands Still.' 'Free Night' provides us with a unique opportunity to open our doors to new theatergoers, and introduce new audiences to the joys of live theater."
TCG only represents professional companies, so it has only about 10 member companies in Colorado.  "Free Night" started as an audience-development initiative in 2005, with 150 participating companies presenting more than 120 free performances for more than 8,000 people in Texas, Pennsylvania, California and more. But the initiative was all but unknown in this state before Curious joined in last year, when the company gave away 179 seats to "Clybourne Park" in 30 minutes.
"The goal of the program is to introduce new theatergoers to Curious Theatre Company," said Montour-Larson, who also serves as a "producer in residence" for the company. "I am on a quest to make 'Free Night of Theatre' a statewide event," she added. But once again, no other local companies will be participating this year.
Here's how it works:
*Patrons can enter the lottery for the free tickets by registering at the web site www.freenightdenver.com between now and Nov. 2, 2012. You will be asked to create a free profile. Preference will be given to those who attend theater infrequently.
*Everyone who enters will receive an e-mail telling them whether or not they've won. Winners will be sent a link to confirm whether they still want the tickets, and a second e-mail will be sent 48 hours before the performance.
For more information, call 303-623-0524
About Curious' "Time Stands Still"
Opening Saturday, Nov. 3, through Dec. 15: Donald Margulies' intimate, character-focused drama is about a couple at a crossroads. Sarah, a photojournalist recently injured while on assignment in Iraq, returns home to Manhattan, where her partner, James, anxiously tries to nurse her back to health. But despite James efforts to keep her home, Sarah never feels completely comfortable staying in one place. The play was nominated in 2010 for a Tony Award for best new play.
Showtimes: 8 p.m. Thursdays-Saturdays; 2 p.m. Sundays. Also 7 p.m. Nov. 14.
1080 Acoma St., 303-623-0524 or curious' home page
The cast includes Michael Morgan (James), David Russell (Richard), Tara Falk (Sarah) and Devon James (Mandy).