Dorothy's iconic red slippers were crafted by Linda Morken, who handmade more than 100 separate costumes for "The Wizard of Oz." When considered as costume pieces, the number perhaps triples.
By John Moore
May 20, 2013
Welcome to my ongoing, 2013 labor-of-love photo series bringing you iconic snapshots from behind the scenes on opening nights in Colorado theater. All photos by John Moore copyright 2013 for www.CultureWest.Org.
Opening No. 71: Boulder's Dinner Theatre's "The Wizard of Oz": This is the classic re-telling of Dorothy's odyssey with her pals the Scarecrow, the Tin Man, the Cowardly Lion and Toto, too, to the imaginary land of Oz. In their search for their heart's desires, they encounter Munchkins, flying monkeys, a few witches, and learn there's no place like home. Based on L. Frank Baum's novel and the classic MGM film. Directed and choreographed with a Cirque du Soleil infusion by Alicia Dunfee. Flying by Troy Trinkle. Starring Sarah Grover as Dorothy, Scott Beyette as the Scarecrow, Bob Hoppe as the Tin Man, Seth Caikowski as the Cowardly Lion, Barb Reeves as the Wicked With of the West, Wayne Kennedy as the Wizard and Tracy Warren as the good witch Glinda. Also featuring Brett Ambler, Olyvia Beyette, Brian Cronan, Alicia Dunfee, Will Hawkins, Jessica Hindsley, Brian Jackson, Cindy Lawrence, Brian Norber, Matthew D. Peters, Izzy Robie, Alei Russo, Alana Schoenhals … and Max as Toto. The rotating kids cast includes Isabella Bowland, Owen Leidich, Thomas Russo, Stella Schitter, Caitlin Bridge, Rachael Perez, Emma Hecht, Kaden Hinkle, Benji Dienstfrey, Darrow Klein, Riley Holcomb and Sofia Vargas. Showtimes: 7 p.m. Wednesdays, 7:45 p.m. Thursdays-Saturdays; 1:30 and 7:45 p.m. Sundays (dinner service 90 minutes before). Through Aug. 31 at 5501 Arapahoe Ave., 303-449-6000 or bdt's home page. Thanks: Michael J. Duran, Melissa Vargas, Susie Montanez, cast and crew.
The following gallery is just one chapter in my ongoing photo series called "It's Opening Night in Colorado Theatre," bringing you iconic snapshots from behind the scenes all over Colorado theater. All photos by John Moore for www.CultureWest.Org. To see the actual, official photo series featuring one intimate, iconic snapshot from 71 Colorado opening nights (and counting), click here.
Click here to subscribe to the CultureWest.org Monthly E-Newsletter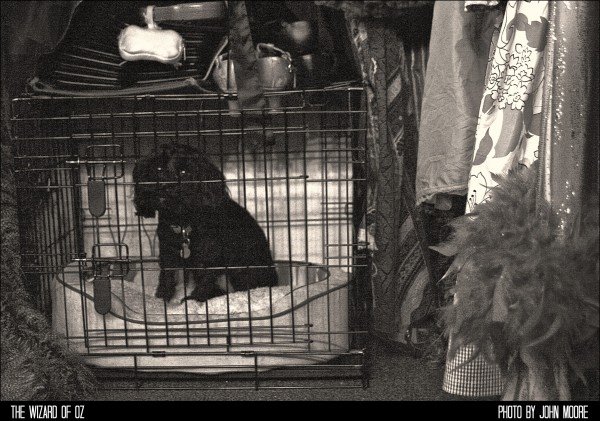 There's a frenzy of backstage activity on any opening night, but this mild-mannered dog named Max, owned by ensemble member Olyvia Beyette (below), takes it all in stride just moments before making his first appearance as the witch-baiting Toto.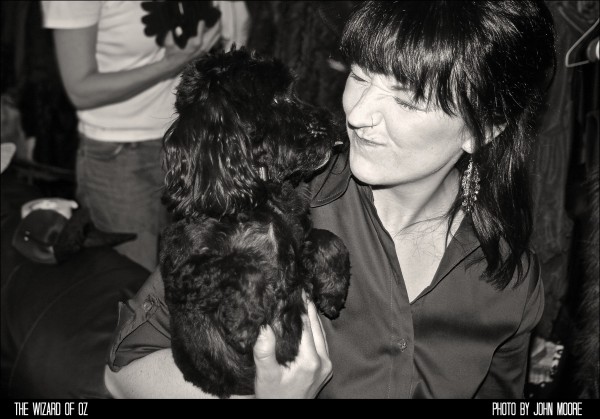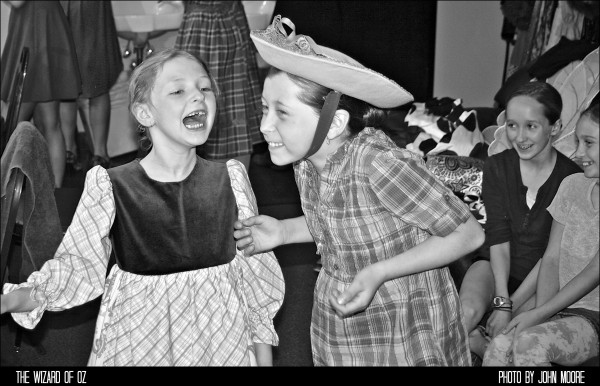 Let's face it: Munckins don't even need their costumes to be adorable.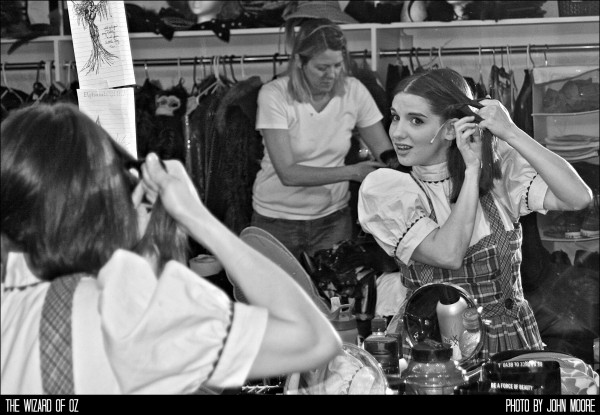 Dorothy (Sarah Grover) gets every last hair in place.

Dinner is served … and you can bet "The Wizard of Oz" is attracting many Girl Scout troupes to dinner and a show. This group is here to support troupe-mate Sofia Vargas, third from left, who also appears in the show.

A dressing-room photo shows musical director Neal Dunfee, his wife (the director Alicia Dunfee) and their family.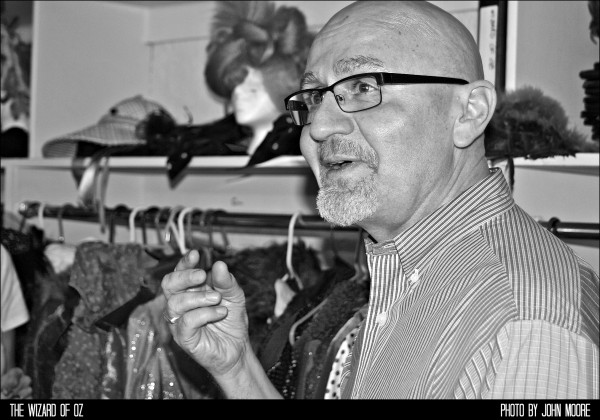 Producing artistic director Michael J. Duran has final backstage words of encouragement for his cast.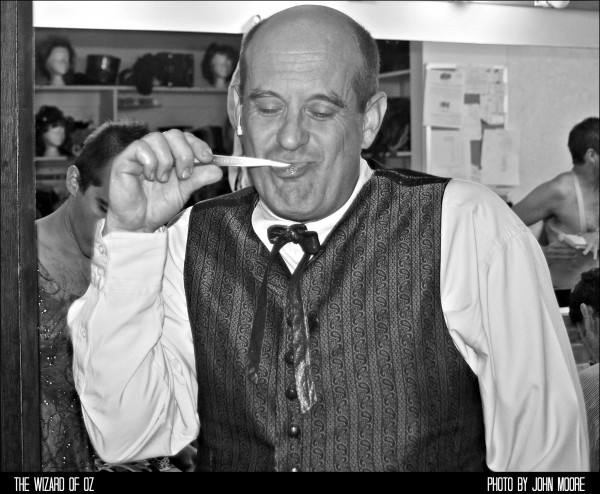 Wayne Kennedy: The Wonderful Wizard has some wonderfully cleaned teeth!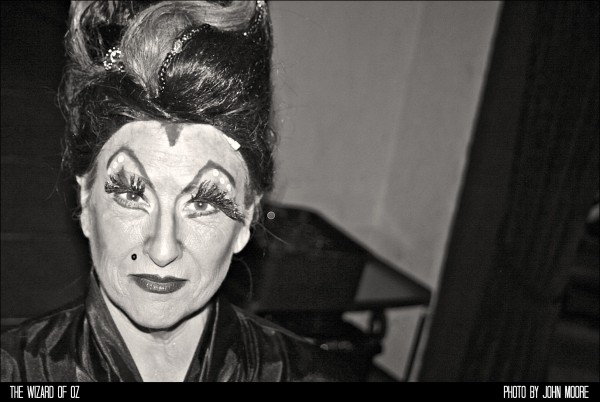 I'm curious how the tips are coming in for actor Barb Reeves, who serves customers while also playing the Wicked Witch of the West. Oftentimes, tips plummet for the poor actors when they portray evil characters.
(Please click "Page 2" below to go to the next page of our photos from our visit to "The Wizard of Oz")