If you are on Facebook, you can see the cast portraits above as individual photos by clicking here.
By John Moore
May 20, 2013
Welcome to my ongoing, 2013 labor-of-love photo series bringing you iconic snapshots from behind the scenes on opening nights in Colorado theater. All photos by John Moore copyright 2013 for www.CultureWest.Org.
Opening No. 70: Town Hall Arts Center's "Hair: The rock musical that created history by bringing experimental theater to Broadway is having a love-in in Littleton. "Hair" defines the fringe element of the '60s generation by examining a group of young hippies struggling for personal identity wile dealing with the Vietnam War, drugs and teenage pregnancy. Songs include "Let the Sunshine In," "Aquarius" and "Good Morning Starshine." Brief nudity. Don's freak; it's like, 15 seconds. And tastefully done. Adult themes and content. Directed by Nick Sugar. Matt LaFontaine stars as Berger, with Casey Andree as Claude, Rebekah Ortiz as Jeanie, Burke Walton as Woof and Norrell Moore as Sheila. Featuring Tyrell D. Rae, Ashlie-Amber Harris, Lauren Cora Marsh, Rob Janzen, Abby M. McInerney, Tim Howard, Alejandro Roldan, Carter Edward Smith, Faith Goins, Jacob Villarreal, Jessica Evans, Noah Jordan, Rae Klapperich, Shena Mathew and Taylor Nicole Young. Through June 16 at 2450 W. Main St., Littleton, 303-794-2787 or town hall's home page Thanks: Steven Neale, Cheryl McNab, Leslie Rutherford, cast and crew.
The following gallery is just one chapter in my ongoing photo series called "It's Opening Night in Colorado Theatre," bringing you iconic snapshots from behind the scenes all over Colorado theater. All photos by John Moore for www.CultureWest.Org. To see the actual, official photo series featuring one intimate, iconic snapshot from 71 Colorado opening nights (and counting), click here.
Click here to subscribe to the CultureWest.org Monthly E-Newsletter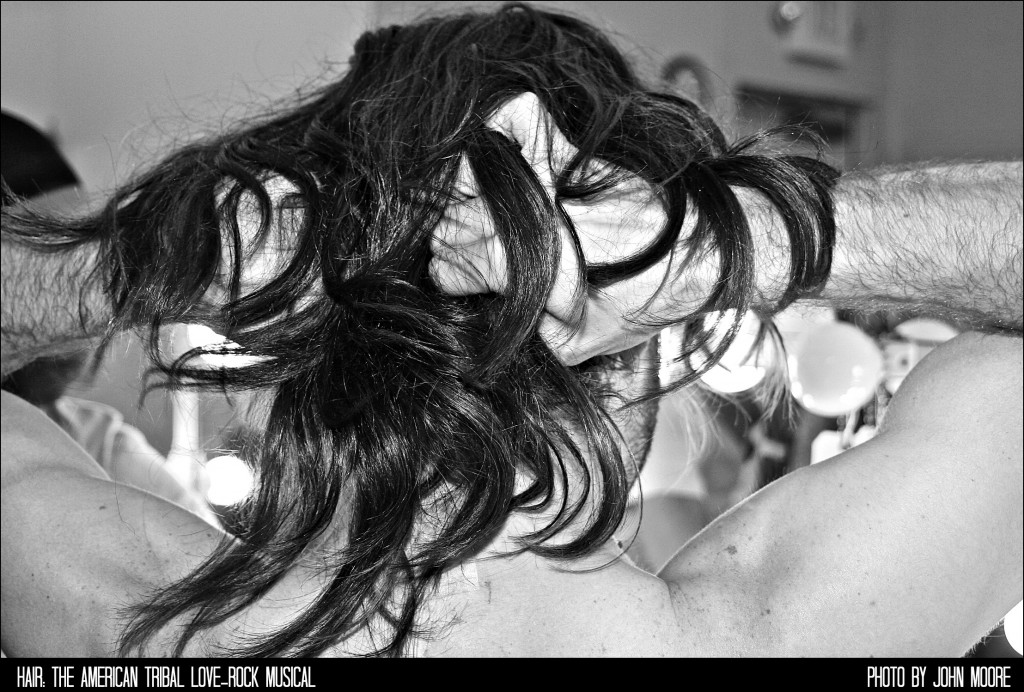 Matt LaFontaine … Berger … Hair.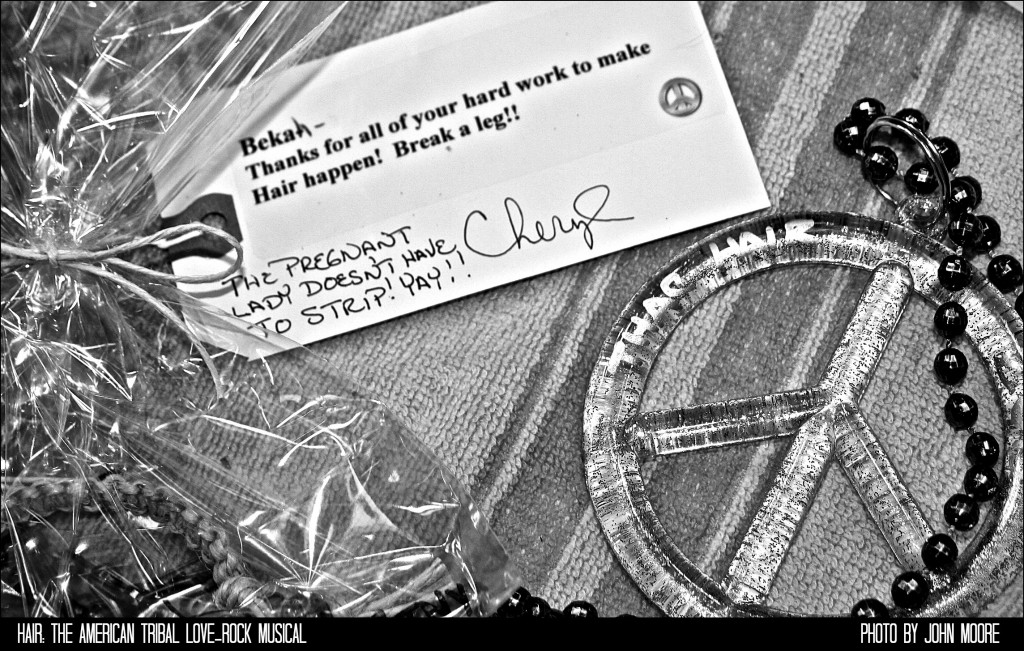 Each cast member received a gift and a note from Town Hall executive director Cheryl McNab. Rebekah Ortiz, the recipient above,  plays the pregnant Jeanie. The show features one brief nude scene at the end of the first act.

Casey Andree (Claude) and Tim Howard (Tribe) are still getting used to … all … that … (fake) … hair.

During the show, Rebekah Ortiz and her castmates hand out flyers asking the audience to attend a "love-in." Backstage, the flyers have been slightly altered into opening-night afterparty invitations at Ortiz's house.

Before the show, the cast signs cards marking castmate Jessica Evans' opening-night birthday.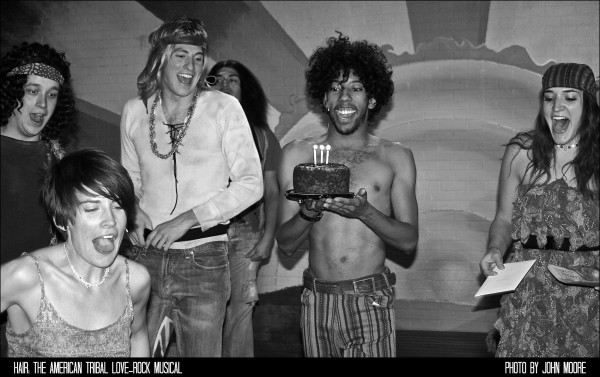 At pre-show musical warmups, Noah Jordan presents Jessica Evans with a birthday cake.
(Please click "Page 2" below to go to the next page of our photos from our visit to "Hair")