Because "Baby" is being staged in the Shaver-Ramsey Showroom — a fine carpet store —
the entire set must be assembled, taken down stored in a parking-lot pod and assembled again — for every performance.
By John Moore
June 5, 2013
Welcome to my ongoing, 2013 labor-of-love photo series bringing you iconic snapshots from behind the scenes on opening nights in Colorado theater. All photos by John Moore copyright 2013 for www.CultureWest.Org.
Opening No. 75: Cherry Creek Theatre Company's "Baby, the Musical": "Baby, running through June 23, is a 1983 musical about impending parenthood as told through three couples dealing with the potential consequences of this most universal experience. There are two college students (Emily Luhrs and Drew Hirschboeck), two thirtysomethings having trouble conceiving (Shannan Steele and Scott Severtson) and two middle-aged parents (Brian Walker-Smith and Megan Van De Hey) who thought their diaper-changing days were over. Director Pat Payne has assembled a big-name cast including five Equity (union) actors. Also featuring Jona Alonzo, Ben Dicke, Lisa Finnerty and Parker Redford. I'm not saying staging this musical about love could get a little confusing backstage but, in real-life, Luhrs is sweet on Dicke; Severtson just became a dad again, Van De Hey is partial to assistant stage manager Robert Michael Sanders; and while Steele plays a woman desperate to become pregnant, she is expecting her second child. Oh, baby! Showtimes 7:30 p.m. Fridays-Saturdays; 6:30 p.m. Sundays at Parker Redford at the Shaver-Ramsey Showroom, 2414 E. 3rd Ave., 303-800-6578 or Cherry Creek Theatre's home page. Thanks to Amy Brosius, Gloria Shanstrom, Richard H. Pegg, Mark Rossman and Maxine Rossman.
The following gallery is just one chapter in my ongoing photo series called "It's Opening Night in Colorado Theatre," bringing you iconic snapshots from behind the scenes all over Colorado theater. All photos by John Moore for www.CultureWest.Org. To see the actual, official photo series featuring one intimate, iconic snapshot from 76 Colorado opening nights (and counting), click here.
Click here to subscribe to the CultureWest.org Monthly E-Newsletter

Parker Redford gets a backrub from Emily Ann Luhrs, who gets a backrub from Drew Hirschboeck, backstage on opening night. Backstage, in this case, is really a downstage storage room at the Shaver-Ramsey Showroom. (Yes, the actual rug store).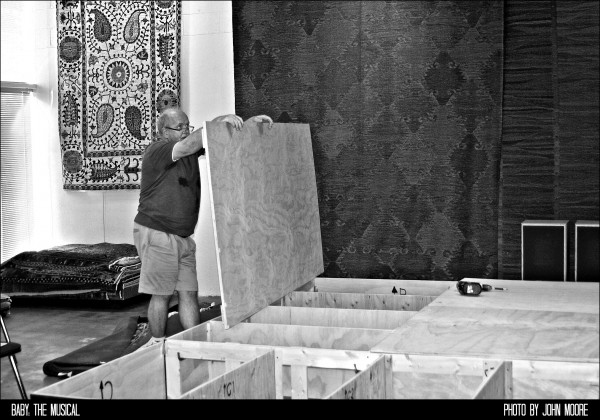 Production designer Richard H. Pegg installs the stage for opening night.

Megan Van De Hey helps prepare pregnant castmate Shannan Steele for a backstage photo shoot: Steele was featured in my blog celebrating the women of the Colorado theater community — all wearing my sunglasses.

The finished portrait!

Brian Walker-Smith is in the house.

Emily Ann Luhrs with her castmate and real-life boyfriend, Ben Dicke, an actor and ultra-runner who would run a 50K race the morning after this performance. Dicke plays several support characters in the ensemble, including a lugubrious and oblivious reproductive specialist.
(Please click "Page 2" below to go to the next page of our photos from our visit to "Baby."