Veteran actors Barb Reeves and Bren. (yes that's a period) Eyestone Burron put on a bit of a rural midwestern church-like fashion show backstage in the moments before taking the stage in Boulder's Dinner Theatre's regional premiere of the family musical, "Church Basement Ladies." Hubba, hubba!

By John Moore
Feb. 27, 2013
Opening No. 33: Boulder's Dinner Theatre has been pushing the envelope a bit of late with productions like "Avenue Q," but "Church Basement Ladies" is a nostalgic new musical comedy for the whole family. It's about four 1960s "steel magnolias" who prepare the food while confronting various events in a rural Lutheran church in Minnesota. It's been much an homage to (as opposed to a satire of) those tireless women whose lives revolve around faith, service and (in one case) hot flashes. Featuring Barb Reeves, Ali Dunfee, Bren. Eyestone Burron, Heather Marie Doris and Wayne Kennedy. Directed by Curt Wollan. 5501 Arapahoe Ave., 303-449-6000 or BDT's home page. Photos by John Moore of www.CultureWest.Org. Thanks to Michael J. Duran, Neal Dunfee, cast and crew.
To see the our full photo series, "It's Opening Night in Colorado Theatre," featuring one intimate, iconic snapshot from 33 Colorado opening nights (and counting), click here.
Click here to subscribe to the CultureWest.org Monthly E-Newsletter

An up-close-and-personal look at Barb Reeves' circa 1964 socks.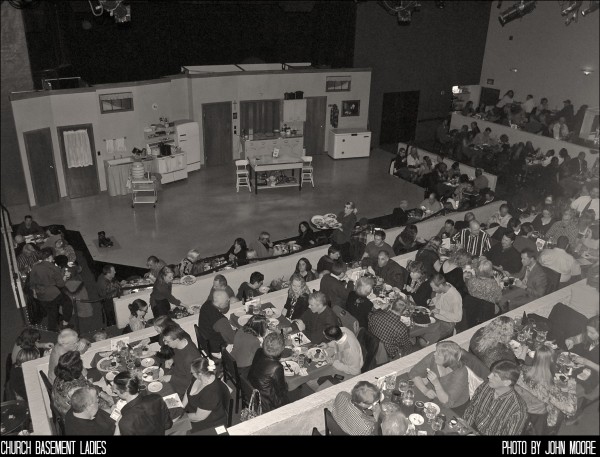 It may be an unknown title, but the BDT faithful packed "Church Basement Ladies" down to the last chair on Saturday.

BDT favorite Wayne Kennedy was more than willing to be cast as a "Basement Drag Lady," but this sweet family comedy is SO not that kind of show. So he had to settle for playing the lovable Lutheran Pastor Gunderson.

The sign says 34, but it will soon be changed: Boulder's Dinner Theatre is now celebrating 35 years in business.

Boulder actor – and native – Barb Reeves takes a moment before Saturday's performance of "Church Basement Ladies" to remember her mother, Betty Reeves. Barb is an original member of the Boulder's Dinner Theatre ensemble, dating back 35 years. But her mother's credits include the 1982 production of "Grease," pictured above. Betty (middle row, second from right) played Miss Lynch.

Not to be outdone, producer Michael J. Duran poses by the photo of his starring performance in the very first production ever staged at Boulder's Dinner Theatre in 1978: "Joseph and the Amazing Technicolor Haircut" … I mean, "Dreamcoat."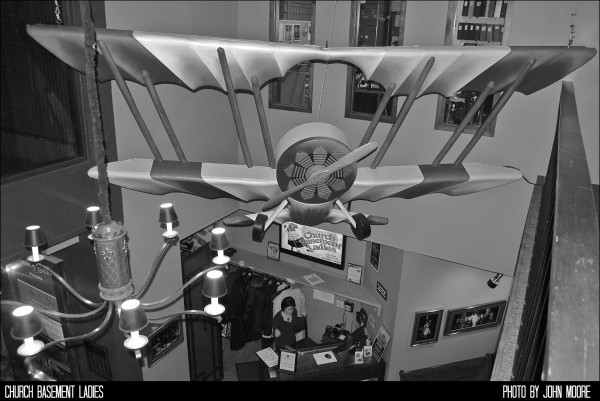 The front lobby is now dominated by the gigantic old plane that was an integral set piece for BDT's recent staging of "The Drowsy Chaperone." Michael J. Duran couldn't bear to lose it, so he had it moved to the front lobby.
(Please click below to go to the next page.)