Opening No. 110: Heritage Square's 50 Shades of Loud": It's bittersweet to finally see capacity houses at the Heritage Square Music Hall again, now that people know this is their last chance to see a truly one-of-a-kind theatrical entertainment in the Denver metro area. Then again, the popular "Loud" series always did bring 'em out of the woodwork, and even more so in this, the ninth and final chapter in the series of pop-music revues dating to 1998 that span popular hits from the 1950s-90s. They've always been framed by the story of two feuding siblings who break out into tunes ranging from from Elvis to the Beatles to the Village People to Adele. It sats T.J. Mullin, Annie Dwyer, Rory Pierce, Johnette Toye, Alex Crawford, Randy Johnson, Eric Weinstein, Jeff Foerster and Scott Koop. The Music Hall closes for good on Dec. 31, and this "Loud" chapter has only three more days remaining before giving way to "Sweeney Todd." Showtimes: 8 p.m. Friday and Saturday; 2 p.m. Sunday (dinner 2 hours before) at 18301 W. Colfax Ave., Golden, 303-279-7800 or Heritage Square's home page. Photo by John Moore for www.CultureWest.Org. Thanks: Connie Helsley. Click here to see the complete "Opening Nights" photo series to date.
Opening No. 109: Edge Theatre's "Bengal Tiger at the Baghdad Zoo": Last weekend, The Edge let the tiger out of his cage (Paul Page), and adding to the celebration was Sam Gilstrap's 30th birthday, which called for a backstage toast. In Rajiv Joseph's recent Broadway play (starring Robin Williams), the lives of two American Marines and an Iraqi translator are forever changed by an encounter with a starving tiger who haunts the streets of war-torn Baghdad while the dying beast embarks on an existential quest to find meaning in its life. It stars Kevin Lowry and Nathan Bock, featuring Gilstrap, Alberto Ocampo, Miranda Vargas and Yasmin Sweets, a group that easily constitutes one of the best gathered ensembles yet in the Edge's short history. The production serves as director Richard Cowden's Denver farewell. The busy director and actor is moving his family to Vermont. Friends are asked to gather at 10 p.m. Saturday at the Edge to say goodbye. Better yet, come early and see the play first. Showtimes: 8 p.m. Thursdays through Saturdays; 6 p.m. Sundays through Sept. 29 at 1560 Teller St., Lakewood, 303-232-0363 or the Edge's home page. Thanks: Nina Harris, Rick Yaconis, Gloria Shanstrom.

Opening No. 108: Miners Alley Playhouse's "Wonder of the World": OK, so this play has recently closed … but we got the chance to see this wacky little play, and wanted to represent it in our series. ("Plays That Have Opened"?) This is noted wackadoodle David Lindsay-Abaire's latest comedy about a housewife on the run. Cass is not prepared for the dirty little secret she discovers in her husband's sweater drawer. It is so shocking that she flees to the honeymoon capital of the world — Niagara Falls — in search for the life she thinks she missed out on. Directed by Robert Kramer. It starred Haley Johnson, Lindsay Pierce, Matthew Blood-Smyth, Erica Johnson, Debra Caamano, Verl Hite and Christian Mast. Also pictured: Stage manager Bryanna Scott and run crew John Kramer, Marissa Rios and Tyler Roach. Photo by John Moore for www.CultureWest.Org. Click here to see the complete "Opening Nights" photo series to date.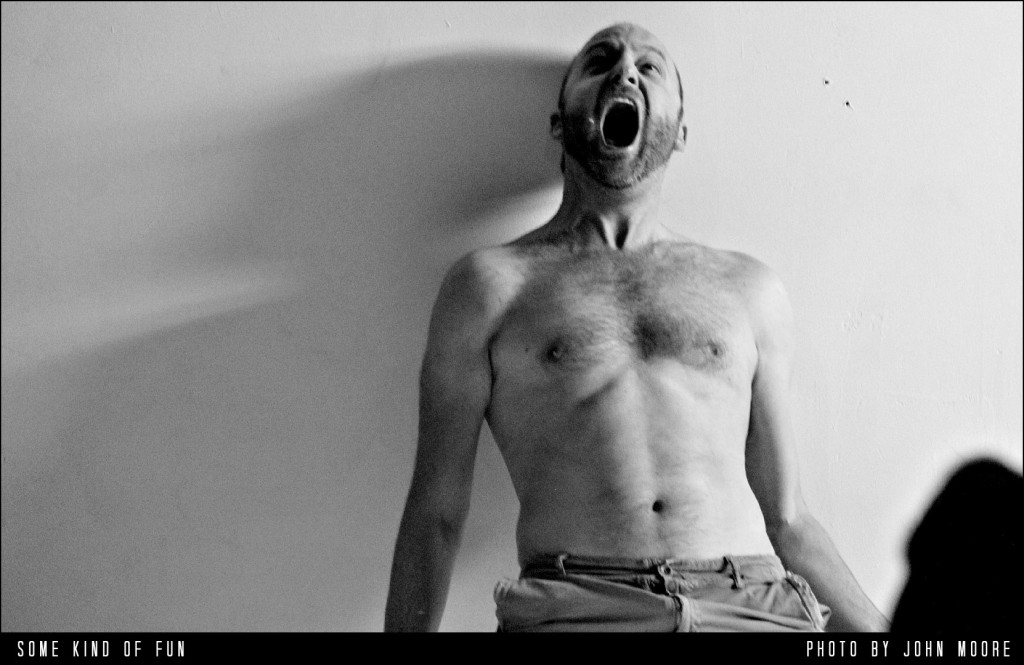 Opening No. 107: Screw Tooth's "Some Kind of Fun": This freakout by Denver's newest theater company, run by 27-year-old Adam Stone, is self-described as "a 360-degree experience of a mind against itself: Creating, becoming, destroying, rebuilding, composing, consuming, childishly tormenting, reeling, reveling, dreaming, and seeing." I'd just add in that it's an experiment in experimental theater that harks more to early LIDA Project than what you know of Buntport. (The Buntporters are lending the space to Stone, but Buntport stalwart Erin Rollman is credited as one of three "Some Kind of Fun" writers, along with Stone and Laura Ann Samuelson. The story begins understandably enough: A man is challenged by a young girl to write a story, to create characters he controls like God but, like Old Testamenters, they soon prove to have minds of their own. It's largely inexplicable from there, but thrilling to watch play out all around you from the center of Buntport's warehouse space, which has been completely cleared out and thus expanded to allow Stone more room for to dabble in several huge, distinct playgrounds. The text is sort of based on some of the same Ovid stories that inspired "Metamorphoses," but "Some Kind of Fun" is filled with cacophonies, epiphanies, gunshots, barrels of water and … oh yeah, Drew Horwitz (pictured above) playing a caged Cain who spews repugnant, ignorant, violent dialogue about women into a jailhouse camera all evening. And guess what? Every word he says came from actual public remarks by the boxer Mike Tyson. Not sure what it all means, but three days later, I'm still thinking about it. Also featuring: Chris Kendall, Edith Weiss, Nathan Blackwell, Adderly White Bigelow, Ali Janes-Paulsen, Charlie Dando, Claire Patten, Emily K. Harrison, Joanna Rotkin, Jonathan Edward Brown, Joseph Wolff Phillips, Kaylee Hart, Laura Ann Samuelson, Mary Grace Legg, Rachel D. Graham and Skye Hughes. Showtimes: 8 p.m. Thursdays through Saturdays, and Monday, Sept. 9 at Buntport Theater, 717 Lipan St., 720-946-1388 or go to Screw Tooth's home page. Photo by John Moore for www.CultureWest.Org. Click here to see the complete "Opening Nights" photo series to date

Opening No. 106: Aurora Fox's "Metamorphoses": Carmen Vreeman is suspended from a black trapeze rope above the pool of water that serves as the setting for "Metamorphoses," Mary Zimmerman's lyrical adaptation of nine interrelated tales based on ancient Greek and Roman mythology. Using contemporary language and familiar characters, such as King Midas, Orpheus and Eurydice, the play explores the inevitability of change and the transformative powers of love. Directed by Geoff Kent with an all-star cast including Michael Morgan, Jada Roberts, Zachary Andrews, Ryan Wuestewald, Michelle Hurtubise, Jamie Morgan and Carmen Vreeman. Showtimes: 7:30 p.m. Fridays and Saturdays; 2 p.m. Sundays in the Aurora Fox studio Theater, 9900 E. Colfax Ave., Aurora, 303-739-1970 or the Aurora Fox's home page.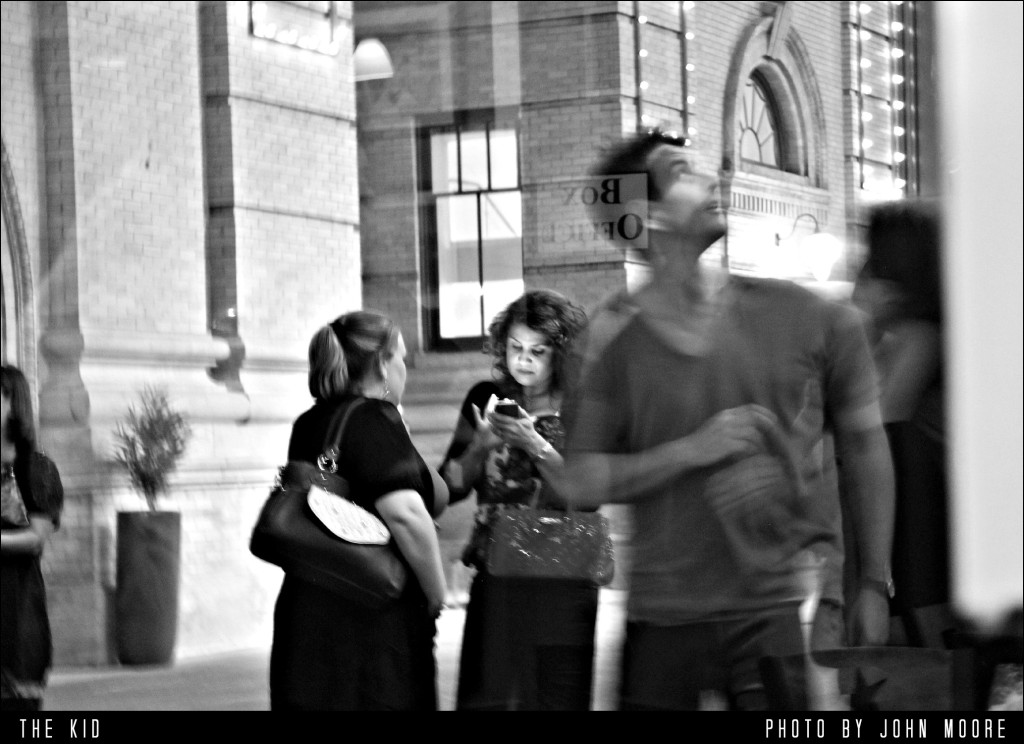 Opening No. 105, Denver Center Attractions' developmental musical, "The Kid": Joey McIntyre leaves the Garner-Galleria Theatre following the first-ever performance of his new, one-man bio-musical, "The Kid." McIntyre was the youngest member of New Kids on the Block, the biggest boy band in history (and no, he tells us … the Beatles were not a boy band). In this personal coming-of-age story starring McIntyre himself, Joey takes the audience from his hometown of Boston to sold-out stadium tours and life after the New Kids. Featuring music from his childhood, music he helped make famous and music that inspires him. Showtimes: 7:30 p.m. Thursdays through Saturdays; 2 p.m. Saturdays and Sundays (except Aug. 31); with additional shows at 7:30 p.m. Sunday, Sept. 1; and 7:30 p.m. Wednesday, Sept. 11. At the Denver Performing Arts Complex, 14th and Curtis streets, Information: 303-893-4100 or the denver center's web page.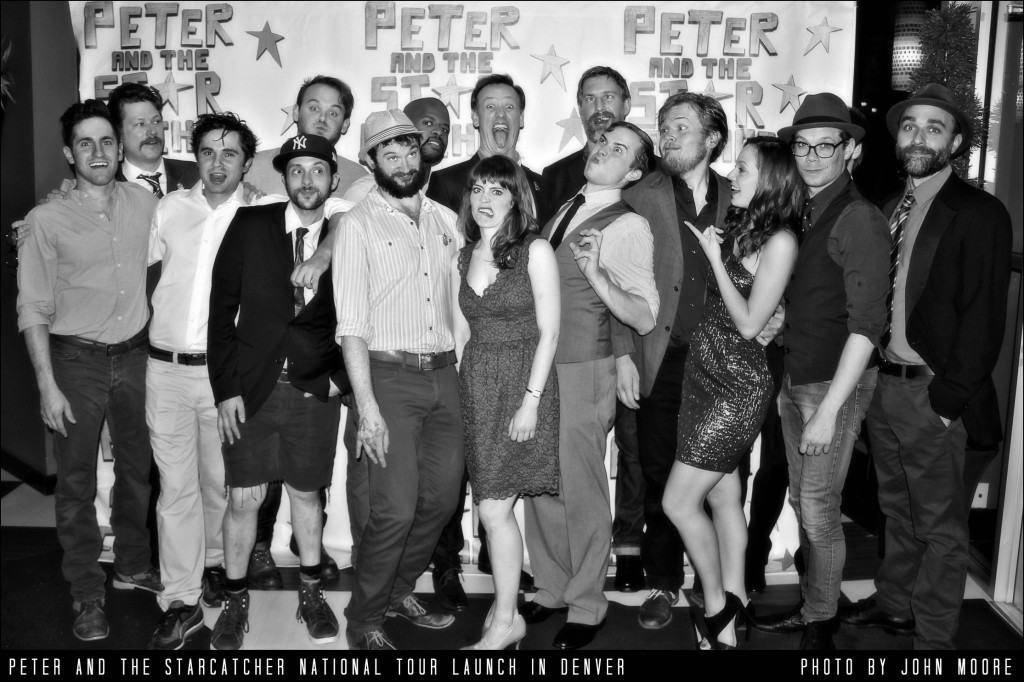 Opening No. 104, the national touring production of "Peter and the Starcatcher": The cast gave us their best pirate faces at the opening-night party at Pizza Republica in downtown Denver on Aug. 21. The cast features Joey deBettencourt (Boy), Megan Stern (Molly), John Sanders (Black Stache) Harter Clingman (Alf), Jimonn Cole (Slank), Nathan Hosner (Lord Aster), Carl Howell (Prentiss), Ian Michael Stuart (Captain Scott), Benjamin Schrader (Mrs. Bumbrake) Luke Smith (Smee), Edward Tournier (Ted), Lee Zarrett (Fighting Prawn), Ben Beckley, Robert Franklin Neill, Rachel Prather and Nick Vidal. Molly's understudy is Rachel Prather. "Peter and the Starcatcher" runs through Sept. 1 at the Ellie Caulkins Opera House in the Denver Performing Arts Complex, 14th and Curtis streets. Information: 303-893-4100 or www.denvercenter.org.
Opening No. 103: Germinal Stage Denver's "Offending the Audience": The 40-plus ensemble of "Offending the Audience" serenades Germinal Stage-Denver founder Ed Baierlein with a round of "For He's a Jolly Good Fellow" following the final opening performance at the company's soon-to-be-razed 26-year-old home in northwest Denver. One of Denver's most longstanding and substantive of theater companies is presenting its final play in northwest Denver. Austrian Peter Handke's argument with the theater is often referred to as an "anti-play." The script, which features no characters and no plot, is a confrontational and even proudly condescending lecture on the experience of attending live theater. Germinal's first staging in 1976 became easily its most notorious when one performance sparked chaos and rebellion among engaged and enraged audience members. Even still, there is a sentimental quality to it that made revisiting it now the perfect way for Germinal to close its doors. The 2013 cast is made up of dozens of returning Germinal actors and … me. Each performance will be different, with widely varying cast sizes. Says founder and director Ed Baierlein: "It will conspire to blow your collective mind." Performances at 8 p.m. Fridays and Saturdays; 7 p.m. Sundays through Aug. 25 at 2450 W. 44th Ave., 303-455-7108 or germinal's home page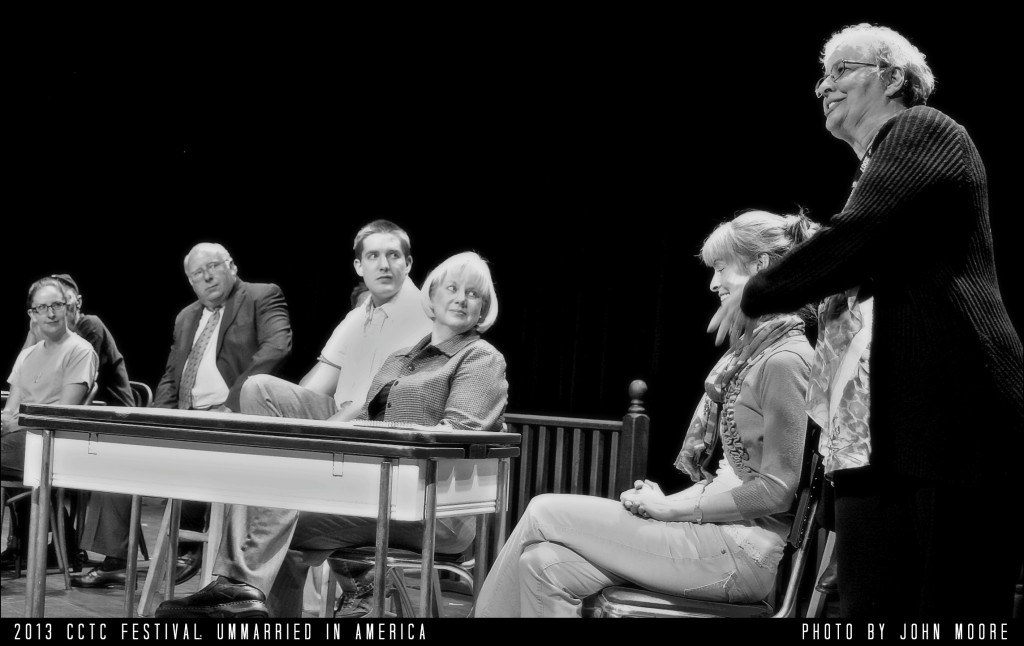 Opening No. 102: Colorado Community Theatre Coalition Festival: Aspen Stage's nationally acclaimed "Unmarried in America," directed by Wendy Moore (standing right) and written by K.D. Carlson (seated right), was debuted at the 2012 Colorado Community Theatre Coalition festival in Salida and was invited back for a celebratory, bookend performance yesterday at the Denver Center's Conservatory Theatre. The play humanizes all sides of the gay-marriage issue following the statewide referendum in California that defined marriage as between a man and a woman only. Aspen Stage won four awards in June for its performance of the play at the American Association of Community Theatre's national festival in Carmel, Ind., and its creators now have aspirations for licensing and national distribution. The cast, some of whom can be seen at the left, included Carlson, Missy Moore, Brad Moore, Kevin Derkash, Ryan Fleming, Brendan Cochran and Cindy Hines.This massive annual competitive festival is being hosted this year by the Denver Center Theatre Academy in the Conservatory Theatre at the Denver Performing Arts Complex. The gathering, running through tonight, includes performances, workshops, networking, competitions and awards. Performances have included condensed (1-hour) versions of Ignite Theatre's "Next to Normal," Vintage's "RFK," Aspen Stage's nationally acclaimed "Unmarried in America," Bas Bleu's "The Year of Magical Thinking," Ignite's "Lysistrata Jones," the Platte Valley Players' "My Way" and Phamaly's "Fiddler on the Roof." Workshop presenters have included bigshots like Larry Hecht, Angela Astle, Allison Watrous, Jessica Austgen, Justin Walvoord, Maggie Stillman, Stuart Barr, Peter Hughes, Eric Weinstein, Gloria Shanstrom and Deb Flomberg. The co-chairs are Lisa Kraai and Shane Delavan. More workshops today, two performances capped by the presentation of awards. For the full schedule, info and tickets, click here.
(Please click below to go to the next page.)