Opening No. 61: Miners Alley Playhouse's "The Memory of Water": Anyone who has read the "religious views" line on my Facebook profile knows my philosophy: "Everybody Into the Bed!" That's just where the cast of MAP's new family drama organically gravitated before Sunday's opening-weekend performance. From left, that's Matthew Blood-Smyth (in the hat), Kurt Brighton (back), Paige Larson, Emily Paton Davies, Lisa DeCaro and Deb Curtis. Shelagh Stevenson's melancholy 1996 comedy follows three sisters who have come together for their mother's funeral. They bicker about memory, life and clothing choices through an intermediary inspired by Noël Coward. Through May 26. Directed by John Arp. Showtimes: 7:30 p.m. Fridays and Saturdays; 6 p.m. Sundays (except May 26, when curtain is at 2 p.m.) at 1224 Washington St., Golden, 303-935-3044 or map's home page. Thanks: Rick Bernstein, Len Matheo, Jonathan Scott McKeon and Brenda Billings.

Opening No. 60: Buntport Theater's "A Knight to Remember": In what could have served as the perfect companion piece to the Arvada Center's recent "The Man of La Mancha," Denver's fearlessly (and endlessly) inventive Buntporters are currently taking up an uncommonly self-referential comic, Quixotean quest. Ever-amiable actor Brian Colonna takes audiences on a trip back to the fourth grade, where he explores his childhood dreams of knighthood. Snarky squires Erin Rollman and DJ Hannah Duggan join in on Colonna's self-examination to determine whether he ever truly possessed the characteristics necessary to become a knight in the first place. (Here's a hint: Spelling apparently isn't one of them). This is a comedy about honor, love … and what was up with that pretty girl in the class picture who looks like, in the absence of her knight, is left to hold her own hand alone. As usual, the Buntporters play with the unusual in employing charmingly simple storytelling techniques. But for as cheeky as this latest original effort is, it's an intimate and honest look into the life and psychology of one of Denver's most endearing young actors. Starring Brian Colonna as Brian Colonna in a full suit of armor (imported from … well, Denver, but via India). Through May 11 at 717 Lipan St. Showtimes: 8 p.m. Thursdays, Fridays and Saturdays; also 3 p.m. Sunday May 5. 720-946-1388 or buntport's home page

Opening No. 59: square product theatre's "Ding Dongs, Or What is the Penalty in Portugal?":
When a sweet-faced young couple shows up on a suburban doorstep somewhere nearabouts, say, "Arlington Road," an unsuspecting homeowner finds himself the victim of a surreal home invasion. Using wit and wordplay to mask a possibly more sinister threat, man and couple wage a battle over indigenous property rights from the most unlikely of places … an ordinary American living room. A comedy (yes, comedy) written by Brenda Withers ("Matt & Ben"). Directed for the lower-cased theater company by Rand Harmon. Above: Emily K. Harrison and Jason Maxwell rehearse a key scene before the play's opening performance in Denver after a run in Boulder. Natalie and Joe are not your average suburban couple. No, they are a couple of Ding Dongs. Also featuring Jack Wefso. The subtitle is a nod to a reference made by author Howard Zinn in "A People's History of the United States," in a section about differing notions of property rights. The artistic company of the theater that premiered this play in Boston is Zinn's son, Jeff, so the otherwise obscure subtitle stuck. Plays through May 4. Showtimes: 8 p.m. Thursdays through Saturdays at the Laundry on Lawrence, 2701 Lawrence St., 303-442-0234 or square product's home page. Thanks: Josh Nelson.

Opening No. 58: Theatre Company of Lafayette's "Glengarry Glen Ross": If you've ever been backstage at the Mary Miller Theatre, you know the largest single space back there is the bathroom. So that's where I gathered the eight members of director Ian Gerber's cast for this portrait, which sort of seems appropriate for a play as hilariously pocked with potty language as David Mamet's profanity-laced 1984 Pulitzer-winner. And you'll notice, it was so tight in there, we couldn't even fit poor Dean Espitallier (the cop) into the frame. "Glengarry" is the story of cutthroat real-estate salesmen who, well, cut throats to win a very consequential sales contest. Lies, blackmail, burglary, desperation, double-crossing — and a set of steak knives — lurk behind the brittle, brutal confidence of these veteran hucksters. Also featuring, from left: Jon Gregory, Joel Silverman, Blake Curton, Michael Occhiuzzo, Wade Livingston, (former Boulder Daily Camera theater critic) Mark Collins and Patrick Collins. Strong language. For mature audiences. Through May 18. Showtimes: 7:30 p.m. Fridays and Saturdays; 7:30 p.m. Monday, April 29; and 2 p.m. Sunday, May 5, at 300 E. Simpson St., 720-209-2154 or theatre company of lafayette's home page Thanks: Jeanie Balch, Tina Kruse, Marta Occhiuzzo and Don Thumin.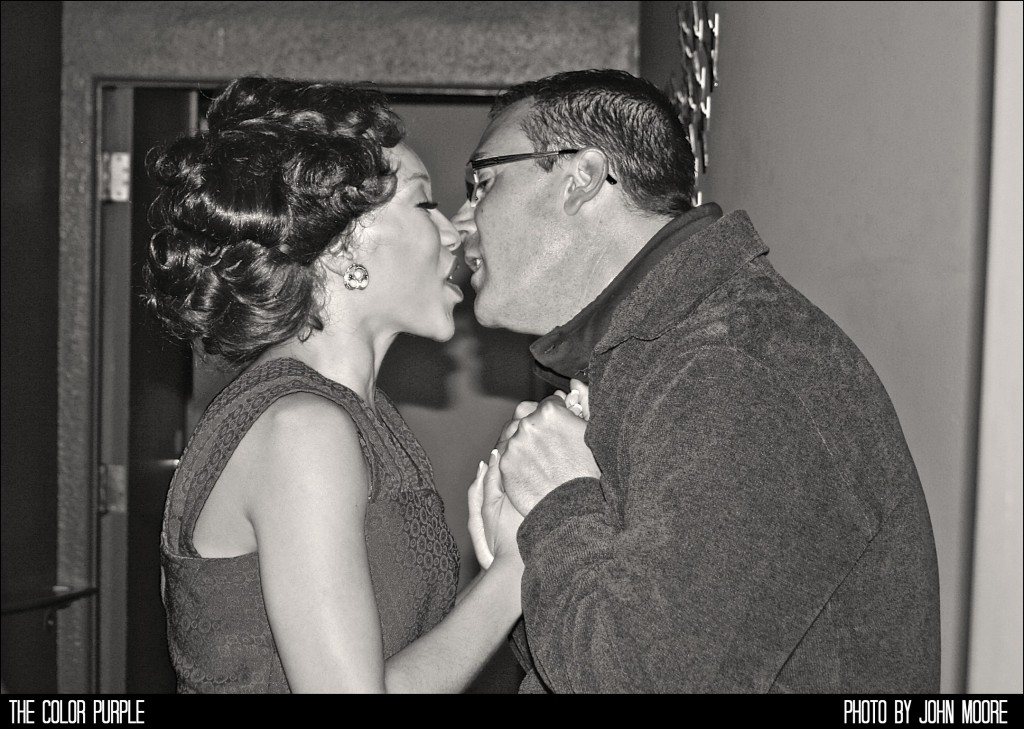 Opening No. 57: The Aurora Fox's "The Color Purple": There was an onstage marriage proposal after Monday's industry-night performance at the Aurora Fox. John Salazar proposed to actor Erica Lyn Cain, who plays (an adorable) Squeak … and she said yes! The musical is a stage adaptation of the Alice Walker epistolary novel about Celie Johnson as she struggles throughout her life in the early 1900s. Over 40 years, Celie is married to a brutal man named "Mister" who abuses her, neglects her and covets her sister. Mister's lover, Shug Avery, befriends Celie and helps her to understand the power of her womanhood, leading to a powerful reunion. The book was written by Marsha Norman (" 'Night Mother"), and you can read my 2009 interview with Norman here. Directed by donnie l. betts. Starring SuCh with De Thomas, Anna High, Krisangela Washington, Ashlie-Amber Harris, Tyrell D. Rae. Also featuring Leonard Barrett Jr., Erica Lyn Cain, Jada Roberts, Matthew D. Peters, Noah Lee Jordan, Martell Harding, Faith Angelise Goins, Liam Speros, Maddie Atuire, Samuel L. Davis, Kim Dawson, Rae Klapperich, Audrey Gachire, Summer Dion, Lonnie McCabe, Jontae Piper, Cicely O'Kain, Matt Laughlin, Nadiya Jackson and Richard Williams. Musical director David Wohl. Through May 12 at 9900 E. Colfax Ave., Aurora. Showtimes 7:30 p.m. Fridays and Saturdays; 2 p.m. Sundays. 303-739-1970 or www.aurorafoxartscenter.org Thanks: Patricia Wells, Lindsay Sullivan and Charles Packard.

Opening No. 56: The Edge Theatre's "The Shadow Box": 9News entertainment reporter Kirk Montgomery isn't just making a quick cameo in Rick Yaconis' staging of Michael Cristofer's 1975 Pulitzer Prize-winning play about three hospice patients at a mountain retreat. Montgomery plays "The Interviewer," an off-stage (but live) voice who serves, in effect, as a confessor to the patients and their families. It's never made evident exactly why these dying patients have abandoned medical treatment in favor of The Interviewer's psychological experiment, which only makes the underlying inevitability of their situations all the more more unsettling. John Considine played Montgomery's role in Paul Newman's 1980 made-for-TV film adaptation. Also featuring: Marc Stith, Paul Page, Carol Bloom, Haley Johnson, Brock Benson, Michelle Grimes, Patty Ionoff (Yaconis) and Paul Escobedo. Through May 19 at 1560 Teller St., Lakewood. Showtimes: 8 p.m. Thursdays through Saturdays; 6 p.m. Sundays. 303-232-0363 or the edge's home page. Thanks: Rick Yaconis, Charles Cobb and Gloria Shanstrom.

Opening No. 55: Ignite Theatre's "Cabaret": Monday's opening-weekend industry-night performance of Kander & Ebb's classic musical drew a capacity crowd despite a snowstorm that sent star Matt LaFontaine (the Emcee) to the Aurora Fox's back loading dock for what had to be a chilly a pre-show cigarette. "Cabaret" follows an American writer who is coming of age in 1920s Berlin, when the end of indulgence and sexual ambiguity paralleled the rise of the Nazi Party. It's staged in-the-round in the Fox's studio theater by director/choreographer Danny Harrigan, with drink service provided by the Kit Kat Boys during the show. Also featuring: Lindsey Falduto as Sally Bowles, Marcus Turner as Clifford Bradshaw, Barbara Porreca as Fraulein Schneider, Brian Trampler as Herr Schultz, Rob Janzen as Ernst and Maggie Tisdale as Fraulein Kost. Through May 5 at 9900 E. Colfax Ave. Showtimes: 7:30 p.m. Fridays-Saturdays; 2:30 p.m. Sundays. Tickets: 720-362-2697 or Ignite's home page. Thanks: Keith Rabin, Mary Coan and Brandon Bill.

Opening No. 54: Starkey Theatrix's "Always … Patsy Cline": For my return to directing, I got plenty of advice from more experienced, well-wishing directors around town. Advice, such as: "Break their spirits." (Turns out, the actual expression is, "Break a leg"). Also: "You must wear a beret and carry a riding crop." (Who knew?) So before opening night, Carla Kaiser Kotrc (Louise) gave me just that, so I played along. As did co-star Megan Van De Hey (Patsy), above. Also featuring the Bodacious Bobcats, Neal Dunfee, Dan Hoeye, Jason Tyler Vaughn, Bob Case and Scott Alan Smith. Musical direction by Jalyn Courtenay Webb. Extended through April 27 at the PACE Center, 20000 E. Pikes Peak Ave., in Parker. Thanks: Seth Caikowski, Shaun Albrechtson, Ronni Gallup.

Opening No. 53: Arvada Center's "The Man of La Mancha": The Arvada Center's powerhouse new production, especially its vocals and set design, make for one of its strongest big musical efforts of the past several seasons. Above, visiting lead actor William Michals offers a backstage sneak peek of the form if not the face of Don Quixote/Alonso Quijano/Miguel de Cervantes before the performance. Directed by Rod Lansberry. Starring William Michals as Quixote, the operatic Jennifer DeDominici as the beguiling and beaten Aldonza/Dulcinea and Ben Dicke as Sancho. Featuring a cast filled with familiar local names including Mark Rubald, Craig Lundquist, Markus Warren, Rob Costigan, Robert Michael Sanders, Mercedes Perez, Jessica Hindsley, Daniel Langhoff, Jeremy Sortore, Kitty Hilsabeck, Sue Leiser, Tim Howard, Burke Walton, Andrew Diessner, Scott Severtson, Brett Ambler, Joanie Brosseau and Angela Mendez, as well as visiting actors Danielle Porcellini, Chris LeBeau, Lucas Coleman and Sidney Erik. Through April 14 at 6901 Wadsworth Blvd., 720-898-7200 or the arvada center's home page. Thanks to Lisa A. Kurtz, Lisa Cook, Cynthia DeLarber and Melanie Mayner.

Opening No. 52: Athena Project Festival's "Tell Martha Not to Moan": Adrienne Martin-Fullwood greets her fans after a performance of this new play that is the centerpiece of the Athena Project's new-play festival. The play, by Clinnesha D. Sibley, looks at the changing world through an African-American home in Detroit 2007. As the presidential campaign plays out on the national stage and the 40th commemoration of the Detroit Riot is marked, memories punctuate the journey of a devoted, elderly couple in their squalid living room. Also starring Russell Costen and featuring Kathi Wood, Martell Harding and Don Randle. Directed by Melissa McCarl. Through March 31 at the Aurora Fox studio theater, 9900 E. Colfax Ave., Aurora, 303-739-1970 or the athena project's home page
(Please click below to go to the next page.)