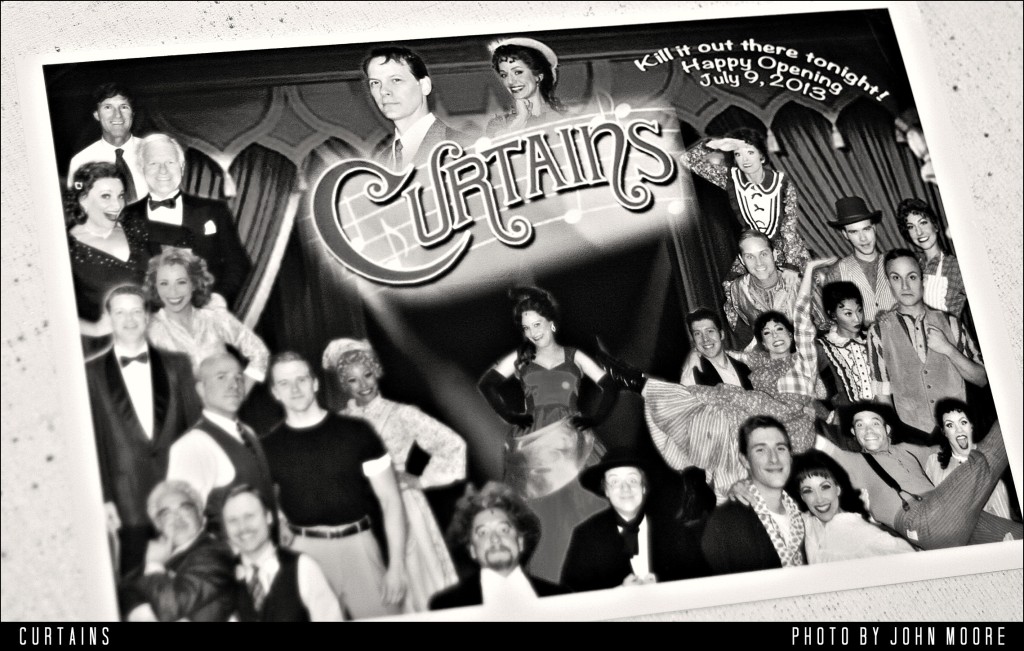 Opening No. 91: Arvada Center's "Curtains." Ensemble actor Stephen Bertles is an Arvada Center veteran whose opening-night tradition is preparing a greeting card made up of a montage of souvenir photos and passing them out as gifts to his castmates. In this new-to-Denver Broadway whodunit musical comedy by Kander & Ebb (& Rupert Holmes), a Boston cop with a not-so-secret secret love for musical theater, investigates the murder of a Broadway-bound theater company's tremendously untalented star on opening night. Nominated for eight Tony Awards. Directed by Gavin Mayer. Music direction by David Nehls. Starring Jim Poulos, Erica Sweeney Lauren Shealy and Jeffrey Roark. Featuring Megan Van De Hey, Mark Rubald, Colin Alexander, Kara Dombrowski, Scott Sevettson, Thadd Krueger, Michael E. Gold, Adam Pepper, Mercedes Perez and an ensemble including Johnny Stewart, Matthew Dailey, Stephen Bertles, Rachel Turner, Maddie Franke, Samantha Berman, Zina A. Mercil, Jale Corcoran, Rae Klapperich, Kitty Skillman Hilsabeck, Ben Delony, Matt LaFontaine and Parker Redford. Showtimes: 7:30 p.m. Tuesdays, Wednesdays, Thursdays, Fridays and Saturdays. Matinees 1 p.m. Wednesdays; 2 p.m. Saturdays and Sundays. Through July 28 at 6901 Wadsworth Blvd., 720-898-7200 or the Arvada Center's home page. Thanks: Melanie Mayner, Rod Lansberry, Lisa Cook.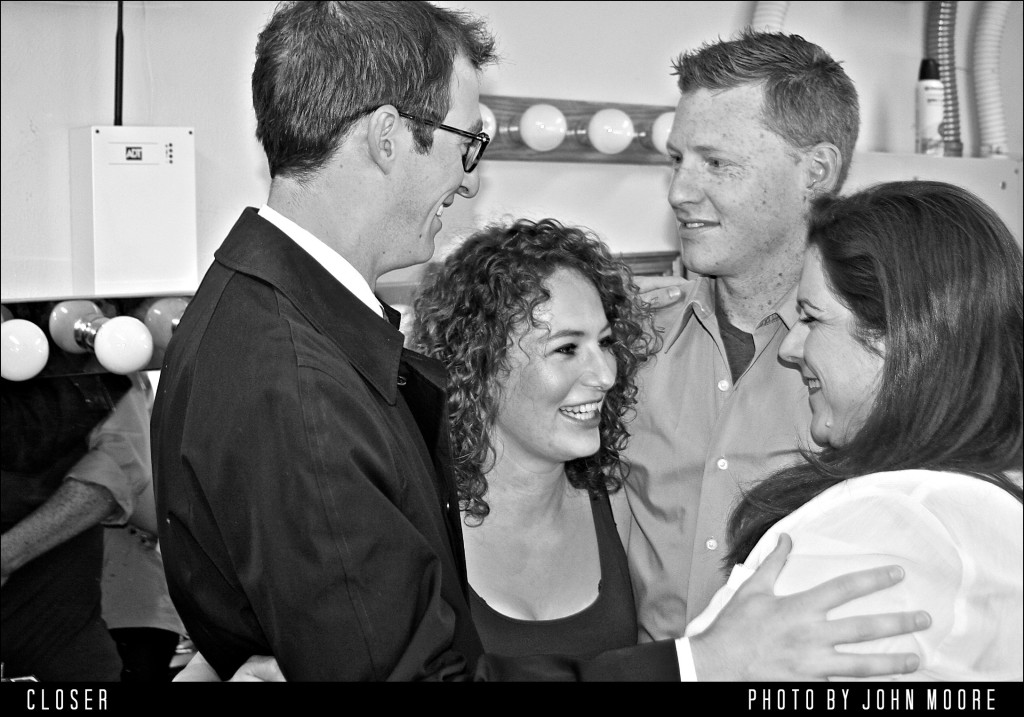 Opening No. 90: Vintage Theatre's "Closer": You can't get much "Closer" than actors Casey Andree, Erica Fox, Eric Mather and Haley Johnson. Four lovers intertwine and trade places over nearly five years years in this stinging look at modern love and betrayal written by Brit Patrick Marber. This is a crazy sexual square dance in which partners are constantly swapped in a series of pass-the-lover scenes between a quartet that constantly feeds its carnal desires and yet still struggles to find any real intimacy. Directed by Bernie Cardell. Showtimes: 7:30 p.m. Fridays and Saturdays, 2:30 p.m. Sundays through July 21 in Vintage's studio theater, 1468 Dayton St., Aurora, 303-839-1361 or vintage's home page. Thanks: Tanner Johnson Heck, Conor Fleming, Rachel Thompson.
To see a full gallery of "Closer" photos, click here.

Opening No. 89: Colorado Shakespeare Festival's "Macbeth": You might think Macbeth doesn't see a dagger appear before his head until Act II. But here is internationally acclaimed actor Nigel Gore practicing the king-to-be's chilling "Come, let me clutch thee" speech in the woods behind the Mary Rippon outdoor amphitheater stage just moments before the opening performance on June 29 in Boulder. Shakespeare's tragedy explores the darkest corners of the human heart as the ambitious Macbeth schemes and murders in his raw, ambitious quest for the throne. Award-winning director Jane Page sets the tribal story amid the harsh landscapes – both political and geographic – of 1980s Afghanistan. Gore also starred in last summer's "Richard III" in Boulder. Also featuring Liza de Weerd as Lady M, and featuring Sam Gregory, Lawrence Hecht, Nathan Stith among an ensemble of 27. Next performance: 8 p.m. July 13 at the Mary Rippon outdoor Amphitheatre on the University of Colorado-Boulder campus; times then vary throughout the summer. Call 303-492-0554 or go to colorado shakes' home page. Thanks: Clay Evans, Timothy Orr, Rachel Ducat, Paul Behrhorst, cast and crew.
To see a full gallery of "Macbeth" photos, click here.
Opening No. 88: Nick Cave's "Heard • DAM": Nick Cave – the renowned Chicago textiles artist, not the renowned Australian rocker – high-fives some of the approximately 50 Denver dancers with whom he collaborated to stage "Heard • DAM" as part of the Denver Art Museum's "Untitled" late night, mixed-media series, staged the final Friday of every month. Cave presented a large-scale, multimedia public performance that featured collaborations with three respected local dance companies (3rd Law, Wonderbound and Cleo Parker Robinson) as well as 15 individual amateur dancers who auditioned from the community. (One was Buntport Theater's own Mitch Slevc). Cave's team gave each company movement assignments they developed with his creative team over the preceding week, capped at the final rehearsal by the insertion of Cave's signature, sometimes full-bodied "Soundsuit" costumes, which included several human-sized horses. Think textiles meets modern dance. The show, which sold out in 15 minutes, was a variation on "Heard•New York," which Cave staged at New York's Grand Central Terminal in March. Friday night's multi-sensory explosion corresponded with the opening of Cave's massive Denver Art Museum exhibit, titled "Nick Cave: Sojourn," running through Sept. 22. Info: 720-865-5000 or www.denverartmuseum.org. Cave will re-create the live dance performance July 19 in Civic Center Park as part of Denver's Biennial of the Americas. Thanks: Ashley Pritchard, Hope Grandon and William Morrow.
To see a full gallery of Nick Cave photos, click here.
Opening No. 87: Candlelight Dinner Playhouse's "The Sound of Music": Brian Burron plays governor to a cast of 28 who get some love and last-minute advice from their director in the green room moments before Thursday's opening performance. Pictured above include Sami Walter, Alisha Winter, Joey Revier, Jack Barton, Katie Canterbury, Delany Garcia, Matthew Reichen, Owen Whitham and … so … many … nuns. With the recent closing of the Union Colony Dinner Theatre and the impending shuttering of the Heritage Square Music Hall, we're down to a handful of dinner theaters remaining in Colorado. At the newest, the 380-seat, $6.2 million Candlelight in Johnstown (about 45 miles of Denver), whole families of audiences were starting to gather in the lobby at 4:30 p.m. for Thursday night's opening performance of the classic Rogers & Hammerstein musical. Based on the memoir of Maria von Trapp, it's 1930s Austria, where young Maria leaves her convent to serve as governess to the seven mischievous children of Navy captain and widow Georg Von Trapp. Directed by Brian Burron. Starring Alisha Winter as Maria and Christopher Valcho as Captain Von Trapp. Featuring Marlin May as Max, Joey Revier as Rolf, Lindsey Coleman as Elsa, Bren. (with a period) Eyestone Burron as the Mother Abbess, Samantha Walter as Liesl, and a double-cast whole lot of other Von Trapp kids including Isaac Sprague, Owen Whitham, Sophie Krupanszky, Delany Garcia, Nathaniel Braswell, Matthew Reichen, Natalie Sarver, Katie Canterbury, Becca Hyde, Rylee Vogel, Natalie Orsborn and Lexie Woolridge. 7:30 p.m. Thursdays-Fridays; 1: 30 p.m. and 7:30 p.m. Saturdays; 2 p.m. Sundays (dinner service 90 minutes before). Through Sept. 1 at 4747 Market Place Drive, 970-744-3747, 1-877-240-4242 or candlelight's home page. http://www.coloradocandlelight.com/ Thanks: Charlie Villarreal, Don Berlin, Patrick Sawyer and Dave Clark.
To see a full gallery of "The Sound of Music" photos, click here.
Opening No. 86: Miners Alley Playhouse's "Collected Stories" That dated photo of a youthful writer Ruth Steiner on the set of Miners Alley Playhouse's "Collected Stories" is actually a youthful headshot of actor Billie McBride, whose 1980s Broadway career included "Torch Song Trilogy," "Safe Sex" and "A Kurt Weil Cabaret." But I suspect this photo may have been from her days on the ABC soap, "All My Children." Donald Margulies' provocative drama examines an "All About Eve"-style relationship between renowned Jewish writer and professor Ruth Steiner and her young graduate student protégé, Lisa Morrison. "Collected Stories" examines the blurred boundaries between fact and fiction, friendship and rivalry, honor and betrayal. Starring McBride and Devon James. Directed by Robert Kramer. Showtimes: 7:30 p.m. Fridays and Saturdays; 6 p.m. Sundays (except the closing Sunday, July 14 when the curtain is at 2 p.m.), at 1224 Washington St., Golden, 303-935-3044 or map's home page. Thanks: Len Matheo.
Opening No. 85: The Avenue Theater's "Minimum Wage": The Happy Burger Boys of "Minimum Wage" are, from left, Damon Guerrasio, Michael Bouchard, Carter Edward Smith and Keegan Flaugh. Denver's own Smothers Brothers — Charlie and Jeff LaGreca — created a hit on the New York fringe circuit with this endearing original musical comedy that takes you into the training ground zero for happy-time burger-flipping … Jim Jones style. The result is a cross between "Fast Food Nation," "Saturday Night Live" and "Pee-Wee's Playhouse" — with a lot of fun a capella music thrown in. The LaGrecas have turned the reins over to iconic local director Nick Sugar — but you also know Charlie as the man who has turned Comic Con into a big-time Denver happening. Also featuring Abby McInerney. And if you are hungry, The Avenue is offering a "Burger & Fries" discount ticket in partnership with the burger-flippers next door at Park & Co. Showtimes: 7:30 p.m. Thursdays through Saturdays; plus 2 p.m. Sundays through Aug. 17 at 417 E. 17th Ave., 303-321-5925 or the avenue's home page. Thanks: Steven Neale, Colin P. Elliott, Brian Freeland, Nuri Heckler and Bob Wells.
To see a full gallery of "Minimum Wage" photos, click here.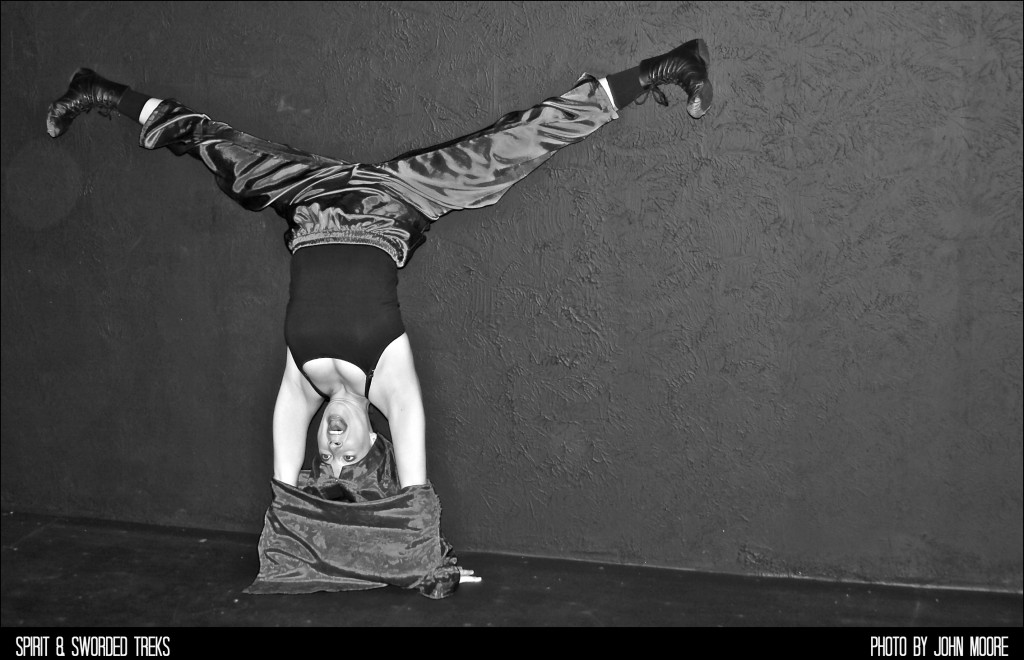 Opening Nos. 83-84: Theatre Esprit Asia's "Dust Storm" and "Spirit & Sworded Treks": Denver's first Asian-American theater company presented two solo plays performing in repertory at the Vintage Theatre's studio theater. "Sworded Treks" is written by company co-founder Maria Cheng. It weaves tai-ji forms, storytelling, stir-fry cooking and stand-up comedy through the spiritual struggles of a Chinese-American woman who tells us what Johnny Unitas, ecstatic sex, a beheaded Barbie doll and martial arts all have to do with the tao of spirituality. Above, Michelle Hurtubise takes "a break" between performances by demonstrating some of the tai-ji forms she displays while performing "Spirit & Sworded Treks." She split performances with Cheng. "Sworded Treks" played in repertory with a one-man show about World War II internment camps titled "Dust Storm," with three actors sharing those performances, including Dale Li and Peter Trinh. All shows were staged in Vintage Theatre Productions' studio theater, 1468 Dayton St., Aurora. On the day we visited, Vintage was actually responsible for five performances in a single day: Three performances by TEA; its own mainstage offering of the Agatha Christie spoof "And Then There Was Nun"; and a reprise of its recent hit "RFK: A Portrait of Robert Kennedy" at the next-door Aurora Fox. Thanks: Charles Cobb, Kat Reynolds, Gloria Shanstrom.
See a full gallery of "Sworded Treks" and "Dust Storm" photos here.

Opening No. 82: Sis Tryst's "Talley's Folley": Allison Watrous gets a congratulatory hug from her fellow actor, fellow teacher and fellow friend Brian Shea, who was in the audience at DU to see her star in "Talley's Folley." The scene of Lanford Wilson's drama is an ornate, deserted Victorian boathouse in 1944 Missouri. A bookish Jewish accountant from St. Louis has come to plead his love to the rich, troubled and most unreceptive Sally. The play is several unfolding mysteries at once, namely: Why these broken, mismatched lovers ever were drawn to one another — and what is really now keeping them apart. The play is directed by Larry Hecht (now playing Puck in the Colorado Shakespeare Festival's "A Midsummer Night's Dream") and Ashlee Temple. It stars Allison Watrous and Greg Unga. Sis (short for "sister") Tryst was formed in 2009 by Temple, Anne Penner and Allison Watrous, who earned a True West Award nomination for her fearless work in last year's "Crimes of the Heart." It ran through June 23 in  the University of Denver's "white-box theater," located next to its "black-box theater" in Johnson-McFarlane Hall, 1903 E. Iliff Ave. Thanks: Te Yelland, cast and crew.
To see a full gallery of "Talley's Folley" photos, click here.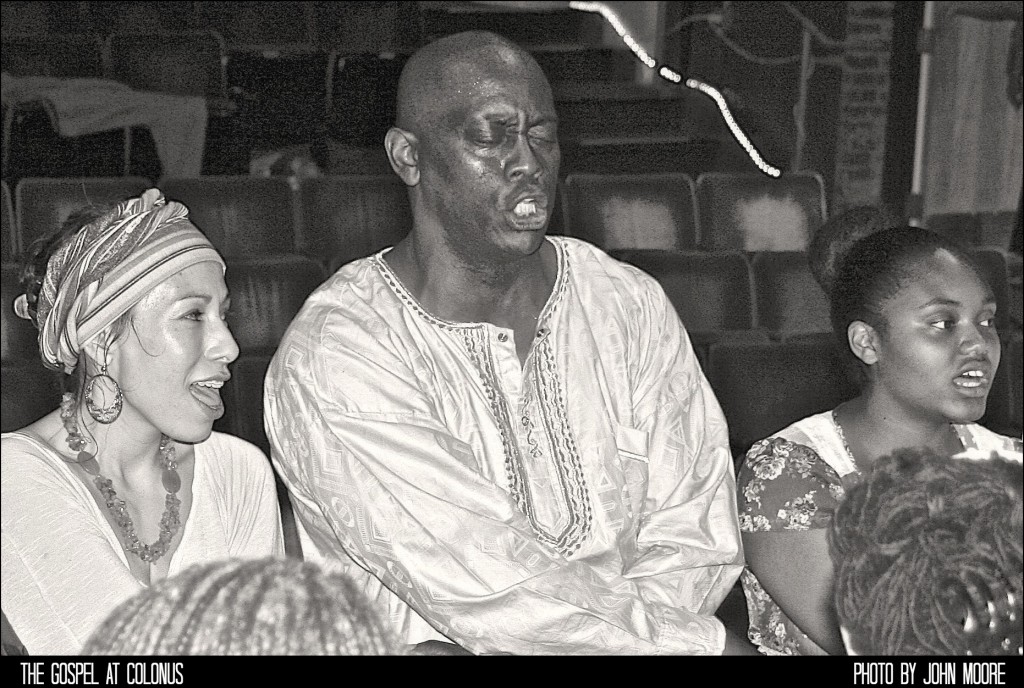 (Please click below to go to the next page.)