Opening No. 81: The Source Theatre and Su Teatro's "The Gospel at Colonus": This co-production is a spiritual and uplifting telling of the Oedipus tragedy as inspired by African-American Pentecostal churches and sung by a choir of 32. Oedipus' torment and redemption is presented as a parable that explores myth as a powerful connecting point for all people. The original script, developed in 1985 by experimental theater director Lee Breuer, was a finalist for the Pulitzer Prize. Above, Don Randle, who plays "Preacher Oedipus" and a narrator of sorts, feels the fervor alongside Autumn Johnson, left, and Lorena Perez as the cast builds up its energy and excitement for Thursday's opening performance. Directed by Jimmy Walker, Music directed by Michael A. Williams, choir directed by Ervia P. Davis. Featuring Don Randle, Martin Estes Jr., Roslyn Washington, Jesse Ogas and Charlie Romero; featured choir soloists such as Robertta Moore, Willie Singleton and Krisangela Washington; and scores of ensemble choir members you might recognize such as Dwayne Carrington, Vincent Robinson, Amy Luna, Mehry Elaminia, and Su Teatro matriarch Yolanda Ortega … for starters. Through June 30. Showtimes 7:30 p.m. Thursdays through Saturdays; plus 2 p.m. Sunday, June 30, at the Su Teatro Performing Arts Center, 721 Santa Fe Drive, 720-238-1323 or the source's home page. Thanks: Mica Garcia de Benavidez, Anthony J. Garcia, Arnold King, cast and crew.
To see a full gallery of "Gospel at Colonus" photos, click here.

Opening No. 80: The Edge's "One Flew Over the Cuckoo's Nest": Randy Diamon takes a quiet moment before the audience is let into the asylum. Diamon, who just last month was playing a karaoke lounge lizard in Horse & Cart's "The Singing Room," has here transformed into a rather spineless Dr. Spivey. Ken Kesey's subversive story of institutional oppression and the indomitable human spirit represents the latest big step forward for director Rick Yaconis' rapidly growing little theater company in Lakewood. This, one of the defining work of the 1960s, shows the carnage that occurs when rebellion crashes up against absolute power. Randle McMurphy's epic psychological showdown with Nurse Rancid, er, Ratched, has made for one of the great dramatic conflicts of all time. Here that pits Scott Bellot against Jada Roberts, to my knowledge just the second Equity guest artist (union) in Edge history. The 16-actor play also features Joe Von Bokern as poor Billy Bibbitt and Sam Gilstrap as the laconic Chief Broden. Also featuring Ken Street, Maggie Stacy, Bob Byrnes, Kelly Ann Dwyer, Leroy Lenard, Ryan Goold, John Greene, Donovan Arterburn III, Ryan Danielson, Peter Marullo and Amanda Flageolle. Showtimes: 8 p.m. Thursdays through Saturdays; 6 p.m. Sundays through June 30. Note new address: 1560 Teller St., Lakewood, 303-232-0363 or The Edge's home page. Thanks: Amanda Flageolle, Rick and Patty Yaconis, and Gloria Shanstrom.

Opening No. 79: Colorado Shakespeare Festival's "A Midsummer Night's Dream": Even if you've seen Shakespeare's most popular title before, you likely haven't seen it with a Hermia who walks (and dances!) with a crutch. Above, Sean Scrutchins strikes a charming hero pose with his lady love during the pre-show brush-up rehearsal — moments before his Lysander transforms from a Romeo into a Ro-monster. As Hermia, Jenna Bainbridge doesn't know it, but she is about to lose her crutch (two of them, actually). Turns out, she doesn't much need it. Bainbridge, who has oft-demonstrated her loveliness while starring in sweet musicals like "Beauty and the Beast" for the handicapped Phamaly Theatre Company, and "Cinderella" for Boulder's Dinner Theatre, has also proved to have talons in the Denver Center Academy's "The Rimers of Eldritch." In "Midsummer," she's the picture of loveliness, until Lysander's spell-bound reversal turns her Hermia into a veritable forest pugilist. Bainbridge, a Castle Rock native and rising senior soprano at the University of Denver's Lamont School of Music, was partially paralyzed from a fall at 18 months old, and now walks with a pronounced limp. But in this fresh and fun new take on "Midsummer," she's proving once again that she can pretty much run with anyone. Also starring Sammie Joe Kinnett, Taylor Fisher, Steven Cole Hughes, Jamie Ann Romero, Nigel Gore, Greg West and Larry Hecht. And featuring Nathan Stith, Sam Sandoe, Hannah Christenson, Alex Esola, Bud Coleman, William Rowland, James Miller, Benaiah Anderson, Jared Norman, Nicole Bruce, Amy Handra, Trine Jensen, Lydia Thompson, Sofie Berg and Sarah Jo Adler. Directed with great wit and good cheer by Geoffrey Kent, longtime company actor and fight choreographer, in his Colorado Shakes directorial debut. Showtimes: 8 p.m. Saturdays June 15, 22 and July 6 (plus Thursday, Aug. 8); 6:30 p.m. Sundays July 21, 28, and Aug. 4 and 11; plus 6:30 p.m. on various weekdays: July 23-24, and Aug. 3, 6 and 7. At the Mary Rippon Amphitheatre, CU-Boulder campus, 303-492-0554 or Colorado Shakes' home page. Thanks: Clay Evans, Rachel Ducat, Paul Behrhorst and Caitlin Conklin.
To see a full gallery of "A Midsummer Night's Dream" photos, click here.

Opening No. 78: Curious Theatre's "God of Carnage": Yesmina Reza's scathing tale of two ostensibly civilized couples who talk themselves into a primal rage certainly is getting audiences talking. The photo above shows onstage cast members, from left, Erik Sandvold, Karen Slack and Timothy McCracken (in the vile New York Yankees hat) continuing the conversation with guests even after an audience talkback. In the play, the parents meet to sort out a playground skirmish: The 11-year-old son of one has broken two teeth of the son of the other. What begins as two couples tiptoeing around their mutual dislike turns into a full-on, rum-soaked verbal brawl. But the targets of these unhappy pugilists' disdain are as fluid as the rum. The play, written in French and translated by Christopher Hampton, has been extended through June 16. Directed by Chip Walton. Also featuring Dee Covington. Showtimes: 8 p.m. Thursdays-Saturdays; 2 p.m. Sundays at 1080 Acoma St., 303-623-0524 orCurious Theatre's home page. Thanks: Deb Voss, Sara Poorman.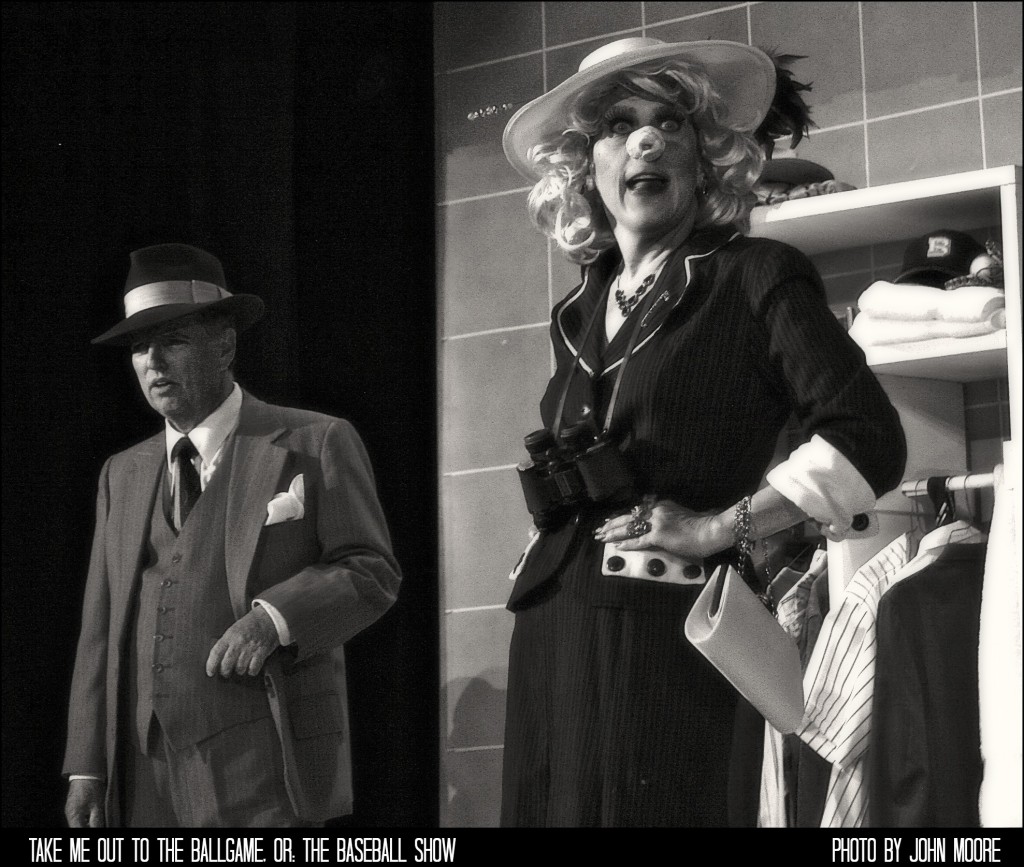 Opening No. 77: Heritage Square Music Hall's "Take Me Out to the Ballgame, or: The Baseball Show": Is that a snout on your nose, Annie Dwyer … or 18 sticks of chewing gum? The venerable Hall continues its final season by bringing back an old favorite: A lighthearted spoof of America's favorite pastime. Set in 1954, it's about a malapropping, small-time gangster (T.J. Mullin) who owns a minor-league team and doesn't want his star player to advance to the big leagues. It's mostly known for longtime cast member Dwyer's many mouth-watering, er, eye-popping, er, bubble-popping tricks with gum. Do yourself a favor and treat yourself to at least one more night of a unique kind of blue-collar family fun that ends when the Music Hall closes. You can read more about the impending shuttering of the theater here. "Baseball" also features Alex Crawford, Rory Pierce, Johnette Toye, Scott Koop and Randy Johnson. Through June 23 at 18301 W. Colfax Ave., Golden, 303-279-7800 or heritage square's home page. Thanks: Connie Helsley.
Opening No. 76: "Step up to the Mic": CultureWest.Org's first public event was an evening of karaoke silliness to raise seed money for the new Denver Actors Fund, a modest source of immediate, situational relief when members of the local theater community find themselves in sudden medical need. Above: Kent Randell is the hostest with the mostest, from hip-hop to Prince. Other performers included Hannah Duggan, Steven Burge, Rich Cowden, Ben Dicke, Traci Kern, Seth Caikowski, Jalyn Courtenay Webb, Joel Adam Chavez, Carla Kaiser Kotrc, Lindsey Falduto, Tyler Nielson, Rob Rehburg, Paul Dwyer, Brian Walker-Smith, Joey Gasiorek, Justin Franzen, Suzanne Nepi, Kathi Wood and dozens more.
Watch the video: Highlights of the debauchery
More photos: View the full gallery here.
How you can help: Donate at our YouCaring.com page
Q&A: So what is the Denver Actors Fund all about?
Opening No. 75: Cherry Creek Theatre Company's "Baby, the Musical": Parker Redford gets a backrub from Emily Ann Luhrs, who gets a backrub from Drew Hirschboeck, backstage on opening night. Backstage, in this case, is really a downstage storage room at the Shaver Ramsey Showroom. (Yes, the actual rug store). "Baby, running through June 23, is a 1983 musical about impending parenthood as told through three couples dealing with the potential consequences of this most universal experience. There are two college students (Luhrs and Hirschboeck), two thirtysomethings having trouble conceiving (Shannan Steele and Scott Severtson) and two middle-aged parents (Brian Walker-Smith and Megan Van De Hey) who thought their diaper-changing days were over. Director Pat Payne has assembled a big-name cast including five Equity (union) actors. Also featuring Jona Alonzo, Ben Dicke, Lisa Finnerty and Redford. I'm not saying staging this musical about love could get a little confusing backstage but, in real-life, Luhrs is sweet on Dicke; Severtson just became a new dad, Van De Hey is partial to assistant stage manager Robert Michael Sanders; and while Steele plays a woman desperate to become pregnant, she is expecting her second child. Oh, baby! Showtimes 7:30 p.m. Fridays-Saturdays; 6:30 p.m. Sundays at 2414 E. 3rd Ave., 303-800-6578 or Cherry Creek Theatre's home page. Thanks to Amy Brosius, Gloria Shanstrom, Richard H. Pegg, Mark Rossman and Maxine Rossman.
To see a full gallery of "Baby" photos, click here.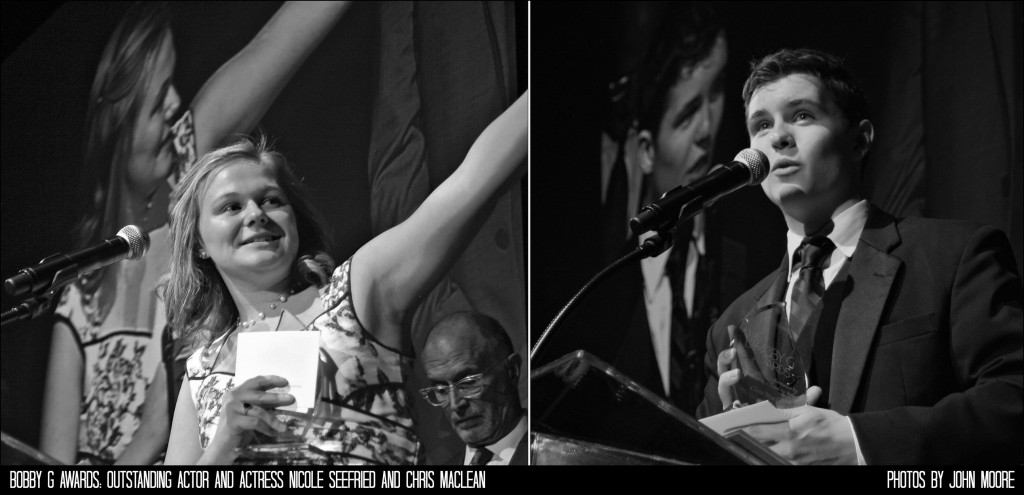 Opening No. 74: Denver Center's inaugural Bobby G Awards: Denver metro high-school thespians were honored Thursday night at the first Bobby G Awards, which culminated with the announcement of Nicole Seefried and Chris Maclean as best actor and actress. Seefried played Kate Monster in "Avenue Q" at the Denver School of the Arts. Maclean played Jean Valjean in Chaparral High School's "Les Miserables." Their regional awards earned them both a week-long Broadway immersion as part of the National High School Musical Theater Awards, affectionately known as "The Jimmys." Seefried's brother, Will, is already in New York City: He's appearing in "Sleep No More" off-Broadway. While in New York, the regional winners experience five days of private coaching, master classes and rehearsals with theater professionals administered by the prestigious Tisch School of the Arts. Their week culminates with a special performance on a Broadway stage — at the Minskoff Theatre. More than 50,000 students participate in the awards program nationally, and in the past five years, $750,000 in merit scholarships have been awarded. Local adjudicators considered 15 public and private high-school stagings, and Chaparral High School's "Les Miserables" was deemed best musical. The Bobby G Awards were initiated by David Cates and Denver Center president Randy Weeks. Next spring the field is expected to expand to 24 participating schools. Additional coverage:
Video: Colorado actors on Broadway offer their support and congratulations
Video: Watch Chaparral High School win best musical for "Les Miserables"
Photos: The night in pictures.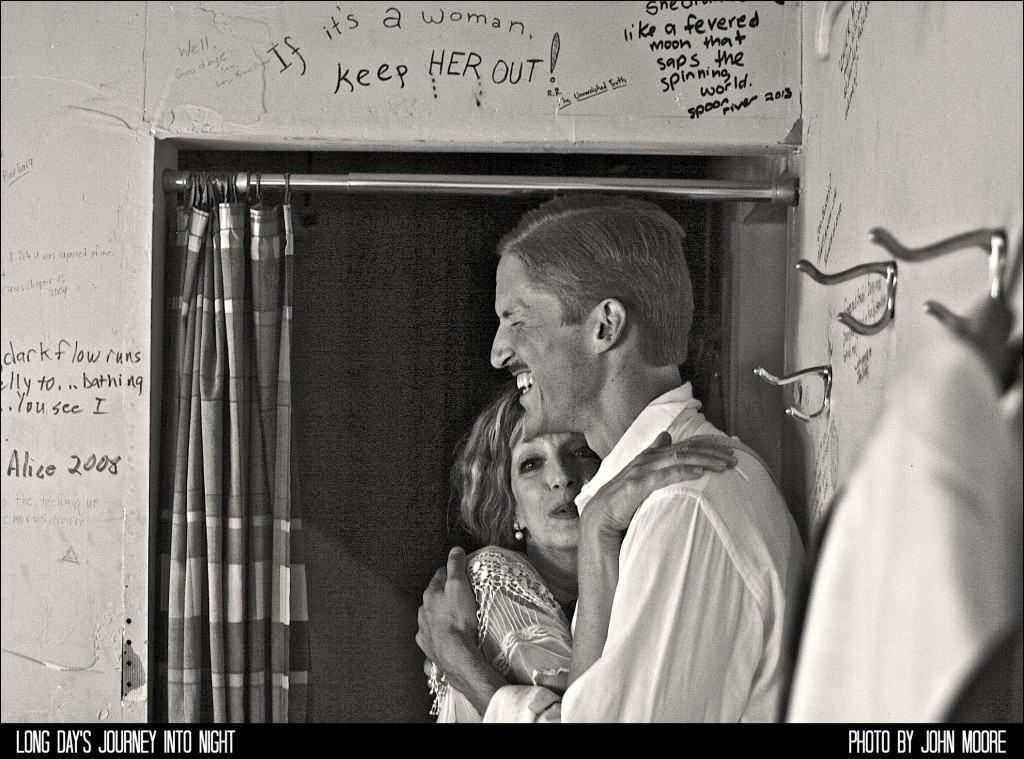 Opening No. 73: Germinal Stage-Denver's "Long Day's Journey Into Night": Germinal Stage-Denver is down to its last few offerings before closing its longtime home in northwest Denver and turning into a something of a gypsy company. (More on that story here.) An impeccable cast performing one of founder Ed Baierlein's favorite playwrights? This is how you'll want to remember (this incarnation of) Germinal. Above, there's no keeping out Erica Sarzin-Borrillo of the men's dressing room at the Germinal Stage-Denver. Zachary Andrews wouldn't even try. Eugene O'Neill's autobiographical, Pulitzer Prize-winning masterpiece follows the seriously damaged Tyrone family in their seaside Connecticut home over the course of one fateful day, as sins and secrets gradually trickle out like morphine drips from a hypodermic needle. Baierlein, also the director, plays patriarch James Tyrone for the third time, now opposite Sarzin-Borrillo in the powerhouse role of the dope-fiend matriarch, Mary. She's got a seriously twisted relationship with her sickly son Edmund (Andrews), who in turn trades barbs, ballast and whiskey wit brother Jamie (Stephen R. Kramer). Also featuring Samara Bridwell as the maid, Cathleen. This is a Chekhovian American family with a blurred past, intoxicated present and muddled future. Through June 9. Showtimes: 7 p.m. Fridays, Saturdays and Sundays at 2450 W. 44th Ave., 303-455-7108 or Germinal's home page. Thanks: Sallie Diamond, Tad Baierlein, cast and crew.
To see a full gallery of "A Long Day's Journey Into Night" photos, click here.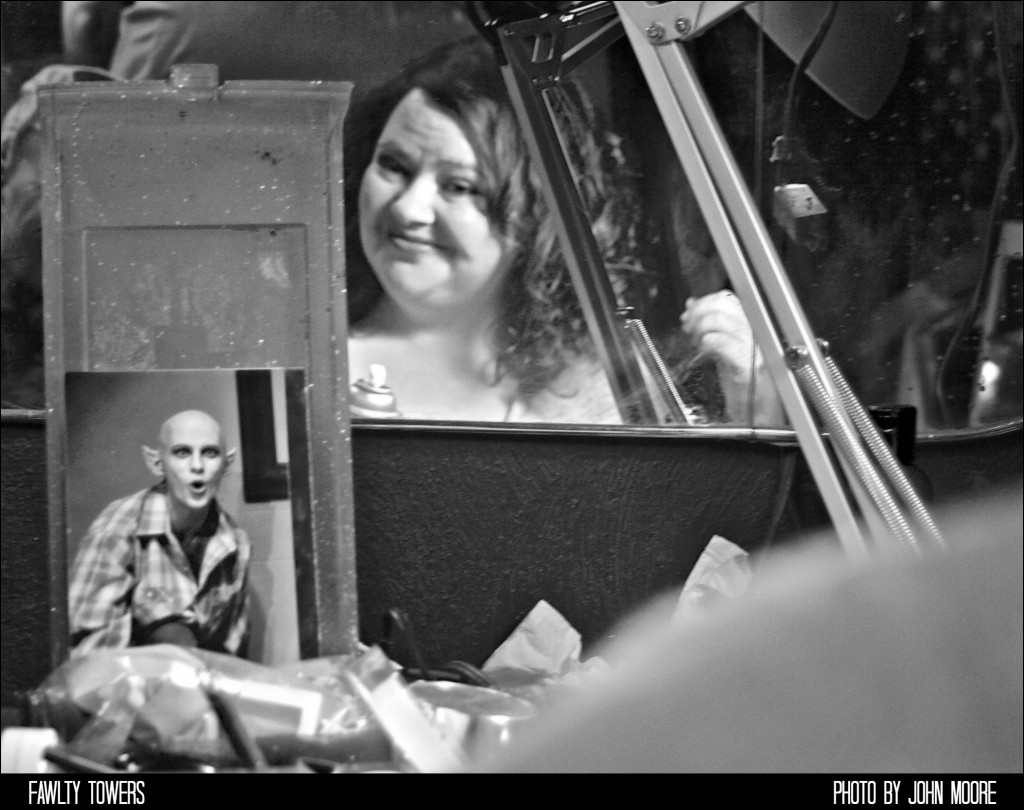 Opening No. 72: Equinox Theatre Company's "A Night at Fawlty Towers": Deb Flomberg, best known as the founder of Equinox Theatre and "Denver's theater examiner" for The Examiner web site, makes a few cameo appearances in her company's latest production. In the backstage dressing room at The Bug Theatre, Flomberg has posted a photo in tribute to actor Adam Perkes. The star of Equinox's most recent production, Perkes died just days after "Bat Boy the Musical" opened in February. While Perkes clearly will never be forgotten at Equinox, the opening-night mood was considerably lighter for the first public performance of "Fawlty Towers." The 1970s British sitcom, written by Monty Python's John Cleese and his then-wife Connie Booth, is set in a fictional hotel on the "English Riviera." The joke is that hotel owner Basil is not exactly deft with customer relations. Instead he is always tense, rude and put-upon, making for some farcically confrontational run-ins with demanding guests. The play basically stages four half-hour episodes. Closed June 15 at the Bug Theatre, 3654 Navajo St., 720-984-0781 or equinox's home page. Directed by Shannon McCarthy. Starring Matt Maxwell and Linnea Lewis, with Natasha Gleichmann, Mark Shonsey, Jim Landis, Logan Bretweiser, Val Purser, Chip Winn Wells, Stanley Ross, Andrew Hunter, Anita Harkess, Carole Maschka, Loren Cogswell, Clint Heyn, Debra Szuster and Amy Stuemky. Thanks to Chachi Martin, cast and crew.
To see a full gallery of "A Night at Fawlty Towers" photos, click here
(Please click below to go to the next page.)