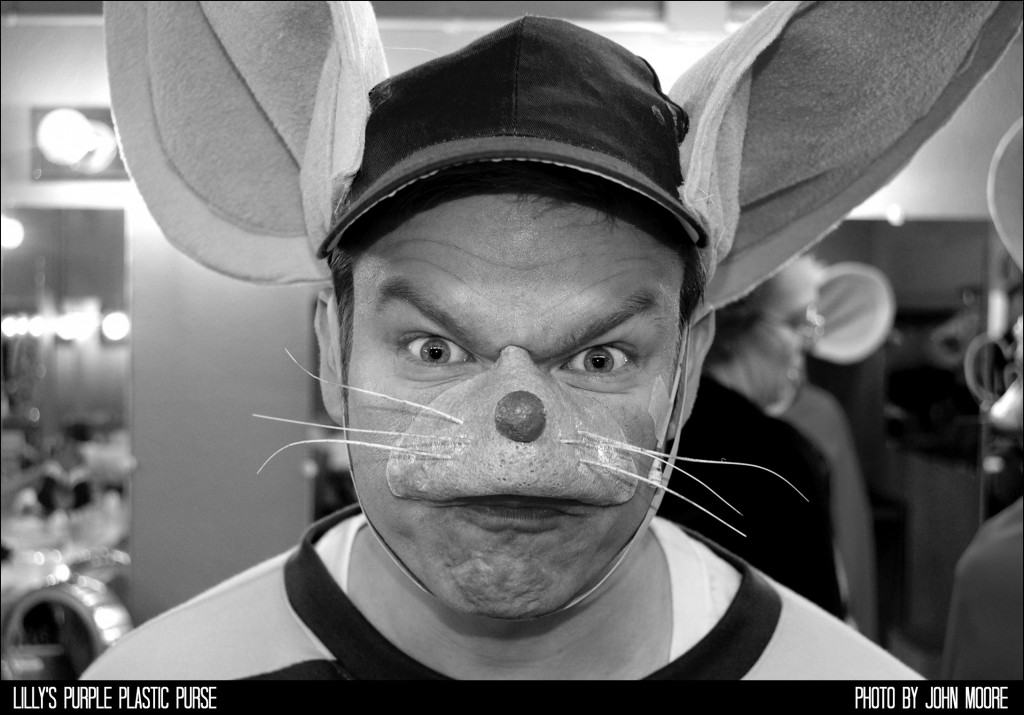 Opening No. 41, "Lilly's Purple Plastic Purse": Chester the mouse learns a fine lesson in courage from Lilly and all, but, Ryan Wuestewald seems to be asking, "Why doesn't anyone ever stage 'Chester's Way?' – which is only funny if you know that was another chapter in Kevin Henkes' series of popular children's books. "Lilly" is back for a second run by the Denver Children's Theatre at the Mizel Arts and Culture Center, with Missy Moore taking on the role of the excitable mouse who stands up to bullies, can't focus in class, and is none too happy about a new arrival in her home. Directed by Billie McBride. Also featuring Michael Bouchard, Brian Landis Folkins, Devon James and Misha Johnson. Masks by Todd Debreceni. Thanks to Emily MacIntyre, Steve Wilson, Tom Kobes, cast and crew.


Opening No. 40, "The Brothers Size": Curtain call for one of Curious Theatre's most provocative works of late, a taut drama about brothers who are not in jail, but hardly free. Oshoosi Size is looking for a fresh start, but a job in his brother's car repair shop is not what he had in mind. When an old prison mate appears, a fierce tug-of-war ensues that threatens to unlock buried secrets and break the bonds of family. This is a poetic, highly theatrical work infused with West African mythologies and pulsing with percussion from the Louisiana Bayou. Written by America's playwright of the moment, Tarell Alvin McCraney, and remarkably performed by, from left, Damion Hoover, Cajardo Lindsey and Laurence Curry. Directed by Dee Covington. Photo by John Moore for CultureWest.Org. Thanks Chip Walton, Claudia Carson, Kate Marie, cast and crew.


Opening No. 39, "The Doyle & Debbie Show": The latest cabaret-type of show hoping to move into the Garner-Galleria for a good, long, spell is this homage and parody of country music's iconic duos. Doyle Mayfield, an old-guard country star with a handful of old-school hits, is reviving his career — 30 years, four wives and three Debbies later. His newest Debbie is a single mother with three children who sees this lovable lothario as her last chance to make it big in Nashville. Above, creator and star Bruce Arntson goes through opening-night sound check with co-star Jennifer Blood. Through July 14 at at the Garner-Galleria Theatre, Denver Performing Arts Complex, 14th and Curtis streets, 303-893-4100 or www.DenverCenter.Org. Showtimes: 7:30 p.m. Tuesday-Fridays; 2 and 7:30 p.m. Saturdays, 2 and 7:30 p.m. Sundays. Also featuring Matthew Carlton (understudies: Jeffrey Roark and Lauren Shealy). Photo by John Moore for CultureWest.Org. Thanks to Heidi Bosk, Kimberly Payetta, Jennifer C. Schmitz, John Ekeberg, cast and crew.


Opening No. 38, "Bat Boy, the Musical": Let's call this one a "re-opening," and I would give anything to have gotten it in better focus. There are better-quality images from my time backstage with the Equinox crew last night, but none that better capture the love and camaraderie that was evident in the moments before the first audience was let into the Bug Theatre since original Bat Boy Adams Perkes passed away. Nick Sugar agreed to step in and "fill in," allowing the show to go on. Video podcast to come. Featuring Emily Macomber, James O'Hagan-Murphy, Rachelle Wood, Tom Auclair, Devin Bustamante, Tim Campbell, Lauren Cora Marsh, Abby McInerney, James Crapes, Dylan Phibbs, Arthur Pierce, Alex Ambard, Chelsea Winslow, Savannah Lake and Linda Swanson Brown. Photo by John Moore for CultureWest.Org. Thanks to Deb Flomberg, Colin Roybal, Ryan Mattingly, Alex Weimer, cast and crew. Read more on the story here.
Here's our full gallery of "Bat Boy" opening night photos.
Here's our story on the death of Adam Perkes
Here's our story on the company's decision to re-open the show with Nick Sugar

Here's our video podcast visiting the re-opening night of "Bat Boy"


Opening No. 37, March 7: Technically not an opening but rather a closing-night "open rehearsal," "The Rimers of Eldritch" is a studio staging of Lanford Wilson's first full-length play by part of the the Denver Center Theatre Academy. For nearly 20 years, the Academy has offered adult acting classes from professional working actors, directors and playwrights. Esteemed director Larry Hecht, who will play Puck in the Colorado Shakespeare's "A Midsummer Night's Dream" this summer, describes "Rimers" as " 'Our Town' on meth," with a healthy dose of "To Kill a Mockingbird" thrown in. The play was staged this week in a studio at the Denver Center's Tramway Building. "Rimers" plays with time as it tells the story of a 1965 murder that is not at all what it appears to be in a small Bible Belt town made up of "loveless gossips, cripples, compassionless preachers and car-conscious blondes." The cast of 17 features Jenna Bainbridge, Jon Fortmiller, Twanna LaTrice Hill, Gina Walker, Lauren Ashley O'Brien, Adrian Hart, Carrie Chapman, Taurean Cavin-Flores, Janet Noble, Mindi Kessler, J. Brian Bernard, Chelsea Yasmin Frye, Andrew Dus, Rick Cohn, L. Karl Johnson, Jesse Milnes and Ashley Kelashian. Thanks to Larry Hecht, Brandon Kruhm, Stuart Barr, Paul Johnson, cast and crew.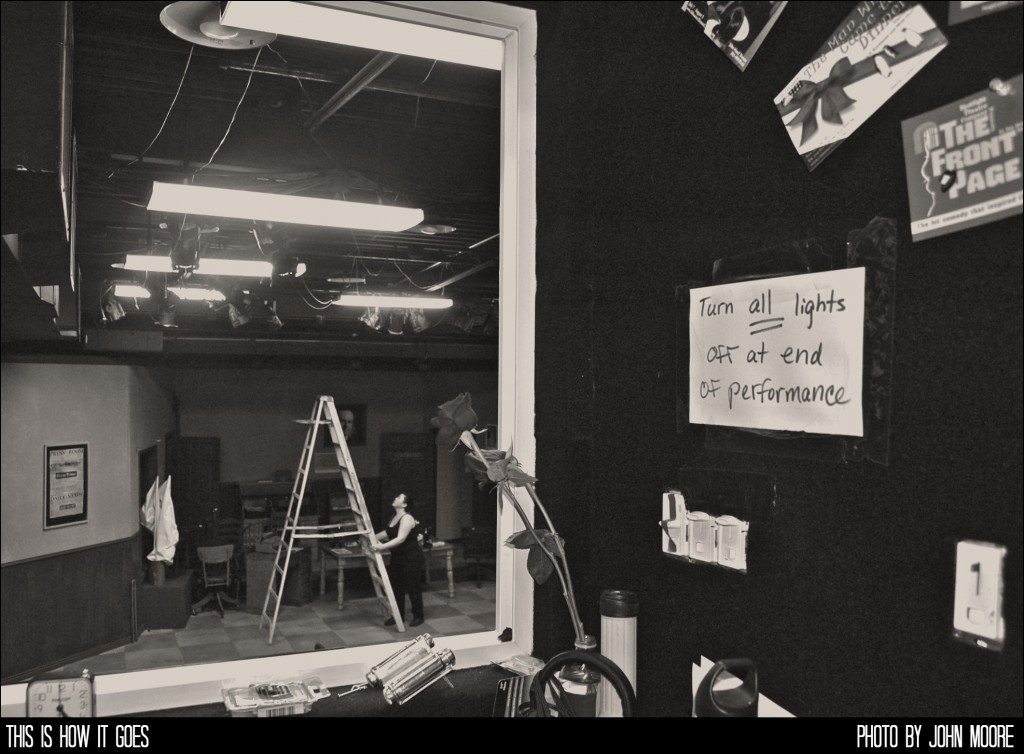 Opening No. 36, "This is How it Goes": It's the job of stage manager Amy Brosius to convert the John Hand Theatre stage from the Spotlight Theatre's afternoon performance of "The Front Page" to the evening playing of Silhouette Theatre's "This is How it Goes." The companies share resources and like-mindedness with the Firehouse Theatre. Paul Jaquith's troupe gravitates more toward the nastier aspects of human nature. Neil LaBute's play explores the repercussions of an interracial love triangle in small-town America. Directed by Pat Payne. Featuring Paul Jaquith, Johanna Jaquith, Ben Butler and Taylor Black. Thanks to Amy Brosius, Bonnie Green, Helen Hand, cast and crew.
See our full gallery of "This is How it Goes" photos


Opening No. 35, March 1: The Catamounts' "Jon" is a Vonnegut-like, possibly futuristic (possibly not) allegory based on a New Yorker short story written by an engineer from the Colorado School of Mines named George Saunders. In it, trendy youth are raised from birth to serve as perpetual pop-culture taste-setters for all-powerful advertising companies. But while the story is a ruthless chaffing of American consumerism, the outside world ain't exactly the promised land, either. The (unstaged!) photo above captures actors, from left, Joe Von Bokern, Ryan Wuestewald, Tyler Compton and Sonia Justl all at once gluing in place the neck ports that will allow their characters to "plug in" to a mind-soothing drug called Aurabon®. Directed by Amanda Berg Wilson. adapted for the stage by Seth Bockley. Also featuring Jason Maxwell, Michelle Hurtubise, Miriam Tobin, Verl Hite and RJ Wagner. Thanks to Corey Crowley, McPherson Horle, cast and crew.
See our full gallery of "Jon" photos
Opening No. 34, Feb. 28: One of the many great things about the University of Denver's theater program is how it pairs its students with an accomplished local actor, not only to help mentor them, but to star alongside them in a major production. This spring, multiple award-winning actor John Arp is playing Tevye alongside 24 student actors in "Fiddler on the Roof." Arp, a veteran of Curious Theatre, Creede Repertory Theatre and the Arvada Center, is a three-time winner of the Denver Post's Ovation Award for best year by an actor, most recently in 2011. Above, director Pamyla Stiehl offers some last-minute love before last night's opening performance. Co-production with DU's Lamont School of Music. Thanks to Chris Wiger, Rick Barbour, Sarah Caulkins, Martha Yordy, cast and crew.
See our full gallery of "Fiddler on the Roof" photos
Opening No. 33, "Church Basement Ladies": Boulder actor – and native – Barb Reeves takes a moment before Saturday's performance of "Church Basement Ladies" to remember her mother, Betty Reeves. Barb is an original member of the Boulder's Dinner Theatre ensemble, dating back 35 years. But her mother's credits include the 1982 production of "Grease," pictured above. Betty (middle row, second from right) played Miss Lynch. "Ladies" is a new musical comedy about four 1960s "steel magnolias" who prepare the food while confronting various events in a rural Minnesota church. Also featuring Ali Dunfee, Bren. Eyestone Burron, Heather Marie Doris and Wayne Kennedy. Directed by Curt Wollan. 5501 Arapahoe Ave., 303-449-6000 or BDT's home page. Photo by John Moore of www.CultureWest.Org. Thanks to Michael J. Duran, Neal Dunfee, cast and crew.
See our full gallery of "Church Basement Ladies" photos
Opening No. 32, 9 to 5: Littleton Town Hall Arts Center had to work some overtime to pull off the regional-premiere of the stage adaptation of the 1980 hit film, "9 to 5." But come together they did, through uncommon staging challenges to the departure of cast member Shelly Bordas, whose cancer battle forced her to leave the show. "9 to 5" is the (thankfully) retro tale of three secretaries who conspire to take control of their company, and learn there's nothing they can't do in a man's world. Featuring Margie Lamb, Alison Mueller, Lisa Finnerty, Seth Caikowski and Jona Alonzo. Directed by Christopher Willard. 2450 W. Main St., Littleton, 303-794-2787 or town hall's home page. Photo by John Moore of www.CultureWest.Org. Thanks to Cheryl McNab, Leslie Rutherford. Note: Proceeds from the special performance at 7:30 p.m. on Monday, March 4, will be donated to Shelly Bordas.
See our full gallery of "9 to 5" photos
Bonus coverage: Here is Part 1 of our video series bringing you the Shelly Bordas Story. And here's how you can help defray her medical costs.
Opening No. 31, Feb. 17: By telling an unlikely Manhattan romance, "Next Fall" managed to become an unlikely Broadway breakthrough in 2010. It starts with a car accident that leaves a closeted young Christian man comatose and clinging to life. But the real collision is about to come down between his jaded, older New York lover and the encroaching Southern fundamentalist family who never knew — or at least acknowledged — their son is gay. Geoffrey Nauffts' timely drama zig-zags from past to present, deftly weaving hot-button social issues of the day into an unwinnable conflict between flawed characters on both sides of the family tree. Despite this accessible play's Broadway seal of approval, no professional theater company in Colorado has yet touched it, which makes the current student production by the University of Colorado at Colorado Springs all the more impressive. Featuring Chris Medina, Dana Kjeldsen, Charles Redding, Jessica Parnello, Hilary Rose Hudson and Earnest Mazyck. Directed by student Kaitlin Porter. $5 (free for UC-CS students). Remaining performances 8 p.m. Feb. 22-24 in the Osborne Studio Theatre in the Dusty Loo Bon Vivant Theater (corner of Union and Austin Bluffs Parkway) 719-255-3232 or the osborne's home page. Photo by John Moore of www.CultureWest.Org. Thanks to Kevin Landis, Kaitlin Porter, cast and crew.
(Please click below to go to the next page.)