Opening No. 71: Boulder's Dinner Theatre's "The Wizard of Oz": There's always a frenzy of backstage activity on any opening night, but mild-mannered Max, owned by ensemble member Olyvia Beyette, takes it all in stride just moments before making his first appearance as the witch-baiting Toto in Boulder's Dinner Theatre's "The Wizard of Oz." This is the classic re-telling of Dorothy's odyssey with her pals the Scarecrow, the Tin Man, the Cowardly Lion and Toto, too, to the imaginary land of Oz. Based on L. Frank Baum's novel and the classic MGM film. Directed and choreographed with a Cirque du Soleil infusion by Alicia Dunfee. Flying by Troy Trinkle. Starring Sarah Grover as Dorothy, Scott Beyette as the Scarecrow, Bob Hoppe as the Tin Man, Seth Caikowski as the Cowardly Lion, Barb Reeves as the Wicked With of the West, Wayne Kennedy as the Wizard and Tracy Warren as the good witch Glinda. Also featuring Brett Ambler, Olyvia Beyette, Brian Cronan, Alicia Dunfee, Will Hawkins, Jessica Hindsley, Brian Jackson, Cindy Lawrence, Brian Norber, Matthew D. Peters, Izzy Robie, Alei Russo, Alana Schoenhals … and Max as Toto). The rotating kids cast includes Isabella Bowland, Owen Leidich, Thomas Russo, Stella Schitter, Caitlin Bridge, Rachael Perez, Emma Hecht, Kaden Hinkle, Benji Dienstfrey, Darrow Klein, Riley Holcomb and Sofia Vargas. Showtimes: 7 p.m. Wednesdays, 7:45 p.m. Thursdays-Saturdays; 1:30 and 7:45 p.m. Sundays (dinner service 90 minutes before). Through Aug. 31 at 5501 Arapahoe Ave., 303-449-6000 or bdt's home page. Thanks: Michael J. Duran, Melissa Vargas, Susie Montanez, cast and crew.

Opening No. 70: Town Hall Arts Center's "Hair: The rock musical that created history by bringing experimental theater to Broadway is having a love-in in Littleton. "Hair" defines the fringe element of the '60s generation by examining a group of young hippies struggling for personal identity wile dealing with the Vietnam War, drugs and teenage pregnancy. Songs include "Let the Sunshine In," "Aquarius" and "Good Morning Starshine." Brief nudity. Don's freak; it's like, 15 seconds. And tastefully done. Adult themes and content. Directed by Nick Sugar. Matt LaFontaine stars as Berger, with Casey Andree as Claude, Rebekah Ortiz as Jeanie, Burke Walton as Woof and Norrell Moore as Sheila. Featuring Tyrell D. Rae, Ashlie-Amber Harris, Lauren Cora Marsh, Rob Janzen, Abby M. McInerney, Tim Howard, Alejandro Roldan, Carter Edward Smith, Faith Goins, Jacob Villarreal, Jessica Evans, Noah Jordan, Rae Klapperich, Shena Mathew and Taylor Nicole Young. Through June 16 at 2450 W. Main St., Littleton, 303-794-2787 or town hall's home page Thanks: Steven Neale, Cheryl McNab, Leslie Rutherford, cast and crew.

Opening No. 69: The LIDA Project's "The Hairy Ape": Denver's most venerable experimental theater company presents iconic Irish-American playwright Eugene O'Neill's 1922 expressionistic story of a simple laborer trapped in a world controlled by the rich. And they do it in a way only the LIDA Project would ever think to do it — complete with a mostly Spanish-speaking protagonist interacting throughout with an ensemble of English-speaking mannequins smartly brought to life by director Brian Freeland. (How? You'll just have to see for yourself.) O'Neill's iconic Yank is a strong, brutal and macho fireman who despises everyone and pretty much everything, until a decadent millionaire's daughter descends to the bowels of the transatlantic ship where he works and is repulsed by a man she sees as "a hairy ape." He swears to get even with her, which lands him in jail, where he turns out to be even too revolutionary for the revolutionaries. At The LIDA Project, you best know Spanish to follow the guts of this story. But even if you don't, the essence is made plain by yeoman actor Lorenzo Sariñana, who plays Yank, and narrator Hart DeRose, who is seen in the photo above in a backstage mirror preparing for her entrance. Through June 8 at the Laundry on Lawrence, 2701 Lawrence St., 720-221-3821, or the LIDA Project's home page Thanks: Brian Freeland, David Lafont, cast and crew.

Opening No. 68: Horse & Cart's "The Singing Room": This new company, not to be confused with the late, great HorseChart Theatre that was well known for taking on tough and quirky dramas, is run by Michael Emmitt and Sean Paul Mahoney, who have recently split from the Spark Theatre Company that Emmitt started two years ago. "The Singing Room," written by Mahoney and directed by Emmitt, is both an original play and an evening of karaoke set in a dingy 60-seat bar. But this play isn't so much about ordinary people seeking a fleeting taste of applause, it's about a dozen ordinary people going about their real-world business of hurting and being hurt by those closest to them. It centers on April (Carolyn Demanelis), who is about to get the worst birthday present of her life, and other dive-bar denizens. Both cast members and a very occasional audience member take turns at the mic. In the photo above, that's an audience member named Rick, left, singing "Love Shack" for actor Dorothy Lee, who plays the dive-bar owner, Sunshine. And in keeping with royalty rules as they apply to karaoke, rather than musical theater, all the cast members change the karaoke classic they each get up to sing each performance, guaranteeing that no two shows are the same. Also featuring Nicole Paige Campbell, Samantha Long, Jonathan Hallowell, Randy Diamon, Sarah MacMillan J. Mesa, Krista Rayne Reckner, Amber Moffett, Tanner Johnson Heck, Brian McDonell and Megan Curry. Through May 18 at At the Brooks Center, 1400 Williams St., 720-276-3719, or horse & cart's home page Thanks: Ryan Foo, cast and crew.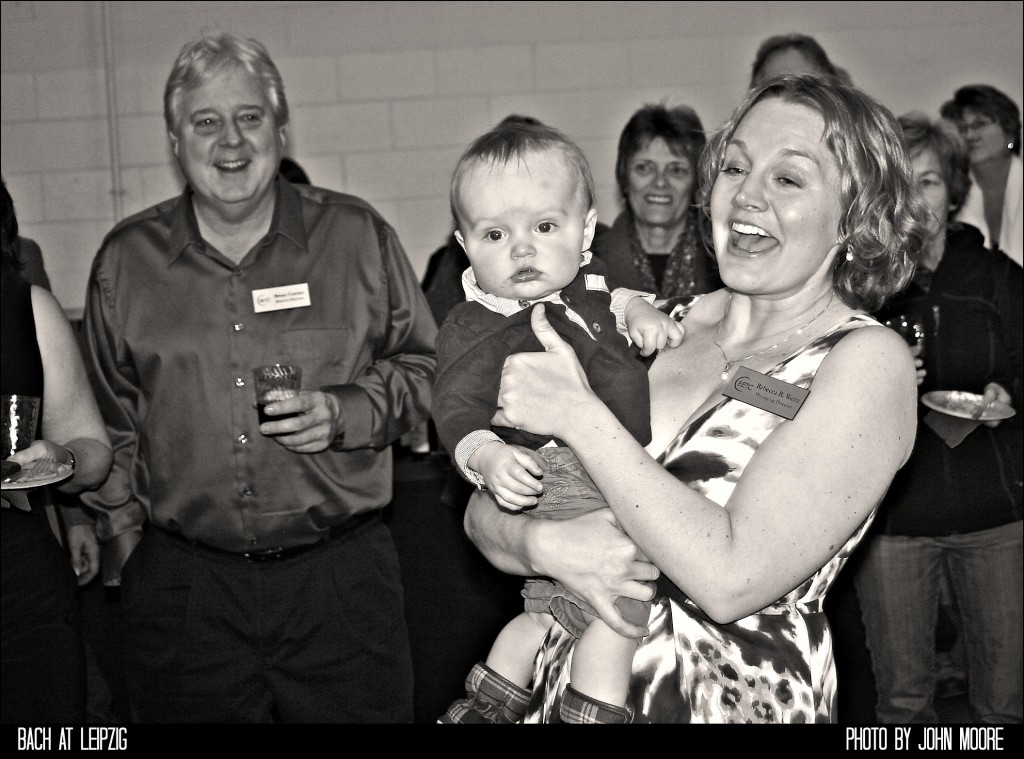 Opening No. 67: Boulder Ensemble Theatre Company's "Bach at Leipzig": Opening night for the theater company known as "Betsy" meant a season-announcement party for this troupe run by Stephen Weitz, his wife Rebecca Remaly Weitz — and their son, Jameson, who turned 1 on the very day of this opening. The announcement gathered accomplished actors such as the Denver Center's John Hutton to participate in line readings of next year's offerings. But opening night was about "Bach," which stars Hutton's frequent Denver Center castmate Sam Gregory along with a who's-who ensemble including Jim Hunt, Chris Kendall, Anthony Bianco, Michael Bouchard and Josh Hartwell. Their breakneck story? When Germany's greatest organist dies, leaving his post vacant, the Leipzig city council invites a small number of musicians to audition for the appointment, including a young Johann Sebastian Bach. Based on actual events, this new comic farce by Itamar Moses imagines how six little-known musicians resorted to bribery, blackmail, and betrayal to get the job they wanted. Through May 18 at the Dairy Center for the Arts, 2590 Walnut St., Boulder, 303-440-7826 or betc's home page. Thanks: Anja Hose and Drew Metzroth.

Opening No. 66: Rocky Mountain Deaf Theatre's "Murder at the Howard Johnson's": There's not another theater company in Colorado like this one, where primarily deaf actors perform plays using American Sign Language whole voice interpreters sit off to the side and provide spoken dialogue for the benefit of the hearing audience. In this farcical romp, a love triangle goes awry, leading to murder and mischief. Above, hearing actor Shawn Harmer runs through a scene with deaf actor Nouri Marrakchi (in the tie) an hour before their opening-night performance, while two of the three "voices," Abigail Hoffman and Victor Parrish, sit nearby. In the back are RMDF company founder Nicki Runge, who plays Arlene in the show, and director Betsy Quillen. Through May 12 at the Vintage Theatre studio theater, 1468 Dayton St., Aurora. Call 970-373-5266, go to the company's web page, or email rmdeaftheatre@gmail.com for more information. Thanks: Cassie Short, Nicki Runge, Victor Parrish, Gloria Shanstrom, Deborah Persoff and Ashley Gibbon.

Opening No. 65: Vintage Theatre's "The Best Little Whorehouse in Texas": I didn't get to attend the "Whorehouse" opening because it conflicted with my own staging of "Always … Patsy Cline." But I wanted to represent this production in the photo series, so I popped in for a visit on the Saturday of its closing weekend at the Vintage Theatre. This was the first musical staging by director Deb Flomberg (the local theater writer for The Examiner web site, and producer of her own Equinox Theatre Company). This is, of course, Carol Hall's sentimentalized view of small-town vice and statewide political side-stepping that results in the shuttering of Miss Mona's Chicken Ranch "pleasure palace" Starring Boni McIntyre and Scott Bellot. Featuring Ryan Everett Howard, Chris Gallegos, Rachelle Wood, Lauren Cora Marsh, Michael Greening, Patrick Brownson, Shahara Ostrand, Lisa Young, Jenny Weiss, Nicole Giordano, Joanna Hickam, Kate Blair, Stephanie Schmidt, Donovan Arterburn, Arthur Pierce, Clint Heyn, Preston Lee Britton, David Ballew, Chachi Martin, Christian Munck and Zack Nick. The bandleader on piano is Hunter Hall, known in local indie-rock circles as the frontman for the band Petals of Spain. Thanks: Gloria Shanstrom, Craig Bond and Ryan Mattingly.

Opening No. 64: Stories on Stage's "Cliffhangers": This ongoing live series (helmed by Anthony Powell, upper center) features themed programs during which excerpts of short stories and essays are read. This time: A string of suspenseful stories. This time, we got "The Girls," by Joy Williams, read by Martha Harmon Pardee (left); "Before," by Gary Schanbacher, read by John Hutton (right); and "The Cousins," by Joyce Carol Oates, read by Kathleen M. Brady and Robin Moseley. Stories on Stage regularly utilizes members of the Denver Center Theatre Company past and present, and what a treat it was for audiences to see Moseley reunited with Brady (The did many shows together, notably "The Beauty Queen of Leenane). They read an epistolary story of two aging cousins whose families were separated escaping from the Holocaust. The powerful reading was a jarring reminder of what an asset Brady is, and Mosely once was, to the Denver Center. Sunday's program concluded the 2013 season at Su Teatro's Denver Civic Theatre, 721 Santa Fe Drive. For more information, call 303-494-0523 or go to storiesonstage.org. Thanks: Anthony Powell, Drew Metzroth.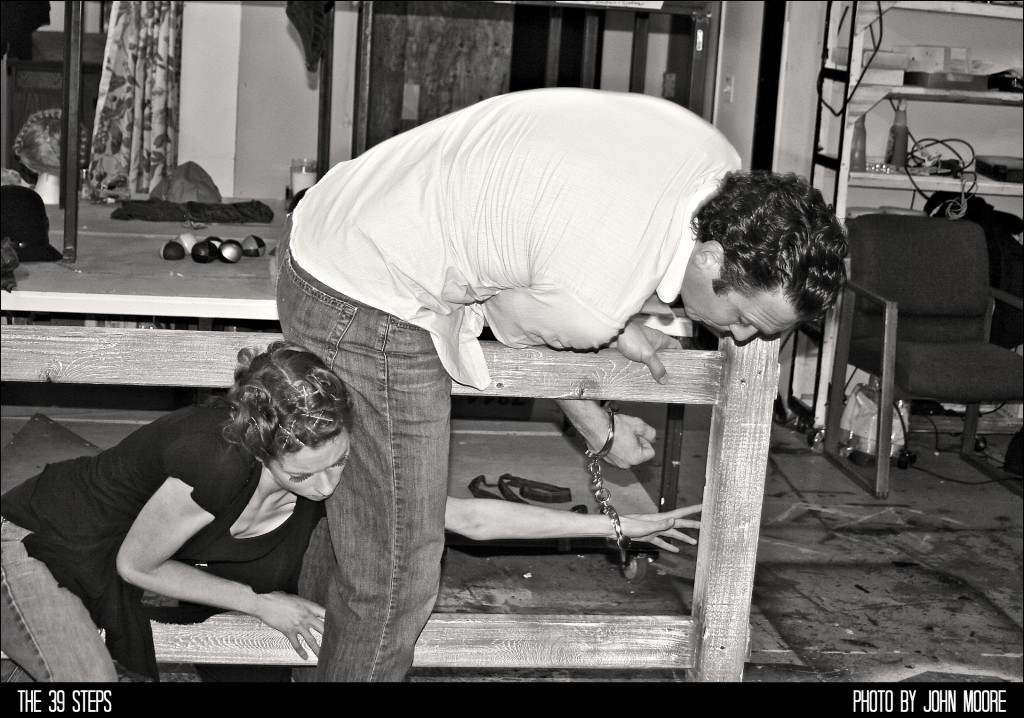 Opening No. 63: Town Hall Arts Center's "The 39 Steps": OK, this was not an opening, given that the production closes on Sunday. But I'm playing catchup on openings I missed during my foray into directing "Always … Patsy Cline." Here, Mackenzie Paulsen and a "bottom's up!" James O'Hagan-Murphy brush up on a key bit of physical comedy after having four days off between performances. In this quirky British send-up of Alfred Hitchcock's 1935 spy thriller, four actors play nearly 50 roles, retooling the classic thriller into a hilarious bit of stage nonsense comedy that manages to be both theatrically inventive and faithful to the movie. Also featuring Eric Mather and Seth Maisel. Directed by Bob Wells. Remaining showtimes: 7:30 p.m. Friday and Saturday, plus 2 p.m. Sunday, May 5, at 2450 W. Main St., Littleton, 303-794-2787 or town hall's ticketing page. Thanks: Rebecca M. Joseph, Leslie Rutherford and Drew Kowalkowski.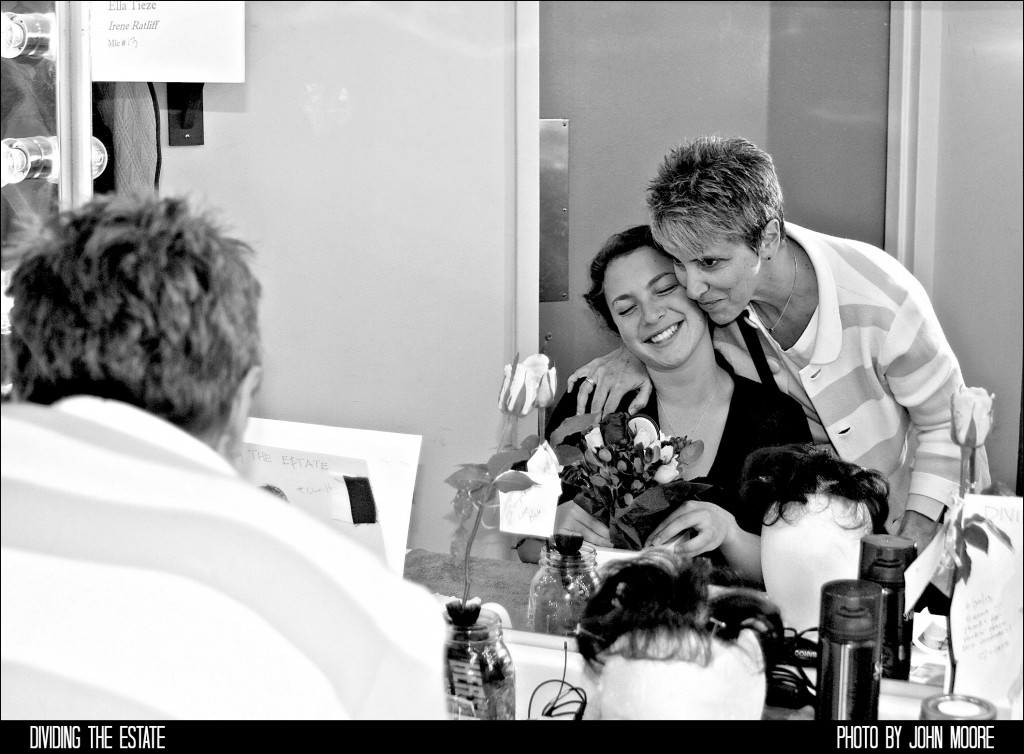 Opening No. 62: Arvada Center's "Dividing the Estate": There was a special moment before last night's opening performance when director A. Lee Massaro entered the ladies' dressing room with a special greeting for her daughter, Ella Tieze, who plays a pivotal cameo in Horton Foote's dark comedy. In quintessentially Chekhovian fashion, a trapped and self-absorbed Texas family is at odds over the fate of their dwindling inheritance. As they grapple with their uncertain future, these dysfunctional family members bicker over entitlement as they face differing yet equally inevitable kinds of ruin — regardless of whether they stay together or go their separate ways. Starring Rachel Fowler, Mark Rubald, Anne Oberbroeckling, Leigh Nichols Miller, Sharon Kay White, Russell Costen, Michael McNeill and Gabra Zackman; and featuring Ghandia Johnson, Kristen Adele, Devon James, Emma Carpenter Martin and Ella Tieze. Through May 26. Showtimes: 7:30 p.m. Tuesdays, Wednesdays, Thursdays, Fridays and Saturdays. Matinees 1 p.m. Wednesdays; 2 p.m. Saturdays and Sundays in the black-box theater, 6901 Wadsworth Blvd., 720-898-7200 or the arvada center's home page. Thanks: Melanie Mayner, Lisa Cook and Rod Lansberry.
(Please click below to go to the next page.)