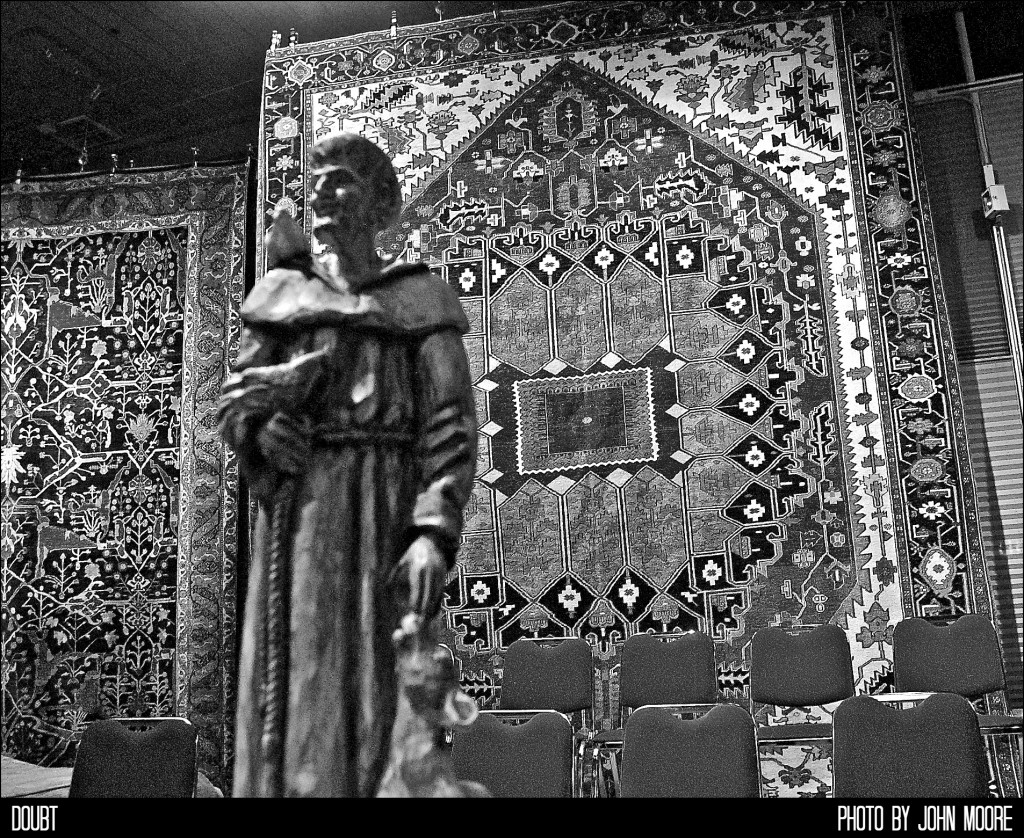 Opening No. 51: Cherry Creek Theatre's "Doubt": John Patrick Shanley's button-pushing provocation is set at a 1964 Catholic school in the Bronx, where an older nun suspects a younger priest of sexually abusing a student, and becomes hell-bent on ruining him despite having no empirical evidence against him. She's a harsh, bitter personification of the pre-Vatican II Catholic church; he's a symbol of the more compassionate post-V2. Whom you believe will no doubt be informed by whatever personal experience has informed your opinion of the sex-abuse scandal that has dogged the church for decades. This is one theatergoing experience where the real fireworks begin among arguing audience members after the show. This play takes place at the Shaver Ramsey Showroom, where St. Francis of Assisi, the patron saint of animals, is surrounded by expensive hanging rugs that frame the playing space. Starring Erik Tieze, Anne Oberbroeckling and Rachel D. Graham. Directed by Richard Pegg. Through March 31 at 2414 E. 3rd Ave. in Cherry Creek. 303-800-6578 or Cherry Creek Theatre's home page. . Thanks Pat Payne, Charity Dorrace, Mark and Maxine Rossman, cast and crew.

Opening No. 50, And Toto Too Productions' "Pardon My Dust": "I don't care what anybody says about me … as long as it isn't true." That's one of the many Dorothy Parker witticisms actor Billie McBride quick-fires while portraying one of the greatest wits of the 20th century. Denver's only theater company dedicated to women's voices opens its eighth season with the regional premiere of this new play by Anne Welsbacher. Parker has died, is in limbo, and she has a lot of baggage to shed — literally and metaphorically — before moving on to the next phase of her journey. Also starring Paul Page. Directed by Susan Lyles. Through April 6 at the Laundry on Lawrence, 2701 Lawrence St., 720-583-3975, or and toto too's home page. Thanks to Lauren Meyer.

Opening No. 49, Magic Moments' "Spirit & Soul": That's 193 people — count 'em! — at the curtain call for Magic Moments' 30th annual pop-music revue at Kent Denver High School. Magic Moments integrates disabled and able-bodied cast members of all abilities, ages and experience levels for a show that has now raised more than $200,000 for organizations that provide services for people with special needs. "Spirit and Soul" is set within the context of a traveling revival show where a betrayal from within the ranks tests the faith of all involved. Songs from musicals "Spring Awakening," "Jesus Christ, Superstar" and rock icons The Who, Queen, Kenny Loggins, Bare Naked Ladies, Lyle Lovett. There is even a number by recent Grammy darlings fun., as well as evangelical tunes like Matthew West's "Forgiveness." Something for everyone. Directed by K.Q. Starring Keegan Flaugh, Keith Hershman and … everyone else, including familiar stage names such as Amy Board, Sarah Rex and many others. Thanks to Duncan R. Northern. Read more about it in my earlier story here

Opening No. 48, Cherry Creek High School's "Singin' in the Rain": When it rains, it taps — at least it does when you stage the stage adaptation of the classic Gene Kelly film. It's raining on stage at Cherry Creek High School, where a cast of more than 75 are taking part in telling the tale of 1920s Hollywood stars Don Lockwood and Lina Lamont, who are forced to make the difficult transition from silent movies to the "talkies." That's not going to be easy for nasty Lina and her high-pitched voice. Enter Kathy, a legit singer who saves the couple's first talkie from disaster and wins Don's heart. Featuring Nathan Montgomery as Cosmo, Zoe Branch as Kathy and Michael Deni as Don (the trio in the center above, from left), with Kat DeBartolomeis as Lina. Directed by Mark Devine and Adam Cave. Choreographed by Piper Arpan and Jessica Hindsley. Through March 23. Click here for tickets.

Opening No. 47, Theatre 'd Art's "Marisol": Benjamin Bonenfant, known in Denver as a rising young actor for the Colorado Shakespeare Festival ("Romeo and Juliet"), Denver Center Theatre Company ("When We are Married") and Curious Theatre ("Red"), is also associate producing director of a scrappy little company in Colorado Springs called Theatre 'd Art. Here he works the cast of 15 into a frenzy with a group warmup exercise moments before the start of "Marisol." Margarita Archilla, far right, plays the title character. Celebrated playwright José Rivera's celestial vision of the apocalypse is seen through the eyes of Marisol Perez, an "everywoman" on a harrowing journey through a surrealistic Bronx. It's Armageddon in the heavens as millions of angels have declared war on a senile God. And in their distracted absence, it's end times on Earth as unprotected cities self-destruct into unidentifiable morasses. The play is a vibrant portrayal of an unrecognizable world where it snows in hot weather, apples are made of salt, the moon has disappeared and homeless people are burned by Nazis like trash. Bonenfant plays Lenny, a somewhat psychotic male character who becomes pregnant while the apocalypse plays out both in Heaven and on Earth — or perhaps only in Marisol's dream. As depressing as all this sounds, the play is really a search for God and hope — in an insane world of derelicts and skinheads. If audiences are disturbed by Rivera's world view, one should ask what it was about his cultural experience here that led him to create this representative place in his mind. Directed by Anna Faye Hunter. Starring Margarita Archilla as Marisol and featuring Brittani Janish, Benjamin Bonenfant, Jasmine Caldwell, Danine Schell, Joseph W. Forbeck, Jonathan Andujar, Laura Fuller, Erica Erickson, Michael Lee, Sallie Walker and Kala Roquemore. Thanks Brian Mann, Amanda Beehler and Cecil Harrison.

Opening No. 46, "Bloody Bloody Andrew Jackson": Students at the University of Colorado-Colorado Springs learned that direct democracy, directly applied, is, like … totes lame(!) in their staging of this inventive, Wild West emo-rock musical about the founder of the Democratic Party. It presents America's seventh president as a modern-day, skinny-jeans rock star who stumbles into populism, Indian removal and tremendous power. Saturday's performance was attended by the legendary Public Theatre producer Oskar Eustis, who brought "Bloody" to Broadway in 2010, and composer Michael Friedman. Starring Omid Dastán Harrison and featuring Jessica Parnello, Lynne Hastings, Robbie Armstrong, Doug Wolfe, Zach Bailey, Alex Williams, Erik Brevik, Jeff Mills, Dana Kjeldsen, Chloe Kiskiras and Jen Cortes. Directed by Kevin Landis with Solveig Olsen. Thanks Emilie P. Green, Caitlin Green, Murray Ross and Drew Martorella.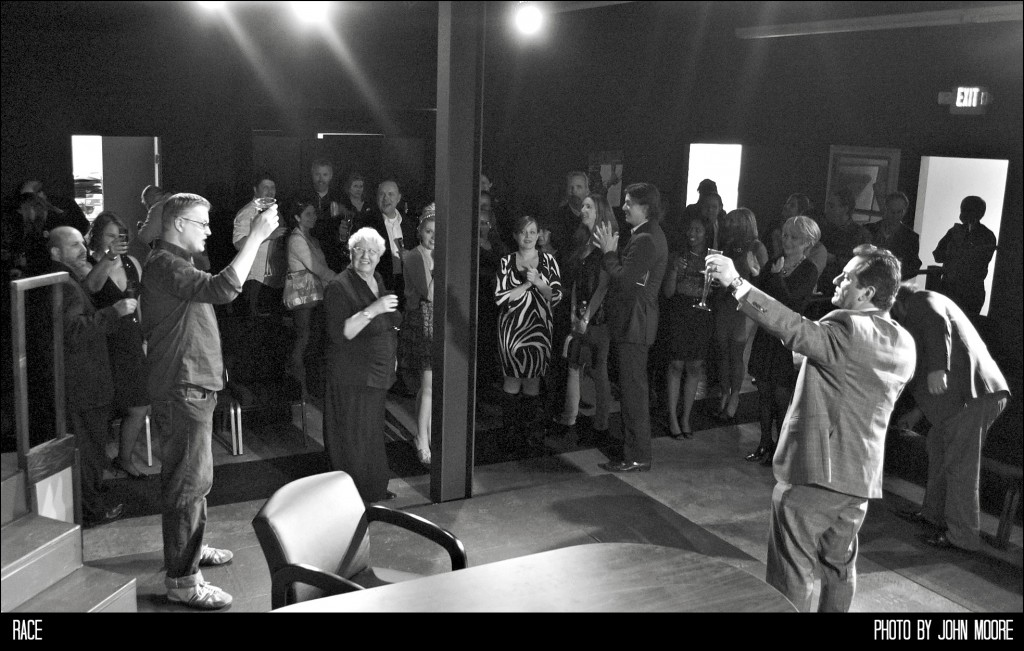 Opening No. 45, "Race": Among Friday's guests for the grand re-opening of The Edge Theatre were Lakewood Mayor Bob Murphy and acclaimed singer and actor Mary Louise Lee, also known as Denver's First Lady. Here, founder Rick Yaconis, right, and actor Brian Landis Folkins, left, raise a glass of champagne after the opening performance of "Race" along with board members, friends and audience members. The Edge has moved 2 miles east to a new 99-seat theater in a freestanding storefront at 1560 Teller St. They opened with David Mamet's latest provocation, about a pair of lawyers trying to decide whether to take the case of a rich white man accused of raping a black woman. The story bears a striking resemblance to his earlier incendiary drama, "Oleanna." Directed by Robert Kramer. The cast includes Richard Cowden, Joseph Graves, Brian Landis Folkins and Krisangela Washington, Thanks to Patty Yaconis, Rick Yaconis and Justyn Walker of The Edge, and Amira Watters of The West Chamber.
Here's our news report on the Edge Theatre's move.


Opening No. 44, Local Lab New Play Festival: The Local Lab is readings of three new American Plays in three days at the Chautauqua Community House in Boulder. Above, Artistic director Pesha Rudnick introduces the Saturday night offering, Deborah Zoe Laufer's "Informed Consent." It's based on a complaint by the Havasupai Indians that a geneticist from Arizona State University ran DNA tests on tribal members without fully disclosing how the DNA would be used. In the play, a well-intentioned woman eager to unlock genetic clues that may cure Alzheimer's and other diseases is accused of steamrolling a people's culture in the process. Knowledge is power – but is that always a good thing? Directed by Mare Trevathan. Featuring Rachel Fowler (Curious' "Rabbit Hole"), Pun Bandhu (Denver Center Theatre Company's "The Catch," Lorenzo Gonzalez, George A. Keller, and Belita Moreno, Meridith Crosley Grundei of the Catamounts. I was happy to lead a spirited post-show discussion along with Laufer, who also wrote Curious Theatre's 2008 "End Days." Sunday's final festival reading was "Concealed Carry" by Joshua Rollins After seven students die in a shooting, a college in Colorado becomes ground zero for the concealed carry debate. Directed by Christy Montour-Larson. That cast includes Pun Bandhu, Anthony Bianco, George A. Keller, Laura Norman, Jamie Ann Romero, Mare Trevathan and Jake Walker. Chautauqua's ticketing page. .


Opening No. 43, "Godspell": The Aurora Fox Arts Center occasionally produces shows that it sends out to outlying arts centers without having staged the show first at its own home in Aurora. Such is the case with "Godspell," which is being presented at the swank PACE arts center in Parker. In Stephen Schwartz's energetic 1970s musical (revised for a Broadway revival last year) a group of friends act out the story of Jesus in improvised fashion, as based on the gospel of St. Matthew. It is filled with popular songs and irresistible good will. The Fox/PACE staging is set in an amusement park, complete with a roller-coaster, carousel and bumper cars (designed by Jen Orf). Among the cast are Rob Riney, Mark Lively, Alejandro Roldan, Rebekah Fernandez, Juliette Peterson, Noah Lee Jordan, Rachel Turner, Juliette Peterson, James Thompson and Arlene Rapal. Thanks to Shaun Albrechtson.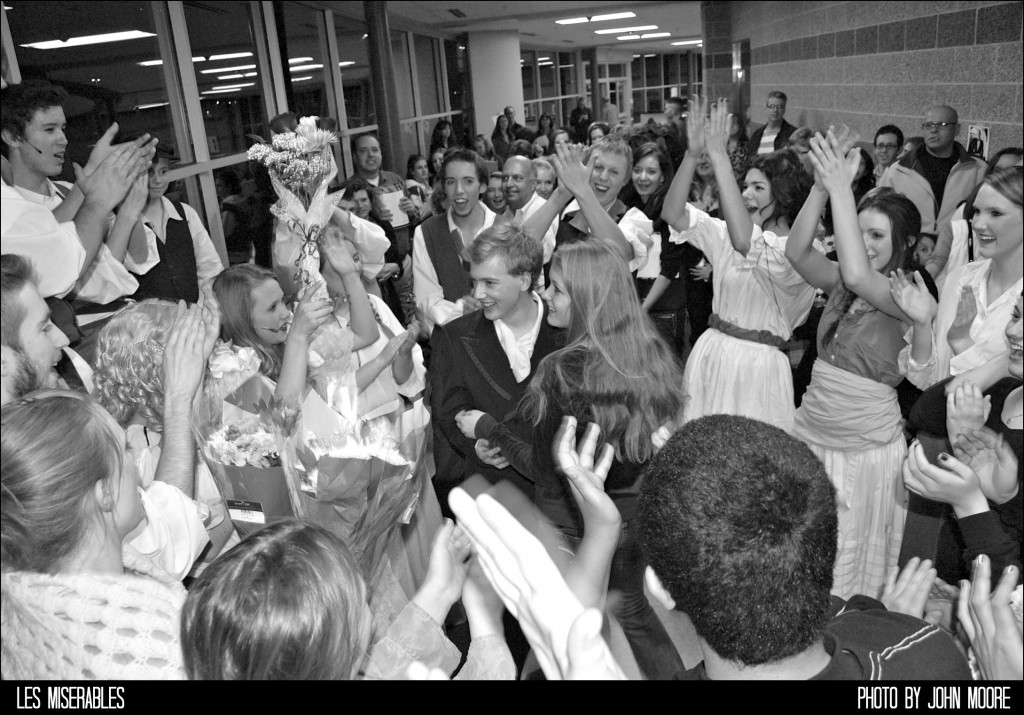 Opening No. 42, Lakewood High School's "Les Miserables": Connor Kingsley, center, who plays Marius, gathers the cast in the hallway outside the school auditorium to salute director Tami LoSasso after an ambitious opening performance of "Les Miserables" on March 13, one that was interrupted by a fire alarm that went off because of all of the smoke used in the climactic battle scenes. The school pays a four-figure fee to the local fire department to have the alarms put on silent during performances, but that didn't stop an alarm from causing about a 10-minute delay on Wednesday. Also featuring Graeme Schulz, Hunter Benjamin, Beky Winkler, Brooklyn Webb, Annie High, Samantha Steele, Riley Konsella, Peter LoSasso, Melissa Elliot, Gabriel Branson, Bonnie Evans and a cast and crew of 150.
(Please click below to go to the next page.)